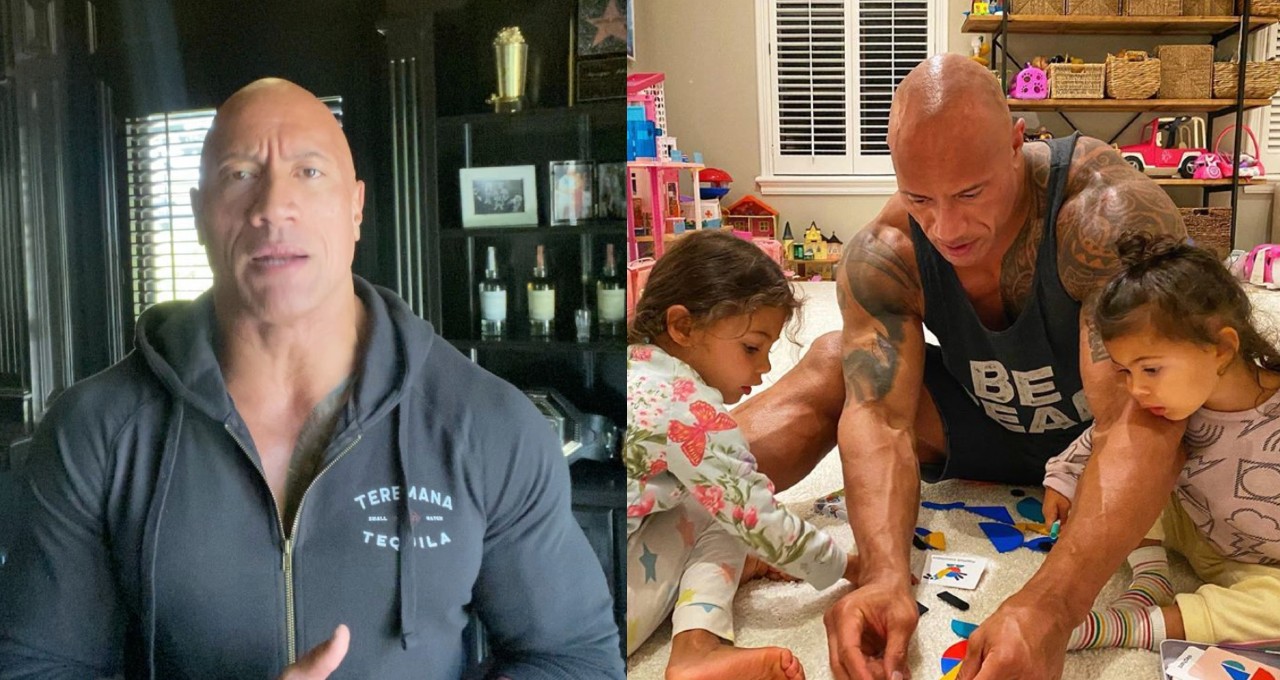 Credit: Instagram/therock
As the COVID-19 pandemic continues to rage around the world, one of the most famous people in the world has now tested positive. On Wednesday, The Rock announced that he had tested positive for the coronavirus. Dwayne Johnson wasn't the only one who tested positive, as he announced his wife and their two young daughters, ages 4 and 2, also contracted the virus.
Like all of us, it's been a tough year for The Rock. In January, his dad, a professional wrestling icon, passed away. In the wake of the tragedy, The Rock opened up about what his dad taught him about fatherhood and being a man, and his eulogy for his dad was truly touching.
And now, this. There are some that say the virus doesn't do much to those who are young and healthy. Well, you can't get much healthier than The Rock, and in his Instagram video he said it was one of "the most challenging and difficult things we have ever had to endure as a family, and for me, too, personally as well."
The Rock said he wished he was the only one who contracted the virus and the fact that his wife and kids got it too was "a real kick in the gut." He added that the virus was so different because his No. 1 priority, like for all of us he added, is to always protect family. "And protect my children, my loved ones."
Johnson said the family contracted the virus from close family friends, who are devastated they unwittingly spread the virus. Johnson did say his family is through the worst of it, and no longer contagious. He said his young daughters had mild symptoms, but that he and his wife "had a tough go of it."
The Rock urged everyone to take COVID seriously and continue to practice social distancing. He said his family wears their masks in public every day and that we all need to work together to keep as many people safe as we can. He urged people to avoid making it a political issue.
"The other thing is wear your mask… we wear our masks every day," Johnson said. "This baffles me that some people out there, including some politicians, will take this idea of wearing mask and make it a political agenda of a political agenda, politicizing. It has nothing to do in politics. Wear your mask. It is a fact, and it is the right thing to do. And it's the responsible thing to do," he said.
"So wear your masks. I'm not a politician. I am a man though, who cares about my family deeply and will do everything I can to protect them. But I'm also a man who cares about all of you guys," he said. "I don't care what political party you're affiliated with. I don't care what part of the world you're from. I don't care what your skin color is, what your job is, what your bank account says. I don't care. I do care about all of them. And I do not want you or your entire family to get COVID-19."
"Use me as your example," Johnson said, wrapping up his video. "Remember these takeaways that I shared with you and stay healthy, my friends, and I'll see you down the road."
Scary news for the biggest movie star in the country, and as a parent, nothing makes a dad more worried than the helpless feeling of watching your kids get sick, but it's good to see that he and his family are through the worst of it.