Ryan Reynolds' Response to The Rock Ripping Down a Gate is Remarkable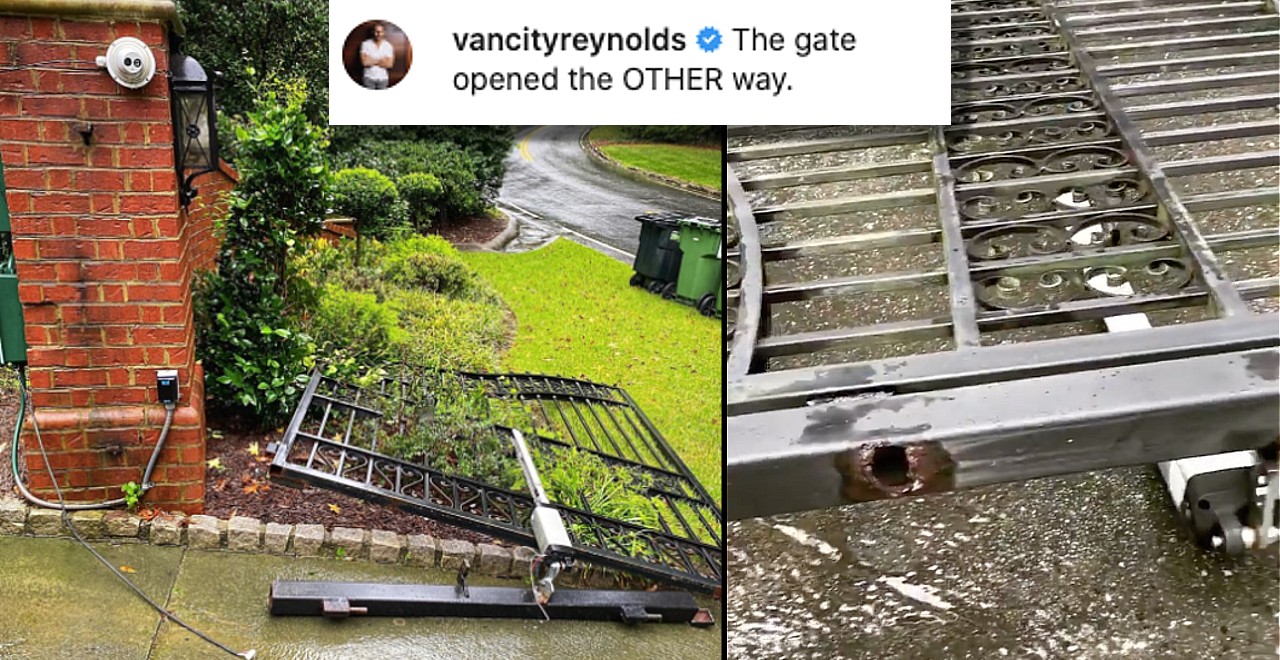 Long before taking on the role of Black Adam, Dwayne "The Rock" Johnson has been known for his incredible physical strength. Wrestling with the WWF for nearly a decade and appearing in over 50 movies, The Rock has become our favorite gentle giant. Though the dude looks like the human equivalent of a tank, he has an enormous heart and only uses his superhuman strength for good.
On Saturday, The Rock took to Instagram to share the saga of a metal gate that had the misfortune of getting on his bad side. Evidently, the Black Adam star was about to leave for work when he realized the large metal gate in front of his house wouldn't open. For most of us, a service person would be our only route to freedom. But most of us don't have biceps the size of a small child, or the spare cash to buy a new gate every time it malfunctions. Well, the rock has both – so he took matters into his own Hulk-like hands.
He said in his Instagram post, "Not my finest hour, but a man's gotta go to work." He explained, "We experienced a power outage due to severe storms, causing my front gate not to open. I tried to override the hydraulic system to open the gates, which usually works when power goes out – but this time it wouldn't."
With a set full of production crew members waiting on him, he didn't have time for a service person to come fix the gate. "So I did what I had to do," he said. "I pushed, pulled and ripped the gate completely off myself. Tore it out of the brick wall, severed the steel hydraulics and threw it on the grass."
The post continued, "My security team was able to meet the gate technician and welders about an hour later — and they were apparently, 'in disbelief and equally scared.'"
Hopefully, they left the torn-down gate in the grass as a warning to all future gates that may decide to stop working at inopportune times. The Rock Concluded, "Not my finest hour, but I had to go to work. And I think I'm 💯 ready to be #blackadam."
It wasn't long before our favorite smartass, and nice guy, Ryan Reynolds, showed up in the comments to provide some helpful info. "The gate opened the OTHER way," Reynolds explained, lovingly trolling a man who could break him in half with one metal-crushing hand.
The Rock later posted a video of the damage, showing the busted hinge and the absolutely destroyed metal gate lying lamely on the ground.
"Maybe next time I'll just hop the gates and call an Uber," The Rock considered. "Actually, no I won't. There's no fun in that."
"Jokes aside," he continued, "THANK YOU to the techs and welders who mobilized very quickly in the morning to come over and take care of the destruction. Thank you, gentlemen. Just one of those days where I wasn't in the mood. We've all been there."
Sure, we've all been there. I mean, not EXACTLY there, but we get it. We're all a little on edge these days, sometimes all it takes is one more little thing going wrong for us to become completely unhinged.