The Story Behind the Viral Photo of a Toddler and a Soccer Player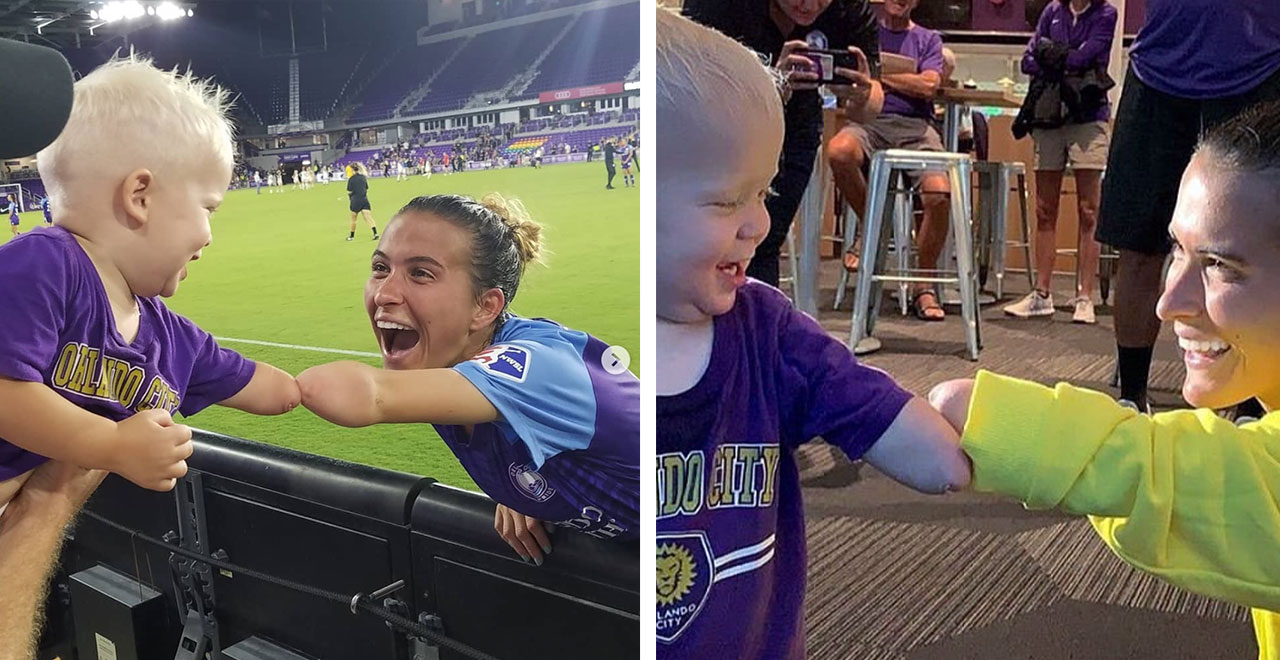 Joseph Tidd is just like any other almost-two-year-old. He's extremely active, adorable, and has a smile that spreads to anyone who sees it. Likely the only thing that makes the 21-month-old feel any different than his peers is the fact he was born without his left forearm.
So when Joseph and his family finally got to meet soccer star Carson Pickett, it opened up a new world for both the toddler and his parents. Pickett too was born without her left forearm but has managed to achieve incredible things in both her personal life as well as on the field. Her journey, an inspiration to not only the Tidd family but to anyone who has followed her road to the pros.
Pickett was part of the 2014 NCAA D1 Championship team, helping the Florida State Seminoles secure their very first title in a tournament where the team's defense – anchored by Picket – allowed zero goals. While her arm has long been a part of the narrative surrounding her incredible story, Pickett, like young Joseph, doesn't let it define her.
At a game back in April, the two inspiring athletes finally got a chance to meet in person – Joseph's mom, Colleen Tidd, capturing a photo that has now been shared by news outlets and individuals around the world.
Joseph's father, Miles, recently told TODAY it was a moment he and his family will never forget. "Carson knelt down next to Joseph and showed him her arm," adding "It was this instant bond we can't begin to understand."
Now Miles says they've formed another bond with Picket's parents, Mike and Treasure. "For us this is great because we get to ask those tough questions about how to deal with bullies," noting Picket's parents never allowed their daughter to say things like "I can't."
Beyond her success on the soccer field, Miles says Pickett "believes she can do anything, and that is the mindset we want Joseph to have as well." It's an opportunity the Orlando Pride star is grateful for, telling The Guardian back in 2018 "I'm able to impact so many kids and people who may not see a way out. It doesn't have to impact them through soccer. To see that I am succeeding in life and happy in life can go a long way for some people."
It's just another example of professional athletes taking time out to inspire young fans while sharing their own personal journey – a trend we hope continues to spread.