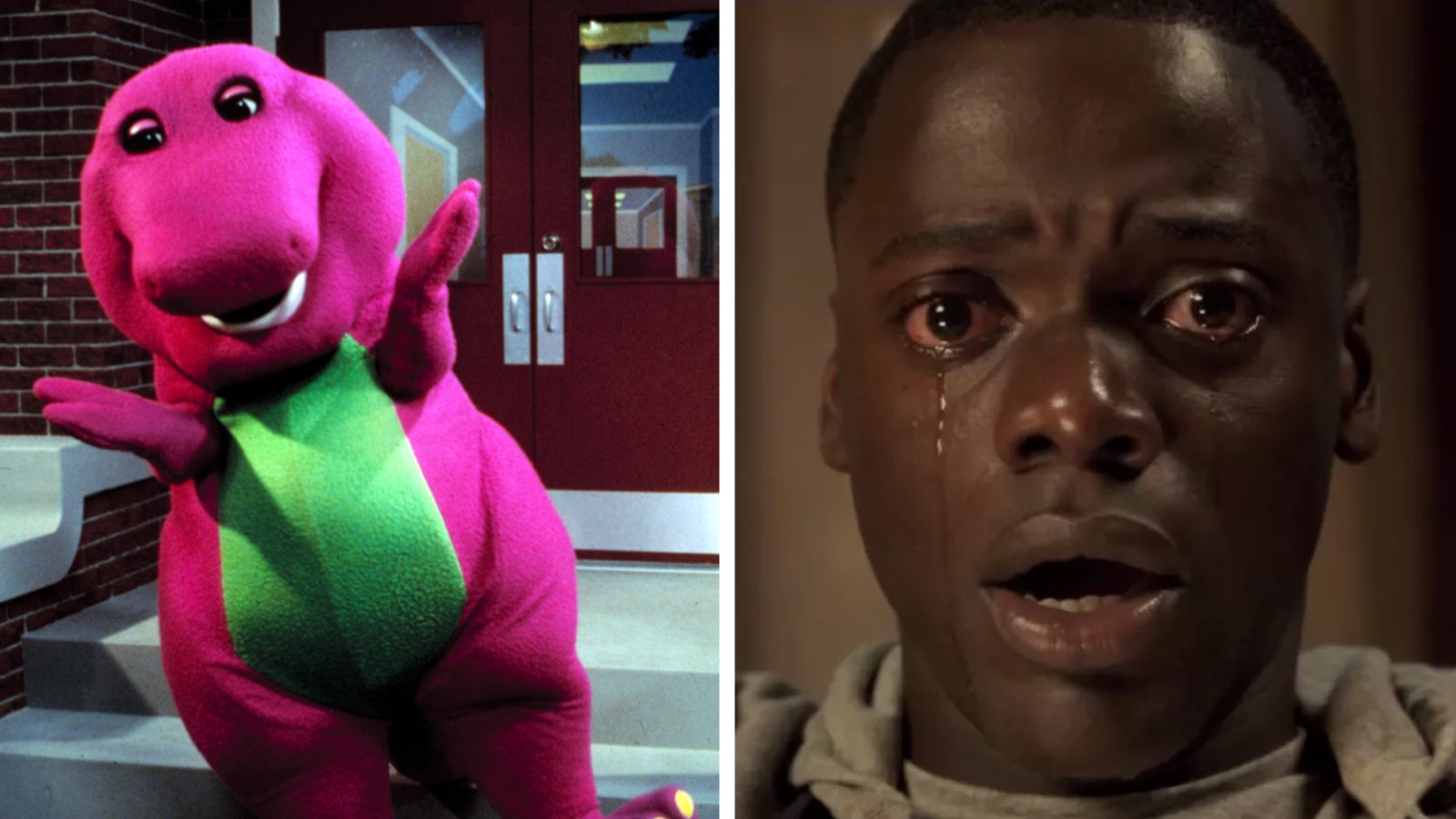 Credit: Universal Pictures
When it comes to movies, I'm not easily scared. All October long, my wife and I indulge in "Spooktober" and watch as many horror movies as we can in preparation for Halloween. We watch classics like The Shining and Rosemary's Baby, we'll watch some slashers like Halloween and A Nightmare on Elm Street, and we watch the latest in so-called "elevated horror" like Hereditary.
Give or take a few moments, I remain unbothered. I've seen too many!
But news recently broke of a project in the works that may finally test my resolve. And yours…
They're making a Barney movie!
That's right, the giant purple dinosaur that haunted many of our childhoods is getting his own movie. And somehow Get Out star Daniel Kaluuya is involved? I'm getting chills just writing about it.
Mattel Films is partnering with Kaluuya's production company to make a live-action version of the kids' television show in which a giant dinosaur sings that annoying song and plays games with children.
"Barney was a ubiquitous figure in many of our childhoods, then he disappeared into the shadows, left misunderstood," said Kaluuya. "We're excited to explore this compelling modern-day hero and see if his message of 'I love you, you love me' can stand the test of time."
How this expands into a 90-minute-plus movie is beyond me, but apparently they have some ideas involving a "new approach" to "subvert" expectations?
"Working with Daniel Kaluuya will enable us to take a completely new approach to Barney that will surprise audiences and subvert expectations," added Mattel Films' Robbie Brenner, via the Hollywood Reporter. "The project will speak to the nostalgia of the brand in a way that will resonate with adults, while entertaining today's kids."
I have no idea what that means but I'm hoping velociraptors are involved.
The project joins live-action versions of Hot Wheels, He-Man, and Barbie – with Margot Robbie! – that are also in the works. None of them sound particularly promising, but Barney sounds downright horrifying!
"Barney is a dinosaur from our imagination, and we can't wait to get 'I love you, you love me' stuck in heads everywhere, yet again," said Carrico of Valparaiso Pictures.
The man is a monster!