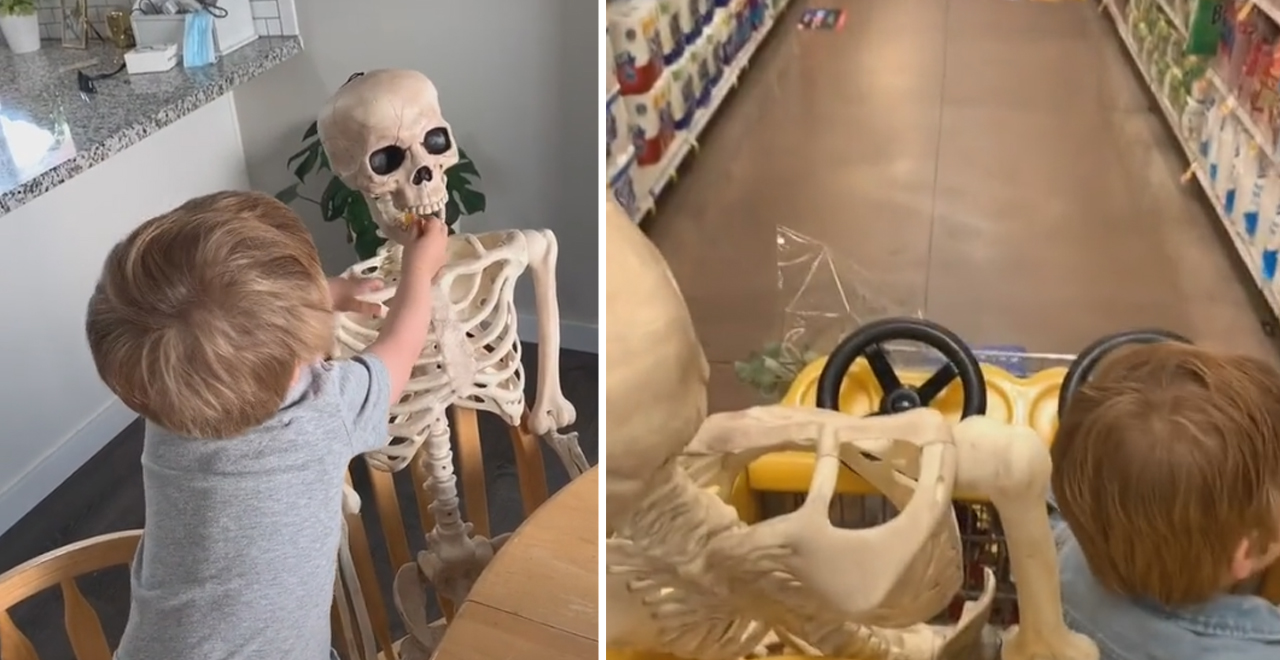 Credit: TikTok/abigailkbrady
My 4-year-old loves stuffed animals. Stufties, as we call them, little the floor of his bedroom, not to mention the floor of our bedroom, and our living room, and the kitchen. He refuses to leave the house without whichever stuffy has his favor that day, and somehow we keep adding more.
It can be a hassle – especially if he drops one somewhere and we lose it – but it could be worse. Or much much better.
Abigail Brady's son Theo also can't leave the house with his precious companion, which just so happens to be a huge plastic skeleton. Thankfully, it's not stuffed.
Abigail's Tik Tok videos of her son toting his Halloween decoration around have gone viral, and they are a strange combination of adorable and alarming. Thankfully, Abigail has a sense of humor about it, because otherwise, she'd be screaming about the fact that she's raising Norman Bates.
Check out this incredible video she made of their day at the local reservoir together, to which Mom added a soundtracked by the White Stripes because PERFECT.
That video has 2 million views! There is a whole series of them, showing Theo reading Benny – Did I mention he named the skeleton Benny? I couldn't be LESS INTERESTED in knowing why he chose that name! – a bedtime story
Just look at that kid all buckled into his car seat next to a Benny. SO PRECIOUS!
In one video, Abigail responds to viewer requests and finally explains the origin story of Theo and Benny's friendship. Obviously, a basement is involved.
Other videos show the happy pair grocery shopping and dressing up for Halloween together, which seems a bit redundant for Benny, but whatever.
You do you, Theo! And kudos to his mom for not having a bone to pick with his unique relationship. It is Spooktober, after all!