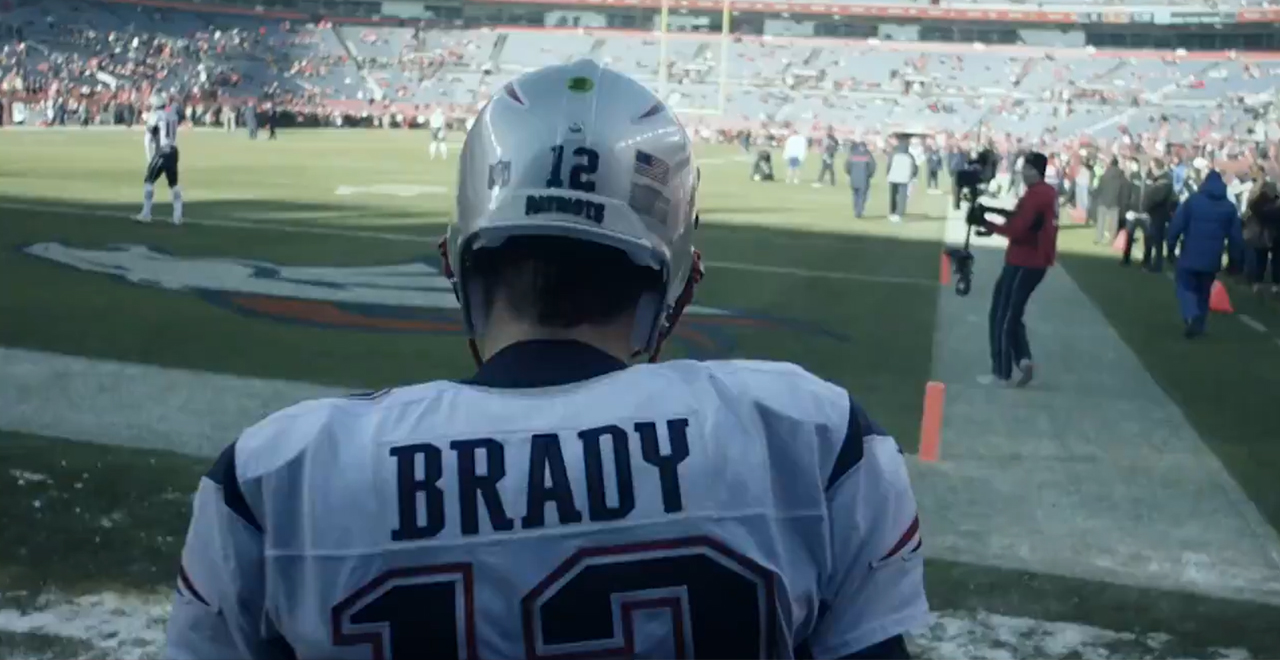 Credit: ESPN
If you're a sports fan, odds are you watched ESPN's The Last Dance. The 10-part documentary on Michael Jordan and the Chicago Bulls dynasty was fast-tracked to debut during the pandemic when people have been starved for sports content, and it paid off. The five-week event did huge numbers for ESPN and sparked countless conversations about Jordan, Pippen, Rodman, Steve Kerr, even Scott Burrell. It was a huge success.
Almost as soon as the first episode aired, people began speculating about what athlete or team would be the subject of the next big sports documentary. Well, now we know.
Field Yates, an NFL reporter, and ESPN personality shared a tweet announcing that Tom Brady was getting the Jordan treatment with a ten-episode documentary of his own, "Man in the Arena: Tom Brady," to debut in 2021.
"Man in the Arena: Tom Brady" a nine-part series on the iconic quarterback coming to ESPN in 2021. pic.twitter.com/3DffXb9XAp

— Field Yates (@FieldYates) May 21, 2020
Now, if all goes well, there will be no pandemic and no quarantine in 2021, which means the audience will be far less captive. And while Brady is a big star, he's never been as big as Jordan. For starters, he plays a sport in which he is forced to cover his face with a helmet and is only on the field for half the plays, and no matter how big a Patriots fan you are, there's no denying he lacks Jordan's charisma. He simply doesn't have the same cultural footprint Jordan does, both as an athlete and as a pop culture icon.
Jordan changed the NBA forever; Brady is just a cog in the NFL machine. Jordan changed the footwear industry, and the endorsement game, forever too; Brady wears Uggs sometimes?
I have quoted Theodore Roosevelt's "Man in the Arena" speech since I saw it painted on our weight room wall at UM in 1995. It's a constant reminder to ignore the noise, buckle my chinstrap, and battle through whatever comes my way.

Coming 2021 on @espn! pic.twitter.com/nm9SdFYB7D

— Tom Brady (@TomBrady) May 21, 2020
I'm not trying to shade the greatest quarterback of all time (besides Dan Marino), I'm just spitting facts. We all already know Brady's story. He was drafted late, he looks doughy in his combine pics, he has a chin dimple and a weird-ass workout regimen and diet, and he's won 6 Super Bowls. The dude can play football. But can his story sustain interest the way Jordan's has?
Jordan was compelling partially because there was so much we didn't know about him; I'm not sure there's all that much to Brady beyond what we've already seen. I guess we'll find out, especially if he has the guts to let ESPN show us some warts. That was one of the best things about The Last Dance. Sure, it was made with Michael's blessing, but he wasn't afraid to look bad. Will Brady be hands-off enough to do that? Sometime in 2021, we're gonna find out.
I'll watch it, but I think I'd rather see a documentary on Bill Belichick.