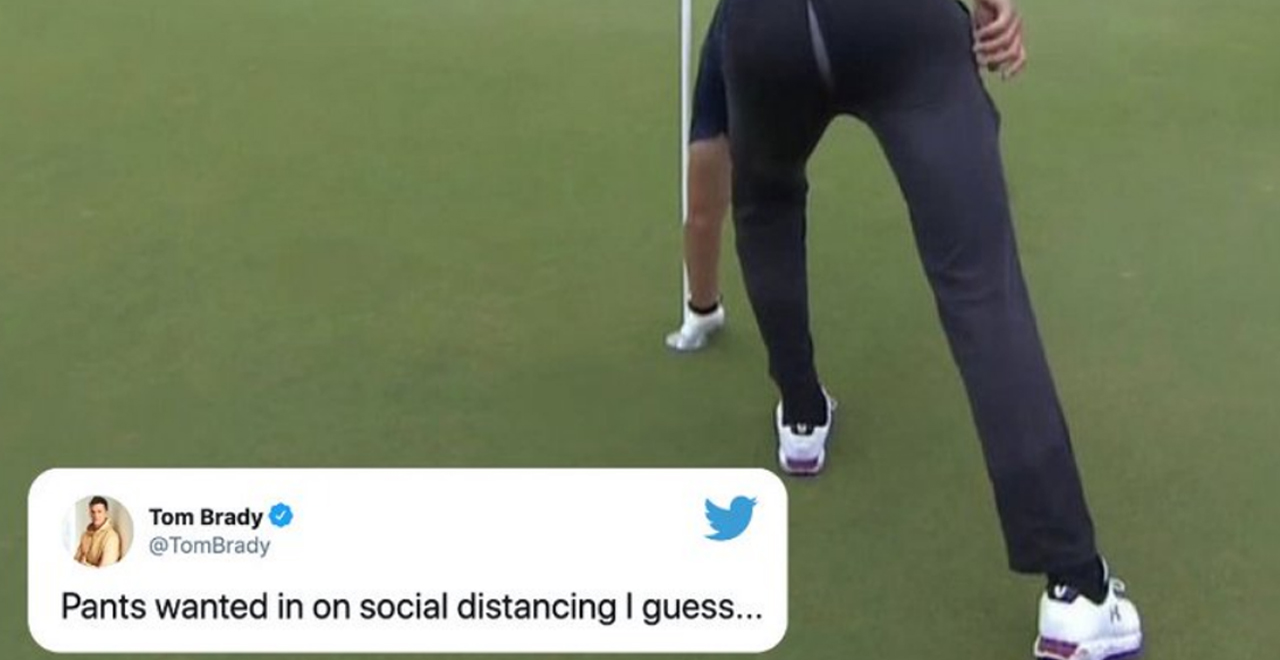 Credit: Twitter/ESPN
Something tells me this won't make it into the Man in the Arena documentary.
Over the weekend, Tom Brady participated in a golf competition with former NFL rival Peyton Manning and pro golfers Tiger Woods and Phil Mickelson. During Sunday's The Match: Champions for Charity, in which Brady and Mickelson put up a good fight before ultimately losing to their rivals, Brady had a bit of a wardrobe malfunction.
In an incident that could have happened to any of us – and may or may not have happened to yours truly! – he bent down to pick up a ball, and as he did, his pants split open, right on his 6-time Super Bowl-winning derriere. Unlike any time that's happened to us, Brady's pants tore open while he was being broadcast on national television. Somewhere, Mark "Butt Fumble" Sanchez must have been loving it.
Tommy doin lots of squats and lunges….🍑 #TheMatch2 pic.twitter.com/QwmcjjHwRl

— Bucci Mane (@Buccigross) May 24, 2020
It was an embarrassing moment, but Brady has been in pressure-filled situations before. The unflappable second-best QB of all time (Dan Marino FTW!) handled the situation with his typical clutchness and showing that he has a sense of humor just as prominent as his chin dimple.
ESPN shared a photo of the exact moment when his pants ripped, and Brady was quick to respond with a joke and a topical one at that!
Next time I'll make sure to be wearing my @UAGolf pants 🤦‍♂️ #LessonLearned https://t.co/GauGM9ZLdl

— Tom Brady (@TomBrady) May 25, 2020
Now that he's on the Tampa Bay Buccaneers, Brady may not win a seventh Super Bowl, but with a new documentary hitting ESPN next year and this weekend's successful defusion of an awkward situation, maybe the somewhat stiff QB can actually make a winning transition to the broadcast booth!
Hopefully with some pants that are a little less tight…