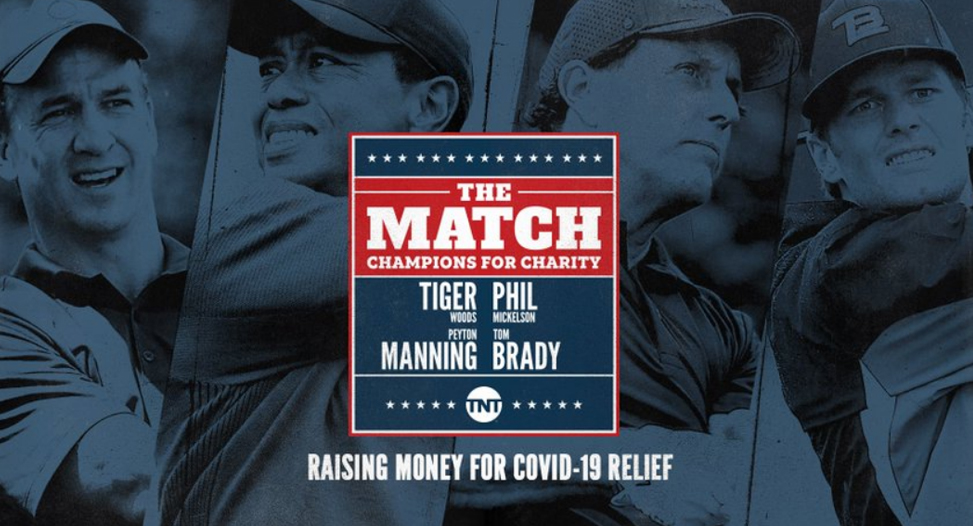 Credit: Twitter/BleacherReport
We are "starved for content" right now. Those were the words of Florida's governor when he deemed the WWE an essential business, and he's honestly not wrong. No one is feeling that sting more than the sports world (the halt in show/movie production will catch up to Netflix/Streaming people someday soon), which saw its greatest season (March Madness/Opening Day/NBA/NHL/The Masters/NFL Draft) decimated.
Folks in the sports world are trying to get creative with solutions. MLB was looking into playing the entire season in three Arizona cities. Dana White announced plans to buy a private island to host UFC fights. But we finally have something real; a golf match involving two of the game's titans, paired with two of the greatest NFL quarterbacks (?) of all time.
The news came out this week that "The Match: Champions for Charity" event was happening and will air in May on TNT. It features Tiger Woods and Peyton Manning (bound together by their Nike allegiance) teaming up to take on Phil Mickelson and Tom Brady.
🚨 It's official: @TigerWoods, Peyton Manning, @PhilMickelson and @TomBrady all on one golf course ️

The Match: Champions for Charity is coming soon exclusively on TNT. All proceeds will benefit COVID-19 relief ⛳️https://t.co/yJFIflsCht pic.twitter.com/OQcwiPTHCw

— Bleacher Report (@BleacherReport) April 22, 2020

All proceeds from this event will be donated to COVID-19 relief. And it's not a bad idea. If ever there was a sport made for social distancing, it would be the one that involves a few guys spaced out over hundreds of yards of empty space. It's the one sport that needs the fewest spectators, and it's the easiest to safely shoot.
The match, which is a follow-up to the one Phil and Tiger did a few years back, will be the first major live sporting event in months. And it comes at a much needed time, as sports fans are left with little more than stretching out the Michael Jordan documentary for as long as they can.
After feeling the sting of defeat the first time around, Looks like @TigerWoods is bringing a ringer to The Match (#PeytonManning).

I'm bringing a 🐐 @TomBrady – Ready to hit 💣's? https://t.co/ilaqS05QQs

— Phil Mickelson (@PhilMickelson) April 22, 2020