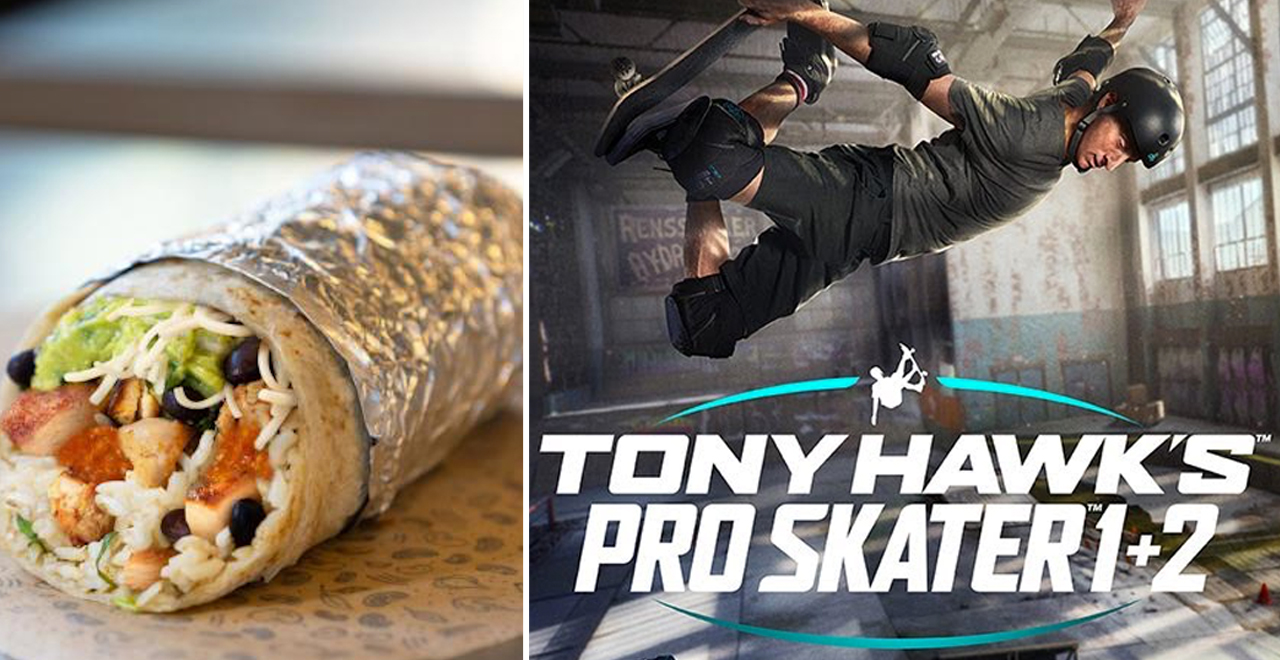 Credit: Chipotle/PlayStation
There's not a ton of great news these days, so when Tony Hawk gets his own burrito at Chipotle and gives us a chance to get it for free, yeah, we're gonna be on board. In a big way. Like, as big as a 2,000 calorie burrito for lunch way.
It's tough to undersell this collab, as we are big Tony Hawk fans here (and the feeling is mutual), and everyone loves Chipotle. The two announced a special promotion where the first 2,000 people to order the "Tony Hawk burrito" before August 14th would get a code to access the Tony Hawk's Pro Skater 1 and 2 warehouse demo for PS4, Xbox One or PC.
Free Tony Hawk's Pro Skater 1+2 demo at Chipotle by ordering Tony Hawk's Burrito pic.twitter.com/87e8PM3G3U

— Wario64 (@Wario64) August 10, 2020
So, not only do you get a burrito, but you also get access to one of the most highly anticipated games. What is the Tony Hawk burrito? Good question. The recipe is as follows: brown rice, black beans, chicken, tomatillo-red chili salsa, cheese, and guac. It's nothing revolutionary, but Hawk said it's his go-to order to "refuel after long skate sessions."
For those of you who like the idea of the burrito, but don't like the idea of paying for the burrito, there's something for you too. Chipotle's Twitch page is being taken over this Friday, August 14, at 11 a.m. EST by Hawk, Jagger Eaton, and Finn Wolfhard, who will be playing the THPS 1 and 2 Warehouse Demo. During the stream, they are giving away 5,000 vouchers for a free burrito.
Pro Skater 1 and 2 are now nearly two decades old, and the new release is a re-master and those and the first new title in the PS franchise in more than five years. Hawk is a big Chipotle fan, and you would be too if, like Hawk, you had one of the celeb VIP cards that entitles him to free Chipotle and free catering. He said he's all on board with the partnership.
"It's a blast to see the enthusiasm for Chipotle, skating and video games continue to grow and inspire a new generation," he said. "Whether you're a veteran THPS player or new to the game, Tony Hawk's Pro Skater 1 and 2 has something for everyone."