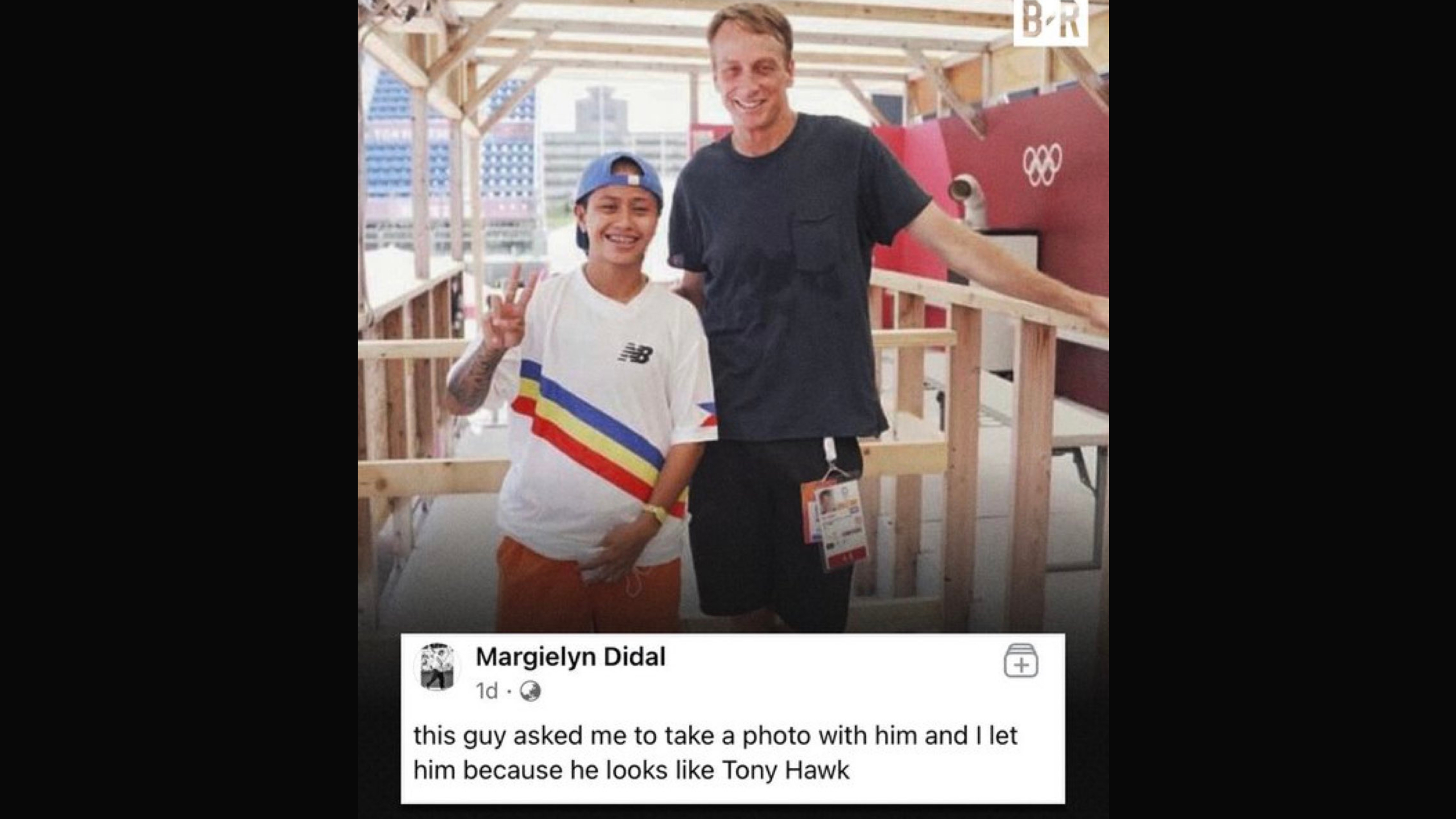 Credit: Twitter/TonyHawk
The Olympics have given us some cool moments, and a few of the best have come from a sport that's brand new at the games, skateboarding. We even had the Godfather of the sport itself, Tony Hawk, at the Games as a commentator. But that also means we have more Tony Hawk jokes and a lot of people who don't understand Tony Hawk jokes.
It's been a running joke for Hawk for years. He doesn't get recognized anywhere he goes, with strangers frequently commenting that he bears some resemblance to the famous skateboarding legend. It's almost funnier now when he DOES get recognized.
One of the female skateboarding competitors, Margielyn Didal, finished 7th in the Olympic skateboarding competition. And she also got a photo with the sport's icon, and she showed her savviness with Tony Hawk jokes when she captioned it: "this guy asked me to take a photo with him and I let him because he looks like Tony Hawk."
But the joke went right over one reporter's head, like an ollie 540.
I was asked during an interview today:
"How does it feel to go to the Olympics and not be recognized by competing skaters, like Margielyn Didal?" So I had to explain that she was joking with her caption. My life is weird. pic.twitter.com/RvNQSFy7jt

— Tony Hawk (@tonyhawk) July 31, 2021
Jokes are always best when they have to be carefully explained with a backstory, NOT. But stories like this further enhance the bit, honestly. Hopefully, people continue to pull stunts like this, leaving everyone that's out of the loop hopelessly pretending they get it when they clearly do not.