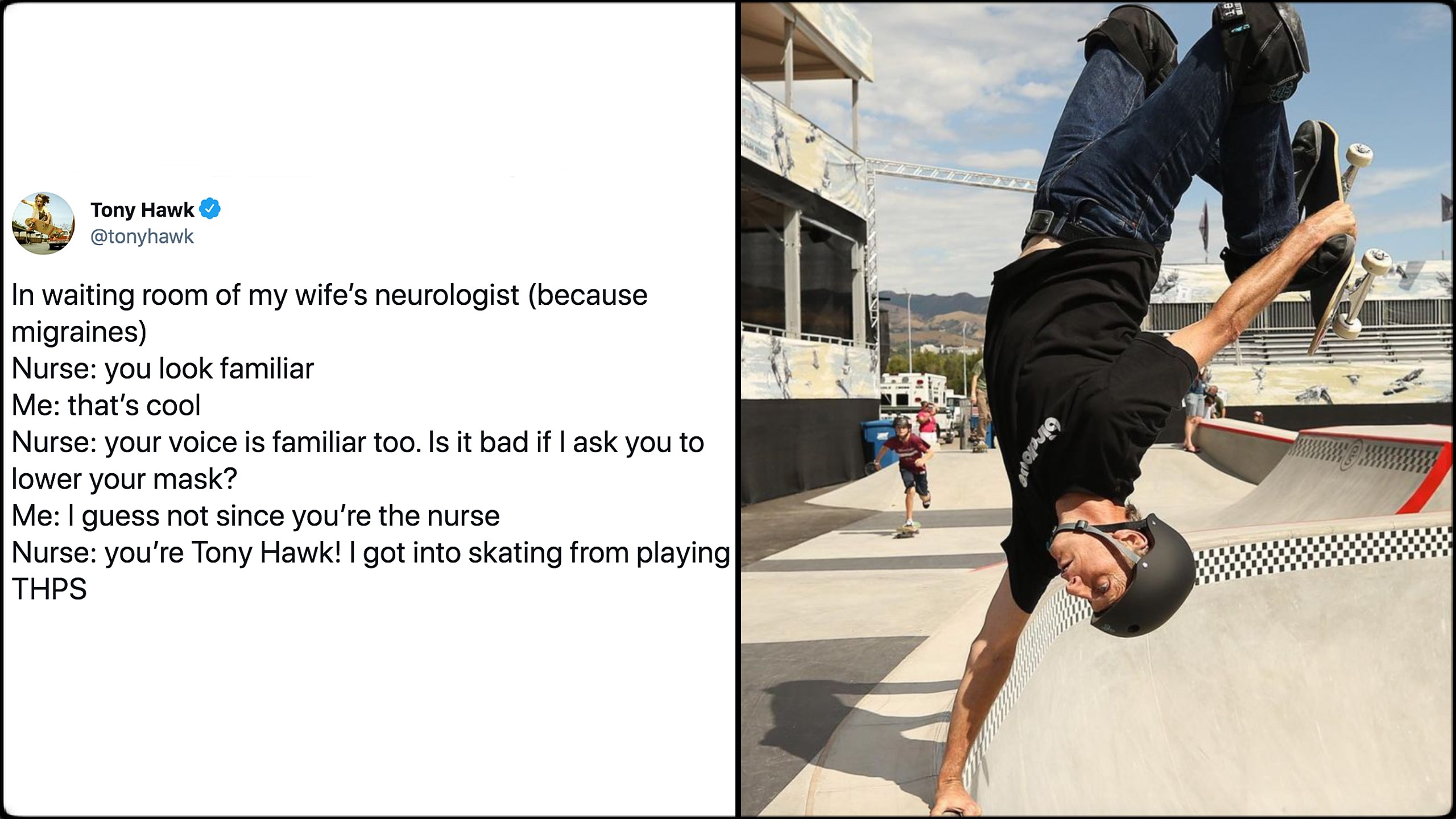 Credit: Twitter/tonyhawk Instagram/tonyhawk
For some, invisibility is a superpower. For others, it's a disadvantage. But for Tony Hawk, well, it's somewhere in between. Tony Hawk has been a household name for well over a decade, changing the trajectory of professional skateboarding and permeating many forms of pop culture around the world. But Tony Hawk's signature helmet and skateboard are like Clark Kent's glasses – without them, he just looks like some guy.
People's complete inability to recognize him is a running joke for the skateboarding legend. He takes no offense when people who clearly know of him fail to put his face and name together. Typically, Hawk shares stories of fans' glorious misses on social media. But recently, both Hawk and a skateboarding nurse had an encounter that neither will soon forget.
In a post Hawk shared on Twitter, he set the scene. As he waits for his wife during her neurologist appointment, a nurse tentatively approaches.
As a spark of recognition hits her, she shoots her shot
In waiting room of my wife's neurologist (because migraines)
Nurse: you look familiar
Me: that's cool
Nurse: your voice is familiar too. Is it bad if I ask you to lower your mask?
Me: I guess not since you're the nurse
Nurse: you're Tony Hawk! I got into skating from playing THPS

— Tony Hawk (@tonyhawk) May 26, 2021
Until the final sentence, this encounter is eerily similar to many encounters Hawk seems to have in public.
Most of the time though, they end like this
TSA agent (staring intently): I'm trying to figure out who you look like before checking your ID.
Me: ok
TSA: that cyclist Armstrong!
Nearby agent: that ain't Lance Armstrong
Me: he's right
TSA: oh you look like that skateboarder (checks ID). Same last name too! Crazy!
Me: crazy

— Tony Hawk (@tonyhawk) August 21, 2018
Tony Hawk laughs off the absurd misfires, inviting his fans to laugh along with him. After being unexpectedly recognized and appreciated by a fellow skateboarder, Hawk left the nurse with some words of wisdom.
Other nurse: it's true, and she still skates. I blame you for when she got hurt and I was short staffed for a week.
Me: my sincere apologies. Don't do a kickflip.

— Tony Hawk (@tonyhawk) May 26, 2021
What a legend.