Tweet Roundup: The Fiercest Reactions to the CATS Trailer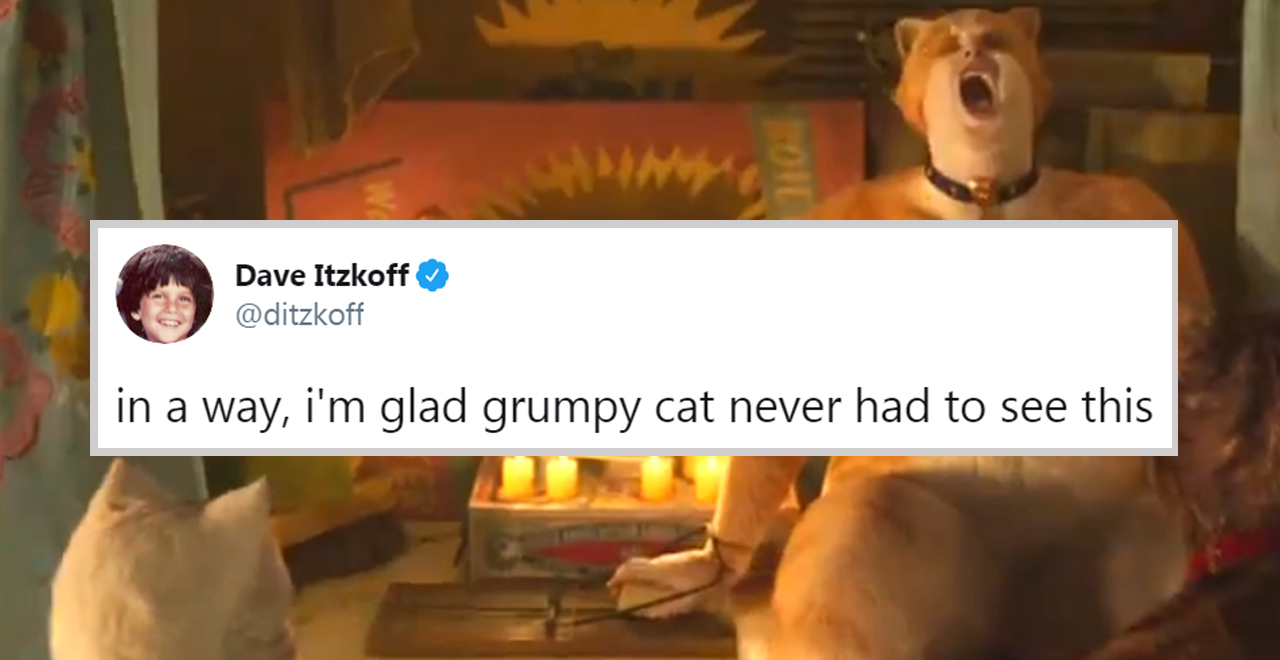 A lot of movie trailers have come out of the past week. We had the sophomoric humor of Jay and Silent Bob Rebooted, the 80s nostalgia of Tom Cruise's Top Gun sequel, and the horrors of the follow-up to 2017's blockbuster IT.
But the nightmarish specter of Pennywise the clown has nothing on the nightmarish specter of Taylor Swift as CGI cat.
That's right, the long-awaited film adaptation of the classic Broadway musical, CATS boasts director Tom Hooper (of Les Mis and The King's speech) and a star-studded cast (Jennifer Hudson, Judi Dench, Ian McKellan, James's Corden, Idris Elba, Jason Derulo, and the aforementioned Swift) bringing the assorted characters of Rum Tum Tugger, Mr. Mistofolees, Old Deuteronomy, and Grizelle to life.
The trailer features all of those performers and more (Rebel Wilson anyone?) dancing and prancing in a CGI-generated world. It's particularly strange because they all walk upright like humans – as they do in the play – but rather than just wear cat-suits (as they do in the play), the "fur" has been added digitally. See for yourself:
This Christmas, you will believe. #CatsMovie pic.twitter.com/doKFWGAdpB

— Cats Movie (@catsmovie) July 18, 2019
The reaction has been, well, fierce.
I don't know what I expected from CATS' "digital fur technology" but the short answer is NOT this.

My brain has melted. My eyes are bleeding. There is no god. pic.twitter.com/HMeM0ixal1

— Kristy Puchko (@KristyPuchko) July 18, 2019
The Sonic Trailer: Sorry if he looks creepy.

Cats Trailer: Hold my beer. pic.twitter.com/yv7vq2GMFl

— Greg Lewis (@gtlewis12) July 19, 2019
I just saw the trailer for Cats. I've decided to remove my eyes with a spoon and only listen to Norwegian death metal until the end of time. #Cats

— RainnWilson (@rainnwilson) July 19, 2019
Even cats themselves are unimpressed:
"I showed my cat the Cats trailer." pic.twitter.com/BPAqNyoTB3

— Cats (@SpaceCatPics) July 20, 2019
Finally, someone paired it with more appropriate music:
I put the song from Us onto the Cats trailer and I think it fits better. pic.twitter.com/VMBlbeDQs5

— "Ian" Abramson (@ianabramson) July 18, 2019
At least we know what's in Area 51:
This is the shit they're going to find when they raid Area 51, I swear #CatsMovie #Cats pic.twitter.com/aJqWmkmXnD

— Sam (@EltonFtchASpade) July 18, 2019
Grumpy Cat wouldn't have wanted it this way:
in a way, i'm glad grumpy cat never had to see this

— Dave Itzkoff (@ditzkoff) July 18, 2019
Then someone got medieval on their ass:
why do the cats in the new Cats movie look like bad Medieval cat paintings lmao pic.twitter.com/mIHbJbrIhi

— rae paoletta (in ????????) (@PAYOLETTER) July 18, 2019
Of course, not everyone hated it:
Showed my girls the CATS trailer and my 6 year old declared it "beautiful" so…there's one person in America not completely horrified by it?

— Busy Philipps (@BusyPhilipps) July 20, 2019