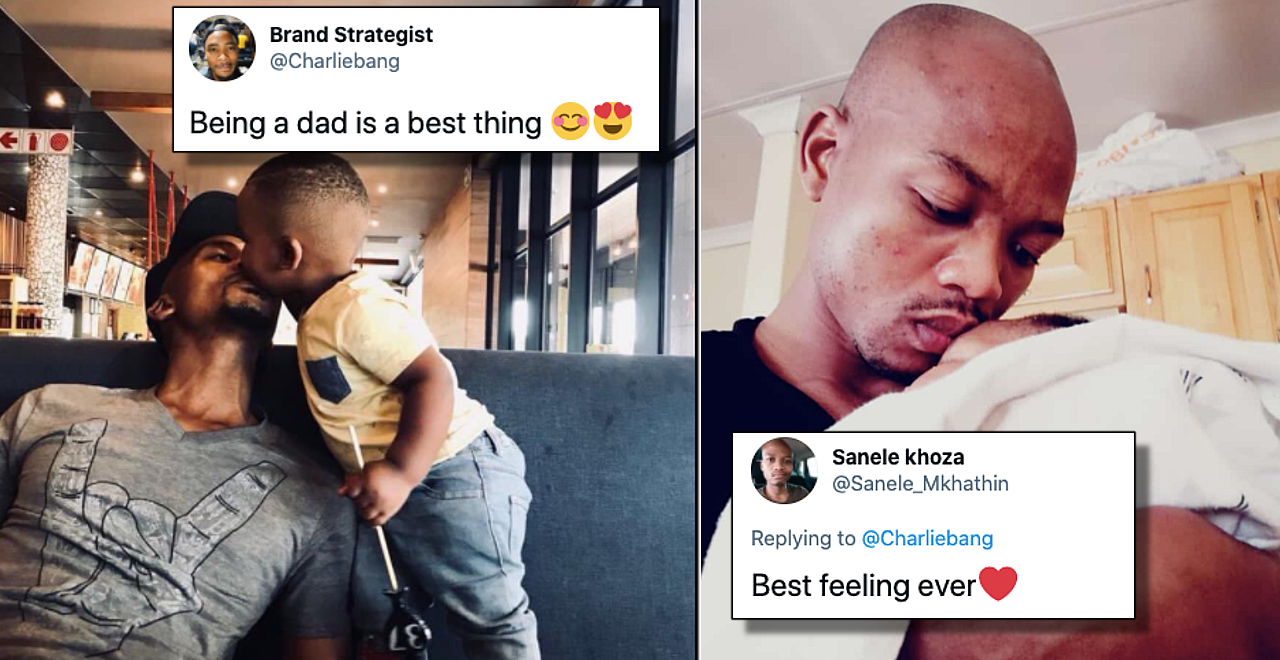 Credit: Twitter/Charliebang, Sanele_Mkhathin
Becoming a dad changes everything, in ways we never could have anticipated. We face challenges that never crossed our minds before having kids, and experience a type of love we never knew existed. Some of the most beautiful parenting moments aren't life-changing events but instead are the moments we're able to stop and fully appreciate the quiet bliss of bonding with our kids.
One Twitter dad who goes by the username Charliebang recently shared two adorable photos with his son, a post that woke up Dad Twitter and sparked a celebration of fatherhood.
Charliebang captioned the heartwarming photos, "Being a dad is a best thing."
Being a dad is a best thing 😊😍 pic.twitter.com/NpQLdZDgQC

— Brand Strategist (@Charliebang) February 12, 2021
Before long, dozens of dads jumped in to echo his sentiment. Dads smiling with their kids, dads quietly holding their content babies – dads from all over the world uniting to celebrate fatherhood.
"The unexplainable happiness," one dad marveled
The unexplainable happiness ❤️ pic.twitter.com/5mc4TvocWQ

— Tharcis T 🇨🇩🇿🇦🇸🇿 (@Tshilombo_T) February 13, 2021
There really is no better feeling
Nothing beats being a present Dad… pic.twitter.com/LvlGYwXLAZ

— N'ORTHEN… (@KG_NORTHERN) February 13, 2021
Those smiles say everything
A feeling like no other! pic.twitter.com/oqFuNv2eED

— Selogilwe_Sebothelo (@Sebothelo_SS) February 13, 2021
That feeling when your baby has never felt more safe
Best feeling ever 😊🤗 pic.twitter.com/7rGb6CuRSb

— Tebogo Seleka (@TebogoSeleka10) February 13, 2021
The way he wants to be just like his dad, I'm not crying, you're crying
Ngempela fully agree pic.twitter.com/9PQUsx8VNk

— Keith Bhola (@BholaKeith) February 13, 2021
No need to explain, the picture says it all
Bruuhhh, the feeling is unexplainable pic.twitter.com/VaMQauKpZW

— Nguta_Qokx (@Qokx85) February 13, 2021
Fatherhood in a nutshell
Being a dad has a heavenly feeling… pic.twitter.com/h7QEfhaBSV

— Jips Kamau (@jipskamau) February 14, 2021
Beautiful
Best feeling ever❤️ pic.twitter.com/uEGYCdBQHX

— Sanele khoza (@Sanele_Mkhathin) February 14, 2021
Charliebang's tweet brought dads together, strangers that were able to connect on an extremely meaningful level. Posts like this resonate for a similar reason that The Dad resonates – fatherhood is uniting. It's a feeling you can't understand until you've lived it, and once you have, you can't imagine life any other way.