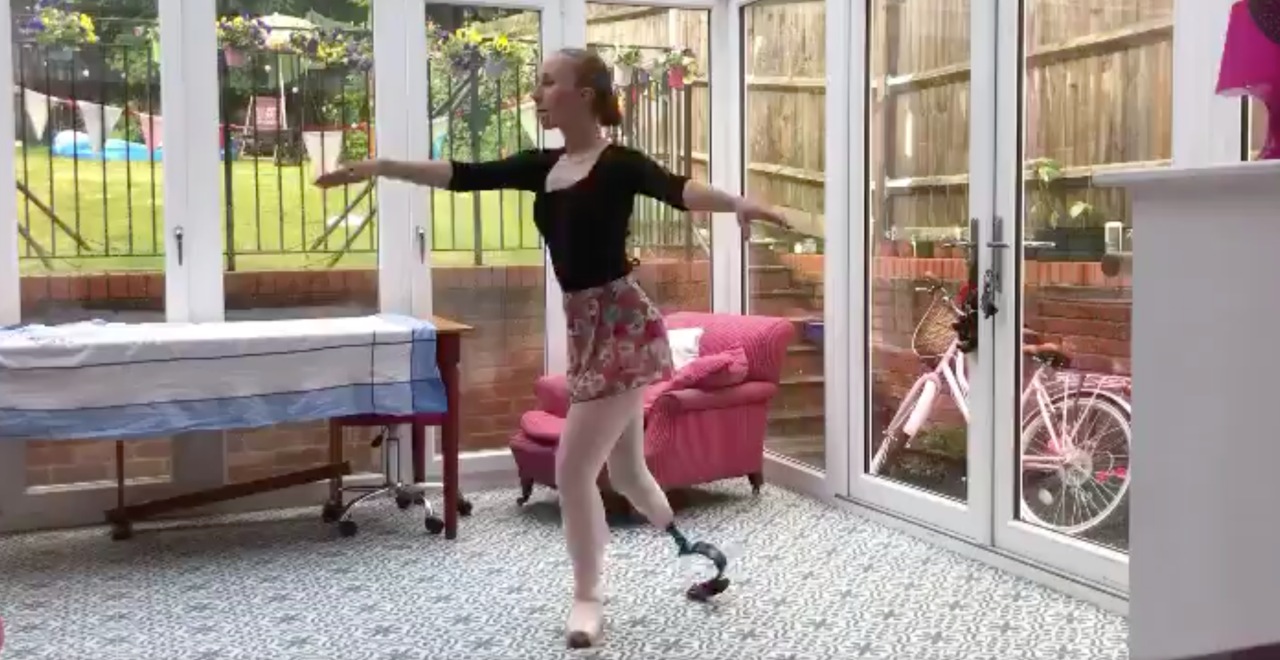 Credit: Twitter/Christopher Hope
When she was just a tot, Pollyanna Hope lost not only her grandmother to a freak bus accident in south London — she lost her own leg below the knee. While the accident hasn't stopped the now 15-year-old from pursuing her dance dreams, she wants to trade in her running blade for something more graceful… which is where father Christopher Hope comes in.
The U.K. dad recently called out for help on Twitter for someone to "make our 15yo amputee daughter a prosthetic leg with the foot fixed in the pointe shape so she can do pointe work on it." The appeal has been retweeted more than 3,000 times and counting, racking up nearly 6,000 hearts and more than 300,000 views.
The tweet received heartwarming responses and encouraging feedback, as well, with several people offering suggestions for the Hopes.
Many of the responses included references to a prosthetic limb designed by Pratt Institute graduate Jae-Hyun An. The relatively lightweight, carbon-fiber Marie-T allows amputee ballerinas to dance en pointe.
"In my research I came across Viktoria Modesta and she re-interpreted performance with her prosthetics," An told Dezeen in 2018. "It was visually so powerful and opened a completely new area of prosthetics for me. I fell in love with the idea of designing something that could expand the artistic and cultural scene of a community with prosthetic users."
Since the accident 13 years ago, Pollyanna has had no fewer than 21 operations and 20 prosthetic legs, including a "demi-pointe" foot by engineer Yusuf Mohammed in 2018, but Christopher said it became too heavy.
Whatever happens, the positive feedback has at least helped to restore his faith in humanity… or social media, at least.
"Social media gets quite a bad rep," but the reaction to his plea has shown Christopher and Pollyanna "that there are actually really nice people out there who want to help."
Watch Pollyanna's beautiful pirouettes below:
Can anyone help?
Can you make our 15yo amputee daughter a prosthetic leg with the foot fixed in the pointe shape so she can do pointe work on it? pic.twitter.com/ZIjwFpAtUs

— Christopher Hope📝 (@christopherhope) January 11, 2021