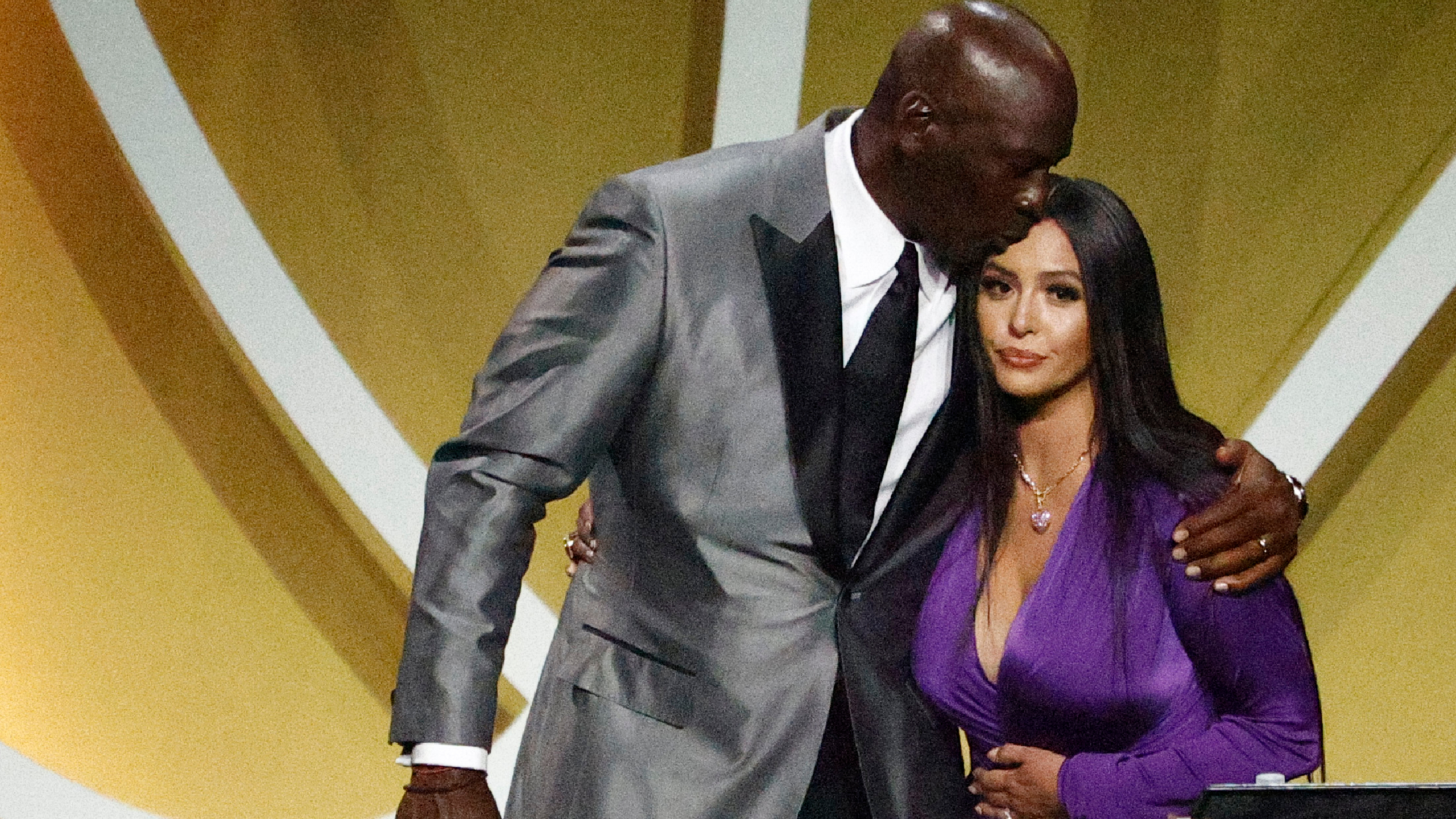 Credit: Getty/Maddie Meyer
With Michael Jordan at her side, Vanessa Bryant gave an emotional speech during his induction into the Naismith Memorial Basketball Hall of Fame. It was equal parts moving and eloquent and touched on both his greatness on the court and how much he loved being a dad.
She started by mentioning how much she tried to avoid praising her husband in public because she thought he got enough praise from fans. And about how he'd be laughing in heaven, saying "isn't this some sh-t?"
She then added that he and their daughter Gigi, who also died in the tragic crash, deserved to be there to witness it.
"Gigi would be so proud to watch her daddy get enshrined into the Basketball Hall of Fame."
Vanessa laughed that she didn't have a speech prepared because Kobe winged every single one he ever gave. She did remember to thank all of his mentors and everyone who helped his career, especially the haters (gotta thank the haters) who gave him so much motivation.
But she also pointed out his most cherished accomplishment; 'being the very best girl dad." She thanked him for never missing a birthday or recital, or a school award show, and for putting his 'love for our family first.'
"Thank you for inspiring us to be better than we were the day before," she said. "Thank you for teaching me and all of us to put someone else's joy before…thank you for being the Mickey to my Minnie and for loving me enough to last lifetimes. In every lifetime, I choose you."
She closed it by heaping the praise on him she always avoided doing publicly.
"You did it. You're in the Hall of Fame now. You're a true champ. You're not just an MVP. You're an all-time great. I'm so proud of you. I love you forever and always. Kobe Bean Bryant."

– Vanessa Bryant

(via @TSN_Sports)pic.twitter.com/u7lvaa6BTw

— Bleacher Report (@BleacherReport) May 16, 2021
"You once told me, 'if you're going to bet on someone, bet on yourself.' I'm glad you bet on yourself, you overachiever. You did it. You're in the Hall of Fame now….I'm so proud of you. I love you forever and always, Kobe Bean Bryant."
Kobe was truly one of the all-time greats, and his tragic story will be remembered forever. But in his passing, he'll also be remembered for everything else he did off the court, like being the first pro athlete to win an Oscar.
And, most importantly, he'll be remembered for being one of the great Girl Dads.