Vince Carter: Half-Man, Half-Amazing, All Retired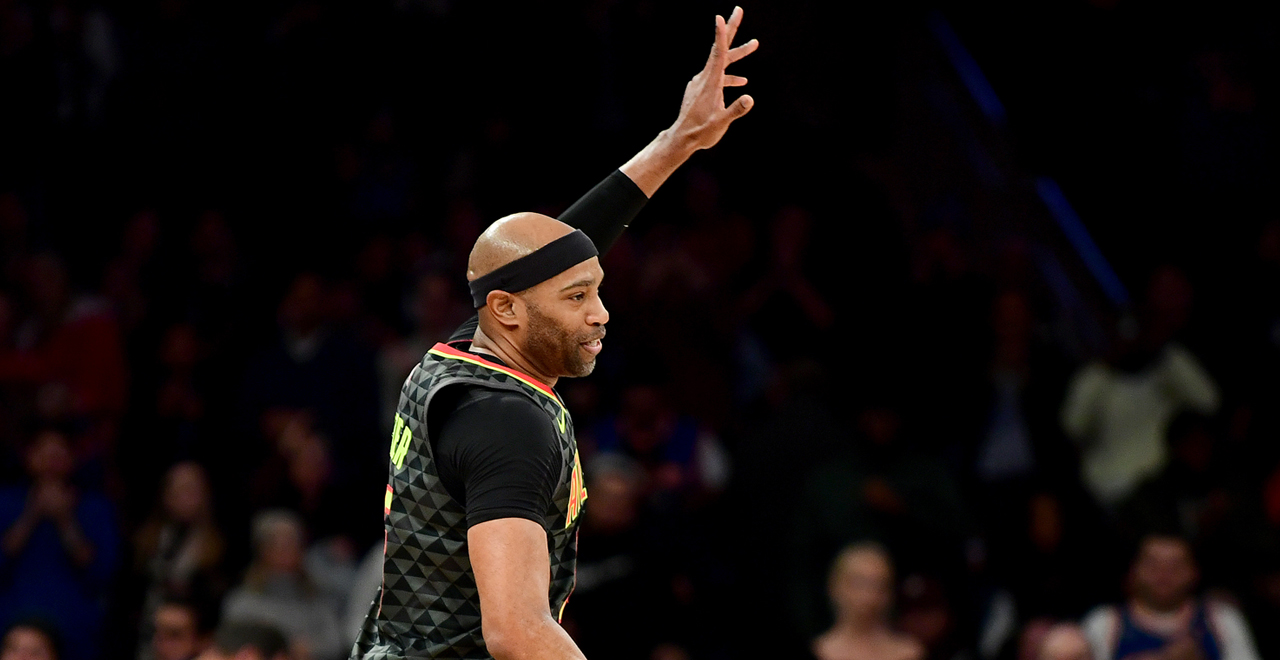 There have been a lot of "next Jordans" in the NBA over the past 25 years, and we all have our favorites. But only a few managed to make the conversation even slightly interesting. We lost one of them to tragedy earlier this year, and yesterday another decided to finally hang it up after more than two decades of highlights.
Vince Carter came into the league as a high-flying sensation, and while he never quite reached the championship heights he was aiming for, he parlayed his incredible athleticism and extreme likability into a long-lasting career, finally leaving as an elder statesman, respected around the league for his professionalism – and with a library of highlights.
.@mrvincecarter15 is officially hanging it up.

Thanks for the memories 🙌 pic.twitter.com/qPTwE1I1We

— SportsCenter (@SportsCenter) June 25, 2020
Carter, who, at 43 was the oldest active player in the league, made it official on The Ringer's "Winging It With Vince Carter" podcast, where he announced that he is "officially done playing basketball professionally." He'd previously said that this year would be his last when he signed a one-year deal with the Atlanta Hawks last spring, and the former Atlanta Hawk, Toronto Raptor, Brooklyn Net (and five other teams!) stayed true to his word.
His status was in slight limbo thanks to the NBA's suspension of playback in March because of the coronavirus, but when the Hawks weren't one of the 22 teams eligible to continue to play in the league's relaunch in Orlando, Carter decided it was time.
He explained on the podcast.
"If there was any disappointment because of the season — any of that — it was kind of easier to put it aside and handle it that way," Carter said. "It's like, OK, it's something bigger than my career. … It's unfortunate, but with the coronavirus taking people's lives rapidly, that's the big picture in my mind. So I was able to put the weird ending — the abrupt stoppage of play, to an ending — aside for the bigger picture."
The eight-time all-star and rookie of the year winner (1999) leaves the game averaging 16.7 points (at 43!) and as the 19th leading scorer. He is also one of the all-time best dunkers! Highlights from the slam dunk contest he won in 2000 remain burned in my brain, as does his legendary posterizing of Frederic Weis.
Players across the league tweeted their respect for Carter, and NBA Commissioner Adam Silver said in a statement: "Vince Carter has made an indelible impact on the NBA with his remarkable skill and enduring commitment," calling Carter "a true ambassador of the game."
Carter, aka "half-man half-amazing," is the first NBA player to appear in a game in 4 different decades. Here are some of his accomplishments:
Vince Carter's career:

-22 seasons
-25,728 points (19th all time)
-6,606 rebounds
-4,714 assists
-1,530 steals
-888 blocks
-2,290 3 pointers (6th all time)
-8x All Star
-2x All NBA
-ROTY
-Dunk Contest champ
-only player to play in 4 different decades

Half Man, Half Amazing. pic.twitter.com/3z3AMl4Wgi

— ethan (@okcfanethan) June 25, 2020
Check out some highlights from Carter's impressive career:
Vince Carter has officially retired!
Thank you @mrvincecarter15 for 22 years of amazing highlights & memories! pic.twitter.com/TFJLYs6dvb

— Ballislife.com (@Ballislife) June 25, 2020