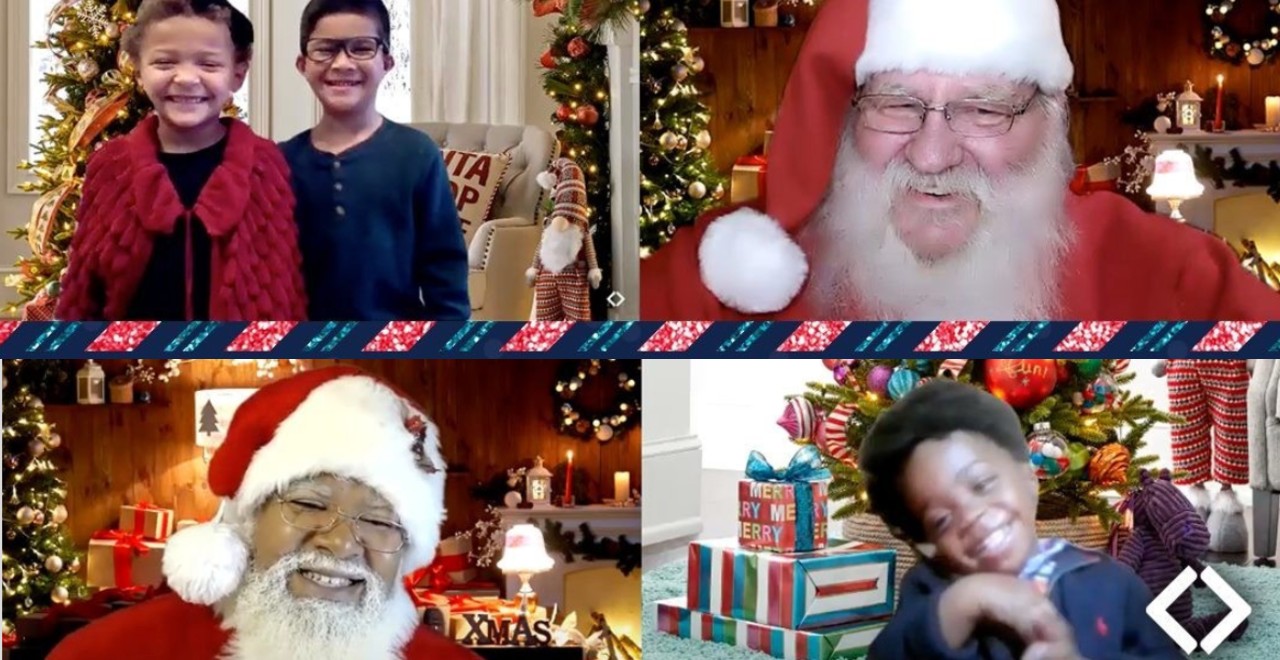 Credit: Instagram/SamsClub
Taking your kids to visit Santa is one of the mainstay holiday traditions. Sure, they probably get super nervous or cry, or tell Santa they want something crazy expensive you didn't plan for. And yes, the price of a picture with Santa is roughly $320. But it's also a memorable experience for kids who get genuinely starstruck, and the pictures with Santa year-over-year are a fun trip down memory lane for parents. In terms of rip-offs (it's not the real Santa!), this one is recommended.
This year, though, most mall Santas are not adorning their throne in the food courts in malls around the country. But there's still a way for your little ones to get a chance to talk to Santa, and it's actually not bad (and maybe preferable?). You won't be stuck in a long line, you won't be tempted to buy six things you don't need, and your kid will feel a little more comfortable. This year, meeting Santa has gone virtual.
There are a bunch of great options, and it's not too late, for your kids to meet up with Santa. Macy's, home of the iconic department store Santa, is offering a FREE virtual Santa meeting for kids.
The holidays are officially here! Starting tomorrow, you can visit Santa safely from home. Explore Macy's Santaland & even take a selfie with the big guy himself. Learn more here: https://t.co/5MXzZ4loEP #MacysSanta pic.twitter.com/DowR4XA8Bt

— Macy's (@Macys) November 26, 2020
You can even get a free downloadable "selfie" with the big guy, which will be another testament to "this crazy time."
Nordstrom is also doing the virtual Santa, although their visits cost $20. But all proceeds are benefitting the Big Brothers Big Sisters program, which is super cool and a very good operation (said as someone who was a Big Brother for a decade).
View this post on Instagram

Sam's Club is also offering free Santa experiences for members, and they let you personalize it by giving Santa your child's name, age, and something you want Santa to say. And you get a free video and photo to mark the occasion! They also have a pretty diverse lineup of Santas, including English-speaking, Spanish-speaking, and ASL Santas.
View this post on Instagram
And if you want a more in-depth Santa virtual experience, you can go with JingleRing. It's cool because you get a little more bang for your buck, and also because you can have more than one person on the call, so you can have guests (cousins?) in different areas all get to "visit" Santa at the same time.
Yeah, 2020 has changed almost everything, so we have to get a little more creative with keeping the magic of the season alive.