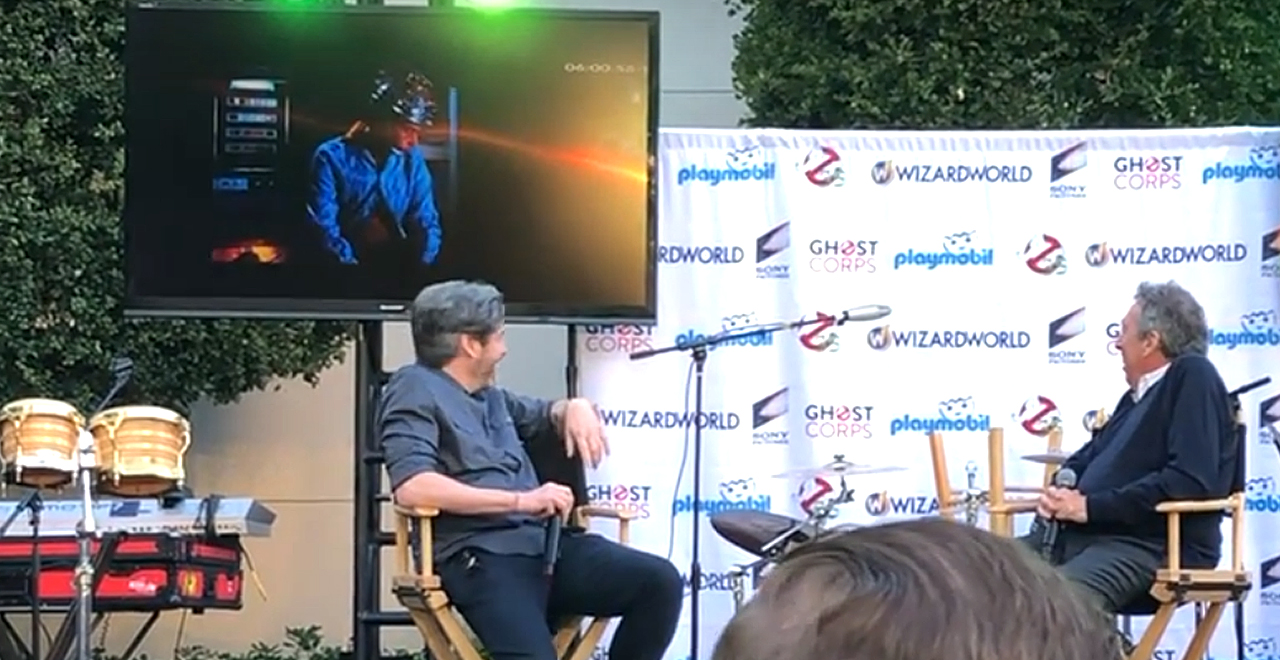 Credit: YouTube/SlashFilm
Fans of the original Ghostbuster just got a fresh dose of previously unreleased footage from the first film that has until now, been sealed away in a Kansas mine. Seriously.
Director Jason Reitman, one of the creative forces behind the upcoming Ghostbusters 3, teased the newly-found clips during an appearance at the Ghostbusters Fan Fest this past weekend in Los Angeles. Jason, along with the original director and his own father, Ivan Reitman, gave fans a sneak peek at both the old clips along with a few hints about what to expect in the third installment.
"We went to Sony, and we said, 'We'd really love to get back into the original dailies from 1984. Do you still have them?' And we found them. They were in a mine in Kansas, and we shipped the boxes to Burbank. We've been going through the footage for reasons I cannot tell you, but along the way we found some really cool stuff."
The video from the Fan Fest is almost 30 minutes long but we've taken the liberty of queuing up three segments below that feature the footage in question:
After seeing a few of the scenes, it's clear there are plenty of ways to use them, be it in a flashback or perhaps some after-credit outtakes. Either way, these newly discovered reels won't be going back underground anytime soon.
While reboots and continuations have often relied on prior footage to tie things together, another bit of good news has recently been released that certainly has fans of the originals eagerly anticipating the new addition.
"Sigourney has read the screenplay…Dan has read it…Ernie's read the script…Bill Murray has read the script." @JasonReitman 😉 🖊 #GhosbustersFanFest

— Ghostbusters (@Ghostbusters) June 9, 2019
In an interview with Parade magazine that came out on Friday, actress Sigourney Weaver all but confirmed that she and crew will be returning in some way, shape or form.
While she remained tight-lipped on details, she confirmed her character, Dana Barrett, will certainly be there and told Parade "It's going to be crazy working with the guys again," alluding to comedy phenoms Bill Murray and Dan Aykroyd along with potential others who graced the screen of the original 1984 classic.
While that's exciting news for fans of the franchise, don't expect it to be solely focused on the original cast. It has been announced that Stranger Things star, Finn Wolfhard, along with actresses Carrie Coon of HBO's The Leftovers and Mckenna Grace of Captain Marvel fame, will be the focus of the new feature.
Meet the family.#GB20 pic.twitter.com/uxO0KQatyS

— Jason Reitman (@JasonReitman) March 29, 2019
Ghostbusters 3 should begin shooting in about five weeks and is currently scheduled to be released on July 10, 2020. To watch the interview in its entirety, head on over to SlashFilm's YouTube channel.