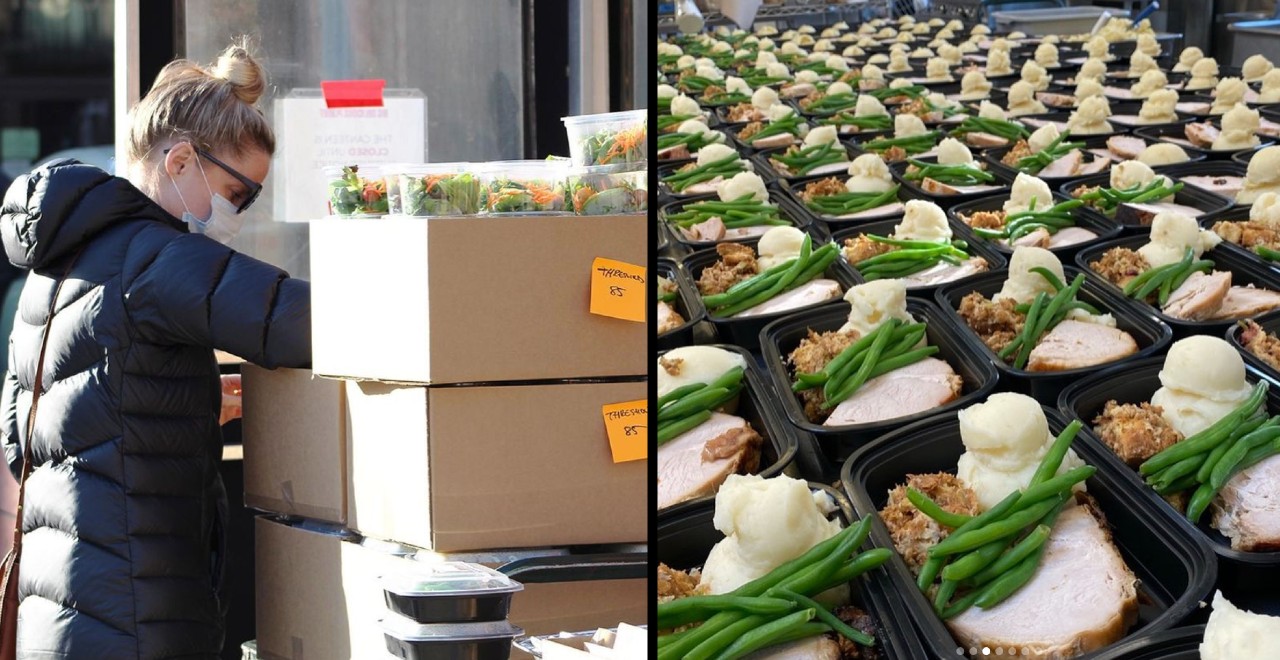 Credit: IG/Thresholdschicago
Even those lucky enough to avoid COVID have still felt the effects of the global pandemic that's ruined lives, livelihoods, and a year of people's lives. Manage to stay healthy? That's great!  But there's still a wracked economy, funerals on Zoom, classes on Zoom, everything on Zoom. And like much in life, you can't control what happens, you can only control how you respond. That's the mentality one Illinois couple took after COVID scrapped the plans for their wedding. Instead, they decided to use the non-refundable catering deposit to buy 200 Thanksgiving dinners for people in need.
That's been one of the inspiring aspects of all of this, how normal people respond to these extraordinary circumstances. Sure, celebrities can make grandiose donations to buy entire hospitals full of PPE (thank you celebrities, we need that!), but it's even more touching when every day folks roll up their sleeves and do what they can to help each other through this hellscape. Stories like this, or the guy who had to say goodbye to his dad over Facetime, so he helped provide dozens of iPads to hospitals so others could connect with loved ones.
In this case, Emily Bugg and Billy Lewis were supposed to be married in the fall. And they were! It was just in city hall, and not the grand wedding they had in mind when they got engaged. But they still had a $5,000 nonrefundable catering deposit to consider, so they put it to good use. They purchased 200 Thanksgiving dinners for clients of a mental health nonprofit.
Emily works for the nonprofit and wanted to help replace the organization's yearly communal Thanksgiving dinner that had to be scrapped (also COVID).
View this post on Instagram
"In the grand scheme of things, canceling a big wedding isn't the worst thing that could happen," she said to Good Morning America. "We're happy to be married, and we're so happy that we could help Thresholds' clients feel the connection of a Thanksgiving meal as a result of the wedding cancellation."
The catering staff boxed up the meals, which the nonprofit staff delivered to the homes of patients. The CEO said the donation was an incredible example of 'the generosity and creativity the pandemic has inspired in so many.'
"I know that Emily's act of kindness will inspire others to do the same and build love and connection in a difficult time, in any way we can," he said.