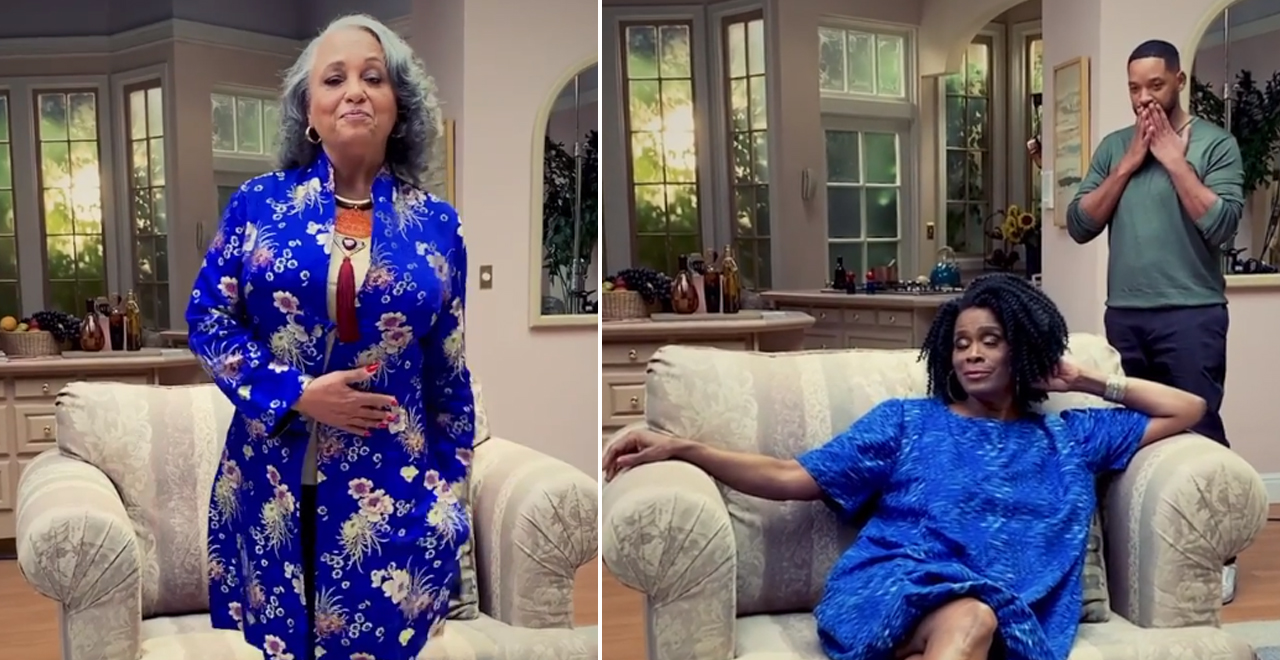 Credit: Instagram/willsmith
Kids who took a lot of sick days in the 90s have some pretty vivid memories of The Banks's, their second family up in Bel-Air. The Fresh Prince was iconic, not only because it helped launch superstar Will Smith to fame, but because it was a classic in its own right. It put a new spin on the family sitcom genre, and addressed serious issues that other shows steered away from.
There's been a surprising amount of news about the 30-year-old show recently, from a dramatic reboot to a highly-anticipated 30th anniversary reunion. The original cast was set to return for the reunion special, with a couple exceptions. James Avery (Uncle Phil) tragically passed away in 2013 from complications after open-heart surgery.
The other cast member nobody expected to see was the original Aunt Viv, Janet Hubert, who was replaced three seasons into the show. Hubert claimed that Will Smith was to blame for her removal from the show, and went on to say some, uh, less than kind things about the actor for how he treated her.
Nearly a decade ago, in an interview with TMZ, Hubert adamantly expressed that she would never participate in a reunion for the show. She still harbored resentment towards Smith for whatever happened all those years ago, and seemed ready to put the whole thing behind her.
In the uplifting surprise we all needed (nobody likes to see their family fight), Hubert appeared in HBO Max's reunion special. Smith explained, "As a family, we have our things that we talk about and then we have our things that we don't talk about. We never really, together, publicly talk about Janet. And what happened. And, for me, it felt like I couldn't celebrate 30 years of Fresh Prince without finding a way to celebrate Janet."
https://www.instagram.com/p/CHv3DryBVam/
Regardless of what happened between them, Will Smith felt that the Fresh Prince family wasn't complete without his original Aunt Viv. The heartwarming reunion showed Will Smith and Janet Hubert embrace, a hug that replaced 30 years of resentment and pain with support and understanding.
Hubert explained that she had been in an abusive relationship, which led to her getting pregnant during the third season of the show. With decades of life experience under his belt, Smith realized he'd approached the situation without the compassion it deserved.
After reuniting with Hubert, Smith took time to reflect and spoke to the camera about some realizations he'd made. Smith explained, "I wasn't perceptive, and now that I've had three kids I've learned some things that I did not know at the time and I would do things very differently. But I can see where I made the set very difficult for Janet."
After leaving the show (not because she was fired, but because she refused to accept an unfair deal), Hubert faced several difficult years. Being a Black female actress was difficult in the 90s, but after a star like Will Smith claimed she was hard to work with, it made pursuing her dream nearly impossible.
"And it's hard enough being a dark-skinned Black woman in this business," Hubert explained, "But I felt that it was necessary for us to finally move forward. And I'm sorry that I have blasted you to pieces."
With all cards on the table, finally, the actors were able to put their difficult past behind them. The Fresh Prince of Bel-Air's 30th-anniversary reunion (which premiered a day early, another unanticipated gift) became far more than a chance for the cast to catch up – it became an opportunity for two important cast members to heal.
As if our hearts weren't full enough, Smith offered the verbal equivalent of a peace treaty. He turned to his former co-star and said, "You're still my Aunt Viv."