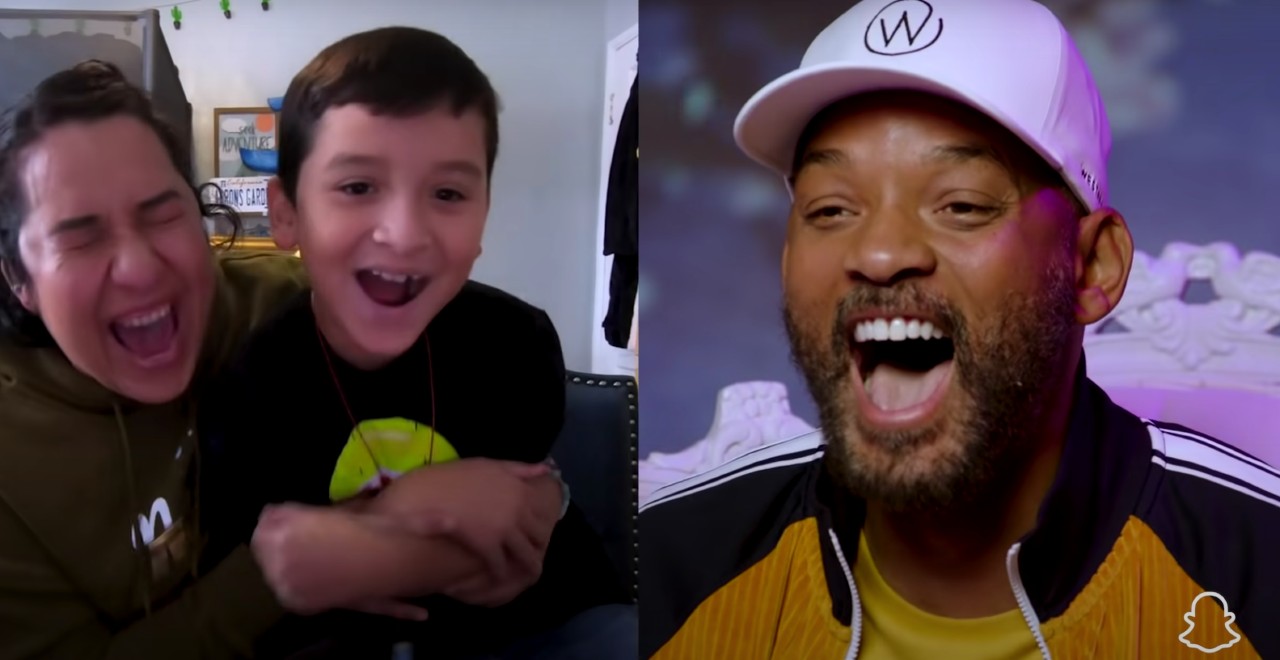 Credit: YouTube/WillSmith
We can all use a good news bump these days, and one of the coolest is when celebrities surprise young fans, especially when it's someone who really deserves it. Aaron Moreno is an 8-year-old boy who really freaking deserves it, which is why watching him get surprised by Will Smith is one of those videos that will bring a smile to your face (a valuable thing to have during a cold pandemic winter!).
If you don't know who he is, here's the short version of why he deserves it. Aaron's mom lost her job at the beginning of the pandemic, and the family was forced to live in a shed, where they were still struggling to get by. Aaron told his mom about his idea to start a business selling plants, and she gave him her last $12 as seed money (pun very intended). He turned into hundreds, then thousands, after it went viral and admirers started a GoFundMe. His hard work helped his family move out of the shed to an apartment, helped them get a new car, and helped them bring his sister back to live with them (she had been sent to live with other family members).
All that goodness got him on the radar of Will Smith, who surprised the boy (and fam) on an episode of his "Will From Home" Snapchat show. Aaron and his family are big Smith fans, they even used to huddle around a phone in the shed to watch his movies, and said 'The Pursuit of Happyness' gave them strength and hope in that tough time.
"Aaron was carrying the weight of the world on his shoulders, and instead of collapsing from the burden, he said 'How can I help my family?'" Smith said. Smith had him on the show to praise him for the effort behind his growing business, Aaron's Garden, and for his work to help his family. And, to play a little trivia, along with another Will Smith (Major League Baseball catcher Will Smith).
Naturally, there were prizes, including baseball tickets, an invite to batting practice, a PlayStation 5, and $10,000 cash from Nextdoor. Nextdoor also pledged to advertise Aaron's business for free.
The family called it one of the best things that have ever happened to them, and that Aaron's mom couldn't stop crying.
View this post on Instagram
"You are showing us all how to take care of our families," Smith told Aaron. "Just keep doing what you're doing."