Chicago Man's Dad Jokes Provide Much-Needed Comic Relief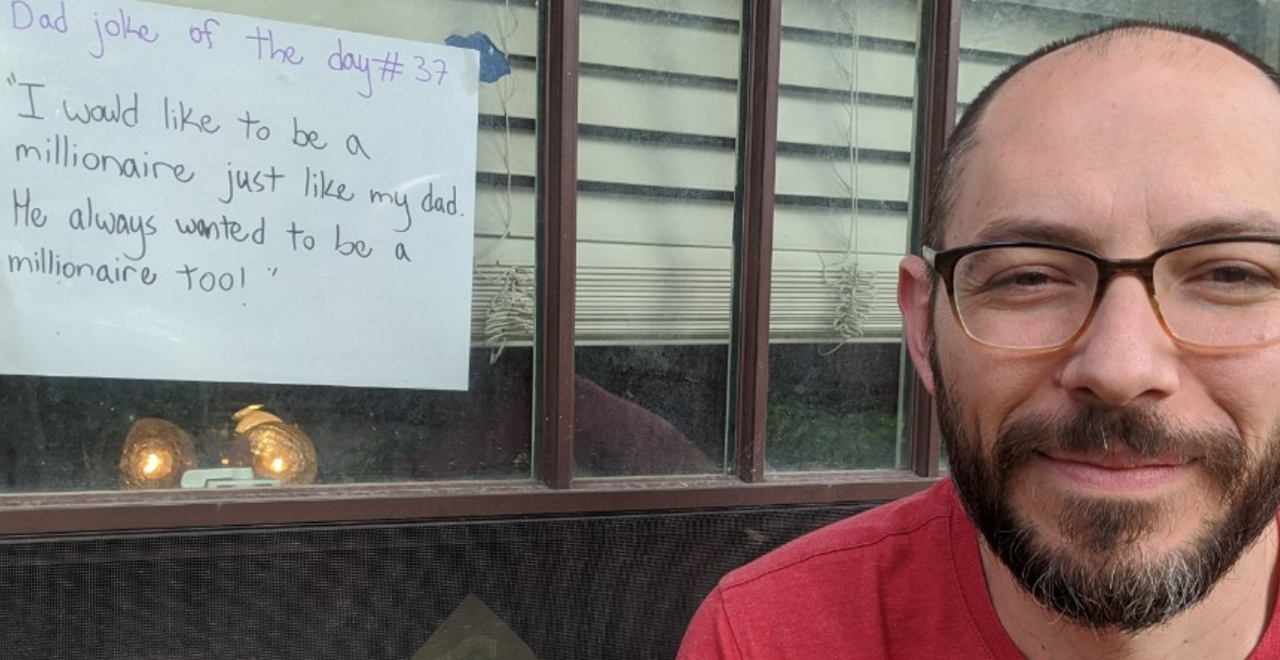 Between the stress of living through a pandemic and add protests around the globe, understandably, there hasn't been a whole lot of room for laughter. Amidst the chaos and heartbreak, one Chicago man is trying to sprinkle in a little bit of joy – dad style.
Yair Bernstein, a middle school Hebrew teacher, has spent years trading similar jokes with a colleague. Since school was moved to e-learning, both students and teachers began doing their respective work from home. Bernstein began to miss his daily joke exchanges. If you can work from home, you can joke from home – so that's exactly what he did.
Bernstein started posting his daily dad jokes for the world to see, right in the street-facing window of his Chicago condo. At first, he didn't think many people would read his jokes – but Bernstein quickly realized just how wrong he was.
Bernstein told The Dad, "One weekend, a person stopped by the window and exclaimed 'this is the same joke from yesterday!'. At that moment I realized that people were actually passing by the window to read them! Then I decided to add a note every weekend that says: 'Dad is resting over the weekend, we will be back with new jokes on Monday morning.'" Countless moments like this showed Bernstein just how much people enjoyed reading his jokes as a brief distraction from the stress of daily life.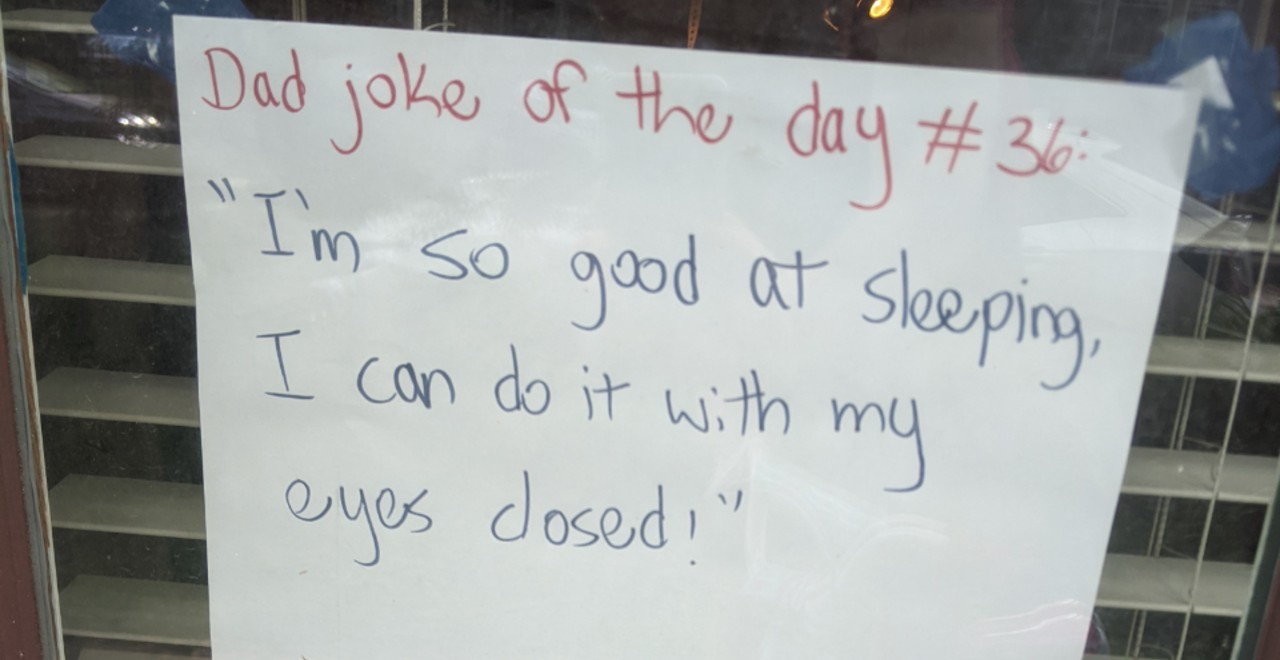 After returning home from a walk a few days ago, Bernstein received yet another confirmation that his jokes are making a positive difference. "There was an envelope stuck between the window and the screen. In it, was a thank you note from a few families that enjoy the jokes. They wrote: 'Thank you for your on-going creativity. I share your jokes with my family around the country…' I was really touched by it as they did not have to do that. I hope that with this small act I help many go through these hard times".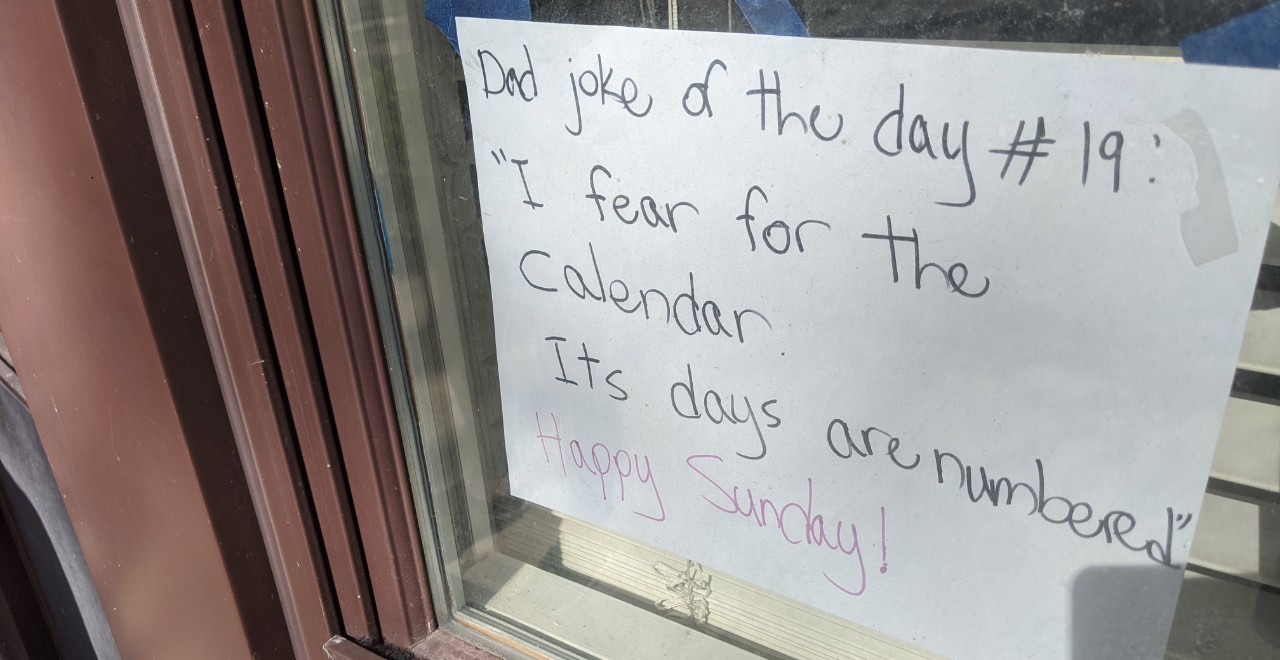 Bernstein is on day 41 of posting his dad jokes with no end in sight. Aside from public support, this Funny Father has a couple of cheerleaders at home. "My daughters don't take part in the process itself. But they enjoy seeing me write the jokes every morning. They really get excited when they see someone stopping by to read them. They call me from the other room to let me know someone is taking a picture. My 5-year-old tries to make jokes like that, but they don't make sense at this point yet… It is still very funny because she got the 'rhythm' of the joke, but she is still working on the content."
We asked Bernstein to curate some of his favorites from the past 41 days, so we'll leave you with a few knee-slappers.
Day 18: "Doctor, I've broken my arm in several places" Doctor: "Well, don't go to those places."
Day 37: I have always wanted to be a millionaire, just like my dad. He also always wanted to be a millionaire!
Day 41: If you have a bladder infection, urine trouble.
"It is very easy to change the world for the better," Bernstein reminds us. "It is just about small acts of kindness. Sometimes those go much further than huge gestures. And anyone can do it."
One Twitter user is documenting all of his gold here.