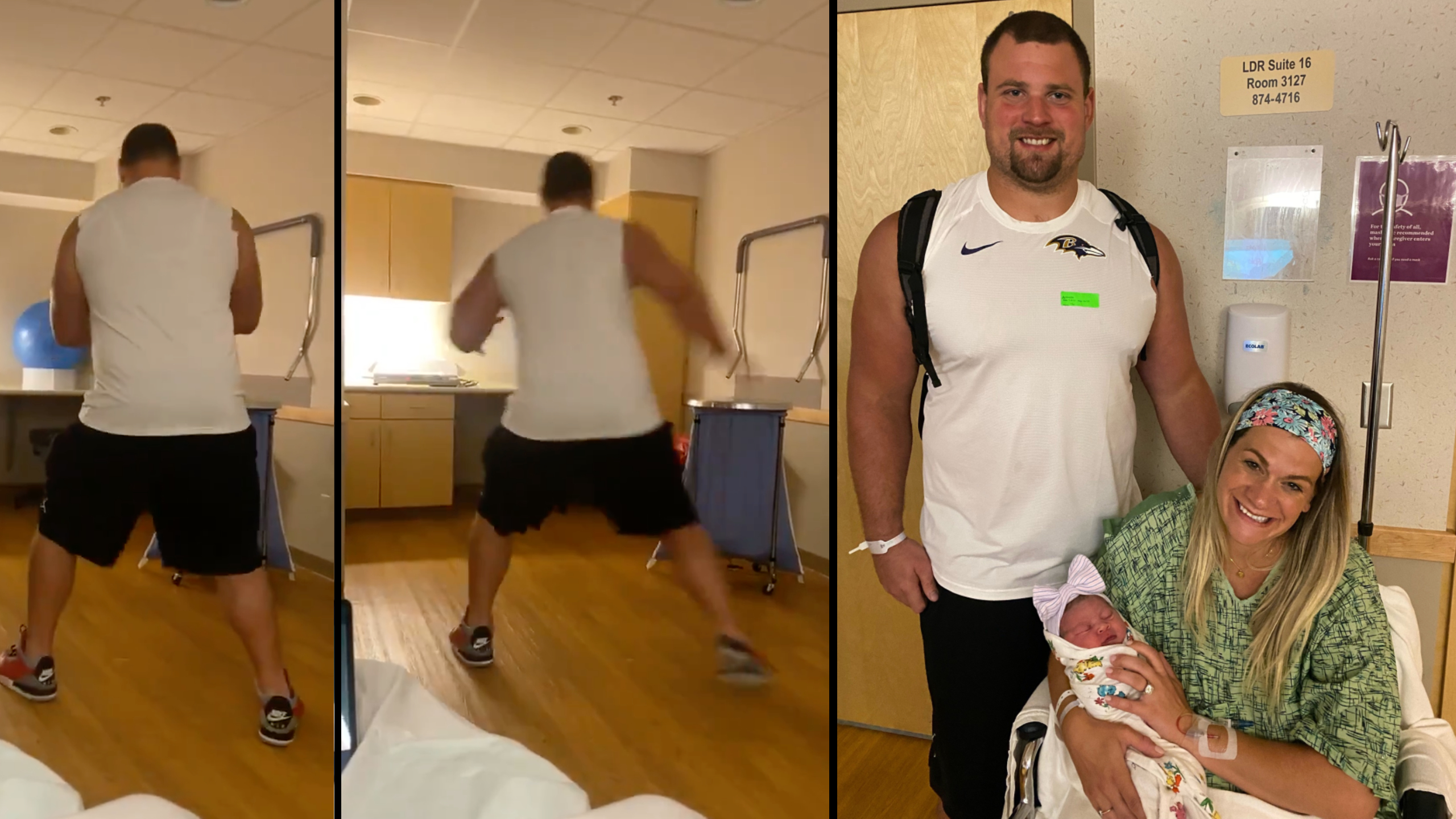 Credit: Twitter/Mrs_S_Zeitler
Athletes love nothing more than cliches, and "no days off" is one of their absolute favorites. Some guys take that maybe a little too literally. For example, the NFL offensive lineman who practiced pass sets in the hospital room WHILE HIS WIFE WAS IN LABOR.
Baltimore Ravens offensive lineman Kevin Zeitler (a wonderful player, to be fair) was with his wife Sara as she was in labor with their second child. She shared a video of her football-obsessed husband working on footwork drills right there in the room.
Meanwhile while I was in labor, @kzeit70 did pass sets in the hospital 🤣 pic.twitter.com/ktc1s8eYjD

— Sara Zeitler (@Mrs_S_Zeitler) July 10, 2021
Sara's video was viewed millions of times on social media and the NFL Network. It's funny how the former teammates of his said it's the "most him" thing ever…there are worse things to be known for than a voracious work ethic!
But, let's also be fair to the big fella, labor is a loooong process. And there's not a lot for dads to do other than to be encouraging and shut up at key moments. Sure, once you get to showtime, there's anywhere from 5-30 minutes of locked-in performance required, but that's after sometimes hours of downtime while things progress slowly.
Also, this is a second baby. I remember being terrified and locked in during most of my wife's first labor. During the second? Psssh, I was enjoying a football game on my phone, reading the newspaper, just sorta relaxing for hours with no responsibilities other than the occasional ice-chip delivery or small talk. If you can squeeze in a little work, it's not the end of the world. I myself have worked in a little bit of writing here and there during the recovery times. What's a better to write dad jokes?
In our clickbait society, it'd be easy to paint this as a "look at a husband ignore his wife EVEN IN DELIVERY." But really it's more a wife capturing a funny video during the spare time before things get real. Especially when the ending is a happy one.
Parker Lou joined the Zeitler crew on July 8th! Our sweet 10 lb bundle of joy was 22.5 inches long, and already so loved 💕 pic.twitter.com/CfvX8ZfYNu

— Sara Zeitler (@Mrs_S_Zeitler) July 10, 2021