In certain households — mine included — grilling time is sacred time. I'm in charge around the grill, and everyone admires and respects my incredulous ability to sear meat in just the proper manner with mouth-watering results.
Of course, the reality is that the kids are running around screaming that they're starving, someone always has an opinion on what you should be doing with the food, and everyone seems to go deaf the second you ask to have a beer brought to you. Typical dad BBQ moments.
RELATED: The Ninja Foodi Indoor Grill Is So Good, You'll Use It All Year Long – Fatherly
You may as well ditch the illusion of those perfect BBQ dreams and have some fun with it. Get (and give) a good laugh by poking fun at yourself in one of these really funny aprons for men. Some of these inappropriate aprons are NSFW (not safe for work you, you know..)—or for kids for that matter, but they're still pretty damn funny for the right crowd.
You may be grilling at home these days with only yours truly (we don't know who you've been stuck with for #quarantine2020), but eventually, the neighbors will start reappearing with booze in hand. When that does happen, we will all be needing a very good laugh.
Now, is it right that your family and friends have said laugh at your expense? You, the aforementioned grill-master? Especially when those same people are about to eat the food you're cooking? I'll leave that up to your discretion. Just remember: Revenge can come in many forms, including in burgers "seasoned" with ghost pepper. (Seasoned meaning doused in this case.)
Best Cooking Aprons for Men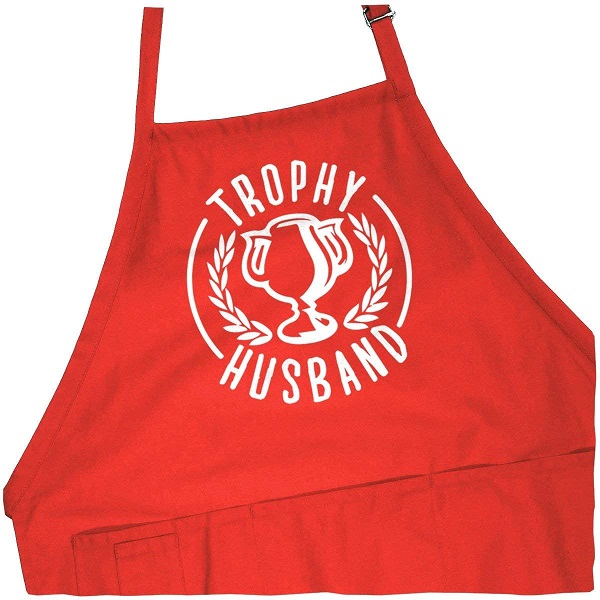 We all know the true reason our wives want us to grill … because we look sexy as hell. We can't wash laundry, do the dishes, or dress ourselves in the morning correctly, but we know how to look good doing this. We might as well be honest about why she keeps us around with a funny apron for men that designates us as her trophy husband.
There's a saying in the business world that you should under-promise and over deliver when making a presentation or proposal to a client. In other words, don't make unrealistic promises about how well you can do a job, leaving your client underwhelmed when the process is over.
F*** that.
When it's grilling time, you're in your element. You're in charge. With this inappropriate apron, you are promising a delicious BBQ meal, and you can be confident you will deliver.
If you want to try wearing this apron the next time you have to give a presentation to a client, we won't stop you. Just understand it may not work as well in a boardroom as it does around the grill.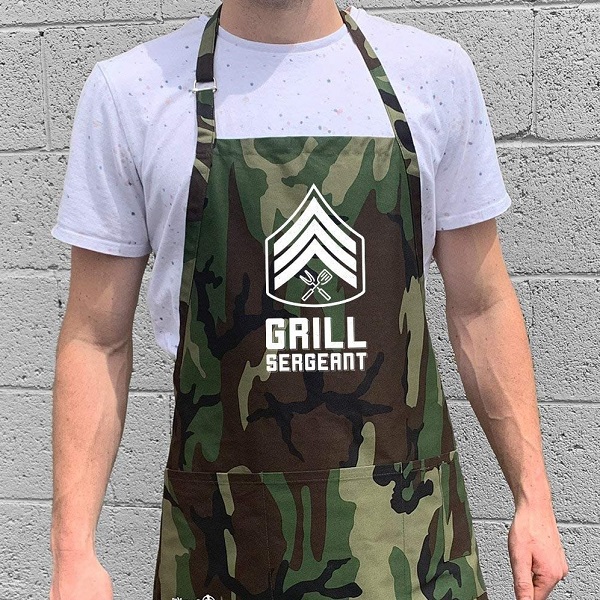 You know we had to throw a dad joke into any list of cooking aprons for men. (Personally, I feel like an angel kicks a puppy every time I hear a bad pun/dad joke. But I get it. Some people like them.)
This funny grilling apron takes the dad joke to the extreme, even using sergeant stripes and camouflage.
Honestly, every dad has a little bit of a drill sergeant in him, having to order children around the house. So this apron is extremely appropriate. (But never use it to order the wife around. We like to avoid sleeping on the couch.)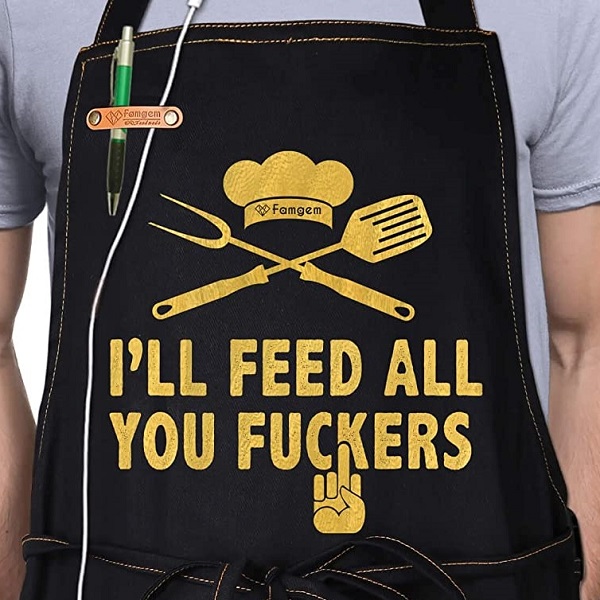 We all love grilling, but it's also hard work. Standing over a hot grill, having to down multiple cold beers to offset the heat, just to keep our body temperature relatively normal.
No one wants to hear about our woes, though. They just want the food now, bitching and moaning the entire time.
Since we dads are known for holding in our tempers and remaining calm in all situations, we just have to smile and be polite while grilling, not being able to tell them what we really think.
That's where this cooking apron for men enters the picture. Rather than continually having to answer the question — "When is it going to be ready?" — just keep your mouth shut and point to the front of this inappropriate apron. (Less talking leaves more time for cooling your body temperature with beer, by the way.)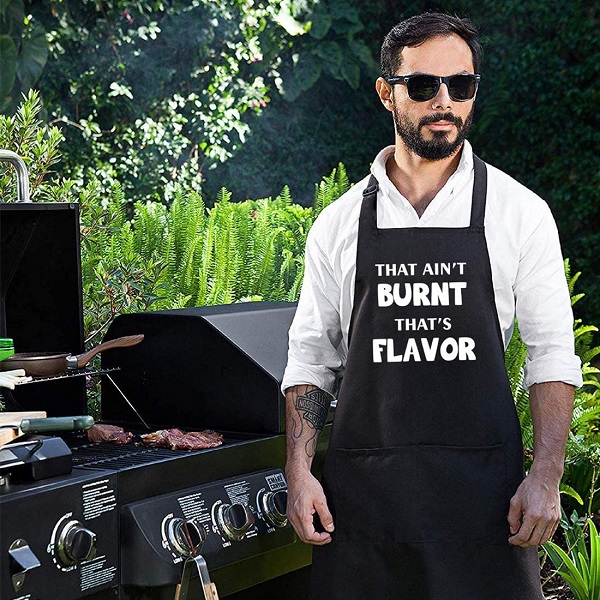 My dad loved to grill, and he was great at it … most of the time. Once in a while, he'd get busy on a different project and forget to check the grill until it was a little too late.
There was no calling for pizza on these nights, though. The grilling results always ended up on the table, whether they were perfectly cooked, still actively on fire, or anything in between.
So this funny grilling apron speaks to me, as my dad used almost this exact phraseology if any of us little smart-asses dared to question the overdone grilling results. (He used significantly more colorful language than this apron does, but the sentiment is the same and still gets the point across.)
At any barbecue where you are in charge of grilling, there always seems to be one pain in the ass who needs to inject an opinion into every move you make.
Since the law (at least for now) frowns on you smacking this backseat griller in the back of the head with a bag of briquettes, try showing him this funny apron for men instead.
And if Mr. Opinion still doesn't get the hint, pretend that you don't have enough charcoal or propane to finish the job and send him home to get some … across town … in your car with the gas tank on E. If he doesn't make it back, so much the better. If he does make it back, he'll at least have put some gas in your car.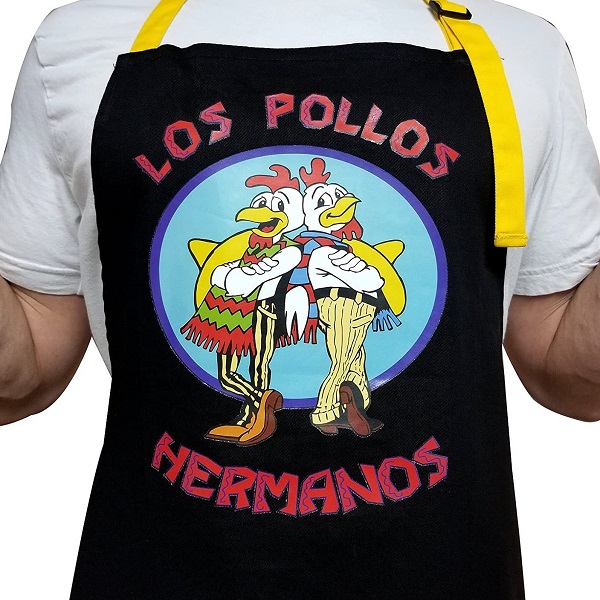 Breaking Bad involved a cook (of sorts) and a delicious restaurant (of sorts) called Los Pollos Hermanos. So fans of the show will love wearing this fun apron. (Sure, Los Pollos Hermanos was just a front for a huge meth operation, but those details don't have to affect your enjoyment of this apron. The cook on your grill is completely legal, after all … even if you're using secret sauce and ingredients that you wouldn't reveal to anyone, including the cops.)
And for those who've never seen Breaking Bad, just tell them that, during a trip to Mexico, you were given this cooking apron for men by the master of a secret grilling society that has been active for centuries, and it gives you special grilling powers. If they've had enough beers, they might even buy it.
What's better than having dad grill some amazing burgers and steaks? Having dad do some freestyle rap while he's grilling amazing burgers and steaks.
This funny grilling apron is sure to inspire dad to lay down some bars. (We feel very confident that one of the lines will include, "I'm here to say," at some point.)
Do you think Sir Mix-A-Lot realized what he was unleashing on the world when he released Baby Got Back? Us either. Even if you're a terrible rapper, you can still enjoy this funny cooking apron for men. Hey, and if your intention was to sleep on the couch tonight, #you're welcome.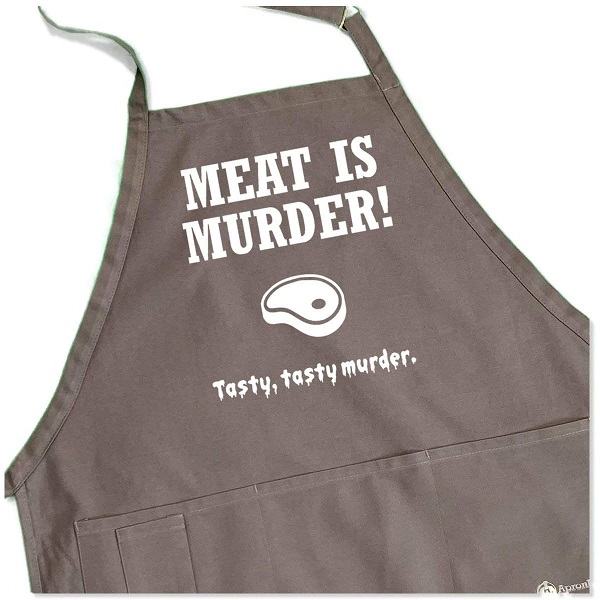 Sometimes, you'll have someone at your barbecue who wants you to place some vegetables on the grill next to the meat. We understand that's sacrilege for some grill masters. We're not totally opposed to it on occasion, as long as everyone realizes the star of the show is the meat.
But if you run into someone at your barbecue who has a strong opinion that the grill should contain only vegetables, then this is one of those inappropriate aprons that simply must be worn.
Hey, it's OK to appreciate animals and still think a pork chop or chicken breast tastes amazing on the grill. Humans have managed to balance the two ideas for centuries. This funny apron for men just helps to ensure the tradition continues.
Game of Thrones fans will appreciate the humor behind this funny grilling apron, as it twists one of the most well-known quotes from show character Tyrion Lannister. (Come to think of it, no twist was needed: "I drink and I know things" would've fit appropriately on cooking aprons for men for grilling time.)
If people who are not fans of GoT see the apron, they might just think you have super dad powers. (This is never a bad thing to make your kids think you have, by the way. The more they think you're watching them, the less s*** they'll screw up.)
Although we only recommend picks we really love, we may earn a commission on purchases made through links from our site.