My wife loves watching weird medical diagnosis shows. Whenever they show the family grilling in the first 15 seconds, the medical mystery is almost always going to involve someone in the family unknowingly eating a burger with a stray metal grill brush bristle in it.
This is actually a thing and a cause for alarm for dads who grill. If you end up with a metal bristle in your throat or intestine, it's no joke. So enough with using a metal-bristled barbecue brush! Instead use a safe grill brush, such as a non-wire grill brush.
This doesn't mean you should stop grilling burgers and juicy steaks. Far from it. As a dad, you need to grill. Grilling is in your DNA. We're all counting on you. Just clean the grill with a wire-free grill brush, and your mouth-watering barbecue will be safe and delicious. Plus— Father's Day is coming up, you're going to need a gift. Put in your request early.
Best Safe Grill Brushes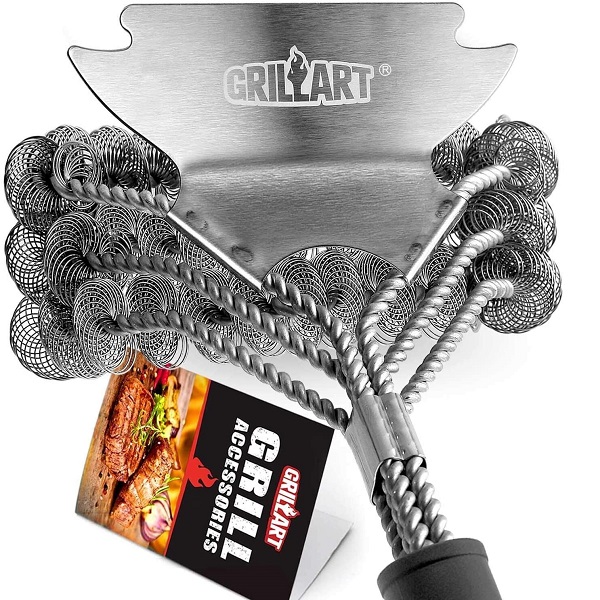 If you just can't break the bristle brush habit, this Grillart model has a form that's similar to the traditional brush, but this is a safe grill brush.
It doesn't use bristles, relying on stainless steel pads. It gives you the scrubbing power of multiple stainless steel pads at the end of a foot-plus-long handle. (Trust us. A stainless steel scrubbing pad works well to clean a hot grill, but you don't want to be holding it by hand.)
It also has a scraper at the end, meaning you can remove that disgusting melted cheese mess that your wife insisted that you try on the grill. With the scraper, no one has to know about your grilling mishap.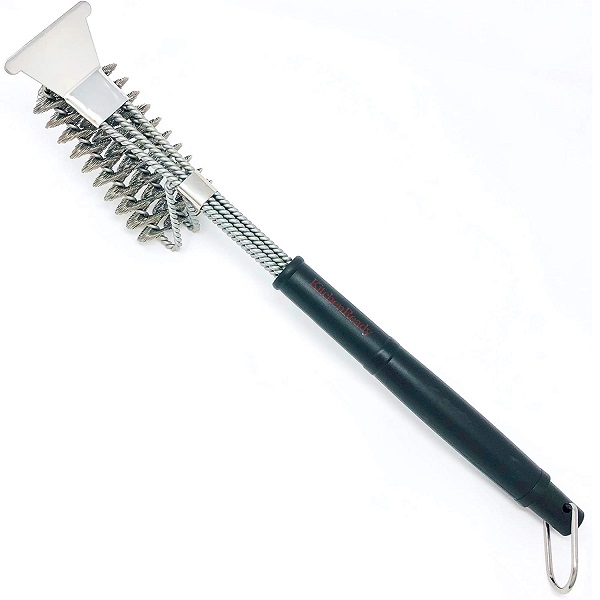 If the Grillart brush is a little too big for your grill, you have two options. First, consider buying a much bigger grill. You know you deserve it.
Or save some money and stick with the smaller KitchenReady safe grill brush. This is the best bristle free grill brush for smaller grills, as it has a smaller scraping surface and fewer stainless steel pads.
It still has that long handle to keep your hands away from the heat, which is handy when you start to put the burgers on the hot grill, only to realize you forgot to clean it from last time. You can safely use this non-wire grill brush while the briquettes are burning hot.
This will save you the annoyance of your wife asking if you remembered to clean the grill halfway through cooking the burgers … and you having to lie to her. With this brush on hand, you can have the grill cleaned ahead of time and actually tell her the truth. (This time.)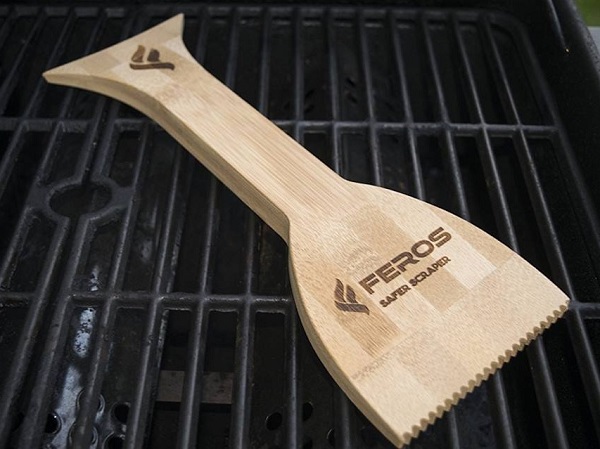 Maybe you prefer a wood pellet grill, giving you that unique flavor and that smooth, even heat. Maybe you have become so addicted to wood fire grilling that you snicker under your breath when someone else fires up a tank of propane. (Some people might say you have become a boorish grilling snob, but I would never do that.)
With your love for wood pellet grilling, you need a wood cleaning tool like this one made of bamboo, which is sustainable.
The cleaner has grooves on the end to clean the edges of the individual bars on the grill rack. It'll also scrape the top. And it's thin enough to fit between the bars on the rack. Your grill will never have been so clean. (Just don't show your wife, or you may be given a few other things to clean.)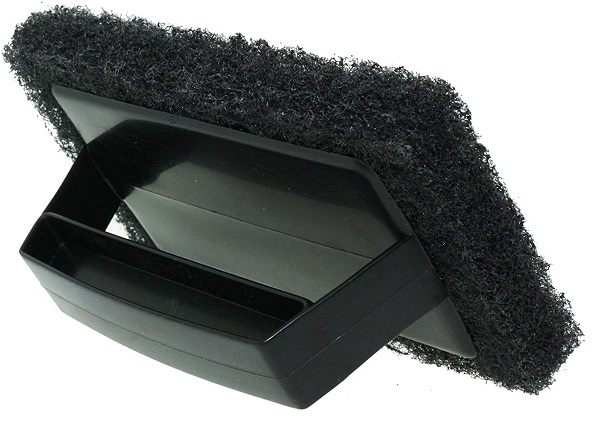 If you dislike having a cleaning tool that you only can use on your grill, this grate cleaner works in other areas around the kitchen, including that non-stick skillet your wife loves. (Don't try using the metal scraper for your grill to clean the non-stick skillet in your kitchen, or you'll be sleeping on the couch for a few days.)
As a bristle free and safe grill brush, this nylon pad works for your barbecue grill, your iron skillets, metal griddles, or enamel-coated skillets. The handle on top allows you to apply extra pressure for those tough spots.
You even can toss the whole unit into the dishwasher between grill cleanings.
As the nylon pad wears out, you'll have another one at hand, as each order has 10 pads.
Buy for $25 on Amazon (Pack of 10)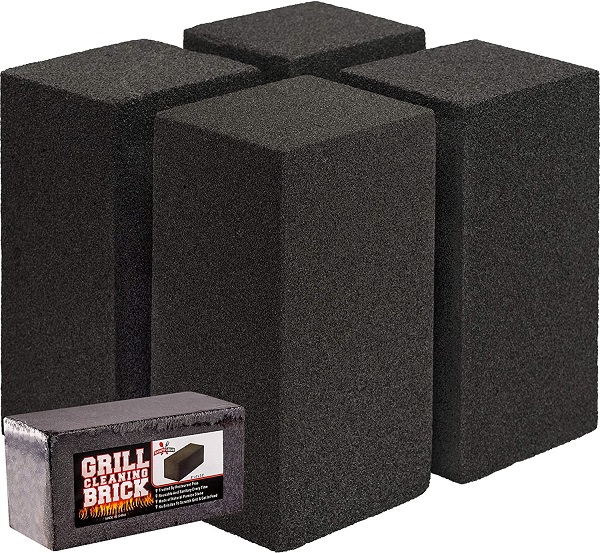 Maybe none of the tools we've mentioned so far are manly enough for your grilling needs. We get it.
How about a huge black brick of pumice stone to clean the grill? That should up the manly factor when grilling. (Yeah, we know your wife uses pumice stones on her feet as a beauty product, but just put that out of your mind.)
Each brick measures 8 by 4 inches with 3.5 inches of depth, and you receive four per order. It may not have the same look as a non-wire grill brush, but it's extremely effective for cleaning up grilling gunk. It also doesn't absorb any of the gunk, so it remains ready to use each time without the need for washing. (A huge plus.)
Buy for $32 on Amazon (Pack of 4)
Bristle Free Alternates to Clean a Grill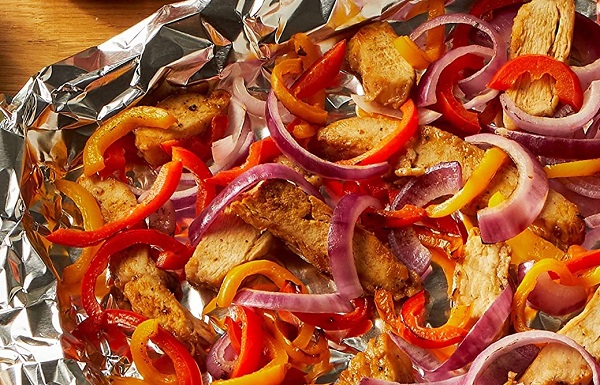 While you're waiting for your new safe grill brush to arrive, there are a few other ways to clean a grill that go outside of conventional thinking. We cannot guarantee they'll all work perfectly, but we can guarantee none of them will leave a stray metal bristle behind.
Aluminum Foil
Take a wad of aluminum foil and use your grilling tongs to rub it across the surface of the grill (you're making your own scrubber here).
Aluminum foil is a great tool for grilling, as you can create a little grill pan with it, throwing vegetables inside tossed with a little oil, and grill them alongside your steak. (And if you believe forcing meat to share space on the grill with vegetables is a sin against the gods of BBQ, at least the veggies are wrapped inside aluminum foil, so you won't have to look at them.)
Onion
Cut an onion in half. Grill half of the onions in an aluminum foil tent to eat, and use the other half to clean the grill when you're finished. Just rub it back and forth on the grill bars to clean them. And if it doesn't work, what have you lost? Half an onion? No one will miss it.
Scouring Pad
The sponge/scouring pad combination that you probably have stored under your kitchen sink will work nicely on a disgusting grill surface. Just don't expect to be able to put it back under the kitchen sink after you've finished. Gross. But it does work on the grill when nothing else is available.
Buy for $7 on Amazon (Pack of 9)
Although we only recommend picks we really love, we may earn a commission on purchases made through links from our site.