Adoptable Animals Have a Ball (Virtually) Sitting Courtside at NBA Playoff Game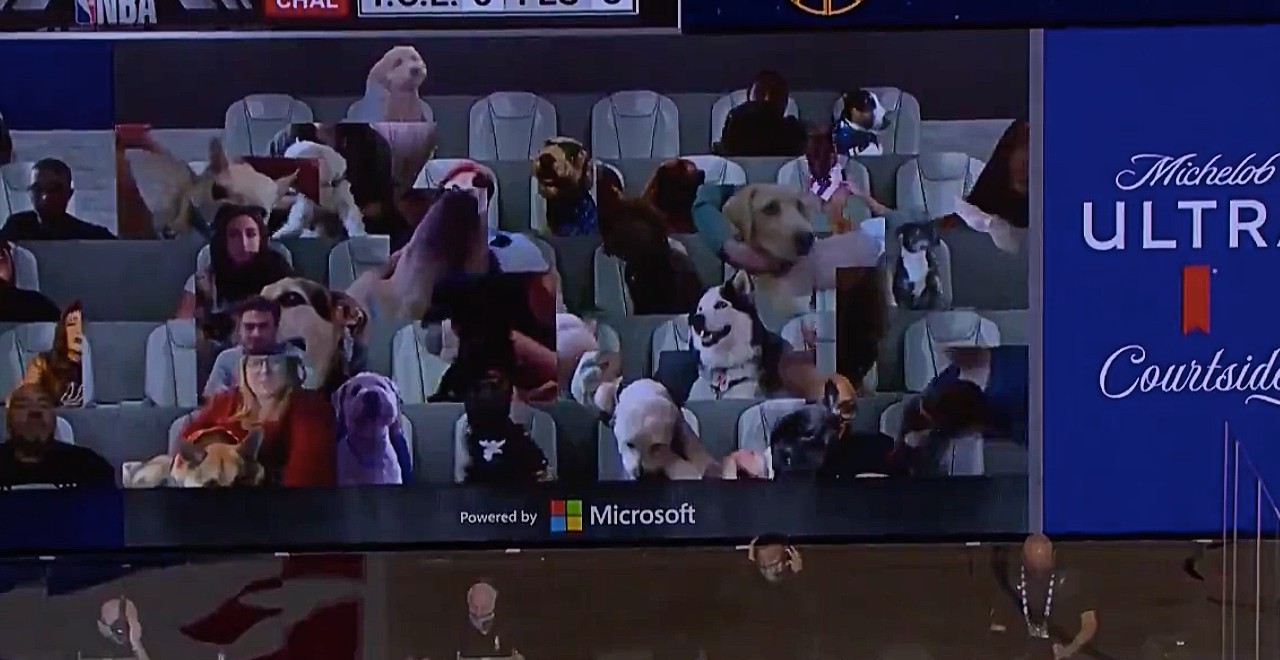 With COVID disrupting sports as we know it, teams have gotten creative when it comes to making their stadiums look less empty. Some stadiums have gone to town with their creativity, turning their stadiums into canvases for whatever absurdity they could dream up. Others filled their stadiums with touching tributes, using their abundance of space for a good cause. When the Los Angeles Lakers played the Denver Nuggets in game 3 of the Western Conference Finals, the NBA decided to tell a tail of their own.
During the broadcast, 28 "100% adoptable and 100% adorable" dogs and two kittens along with their foster families (virtually) sat courtside, watching the game and doing some shameless self-purrmotion. To make this furry magic happen, Best Friends Animal Society teamed up with Michelob ULTRA to highlight some of their top dogs (and cats).
View this post on Instagram
The Best Friends Animal Society website explains, "Founded in 1984, Best Friends is a pioneer in the no-kill movement and has helped reduce the number of animals killed in shelters nationwide from an estimated 17 million per year to around 625,000. That means there are still more than 1,700 dogs and cats killed every day in shelters, just because they don't have safe places to call home. We are determined to bring the country to no-kill by the year 2025."
To give some of their adoptable animals a running start in the race to find their forever homes, the broadcast also included a link where interested viewers could learn more about adopting the courtside critters. So far, the Lexington Humane Society adopted a Chihuahua named Jolene after a family spotted the 4-pound wonder in the stands. According to the Best Friends website, seven other pawsome pups have been adopted as well thanks to their baller friends.
Adopting and fostering is more important than ever, since many shelters across the country were forced to close to the public after the COVID pandemic began.
Valerie Dorian, chief development officer for Best Friends told Today, "We are concerned and we want to make sure that people are thinking about the animals and how they can help." She continued, "Now is a great time to have a pet in your home as people are working at home, to have a buddy to watch an NBA game with, or just to be your companion in life and everything that you do."
Best Friends hoped to both promote the adoption of shelter animals around the country, and to encourage others to foster animals in need. Opening your home to an animal who has been given a second chance at life is one of the most rewarding things you can do. Watching them grow and become bolder as they learn that with you, the world isn't such a scary place. And even better, you'll never watch a game alone again.
If you're interested in adopting, check out the Best Friends website, or find a shelter near you.