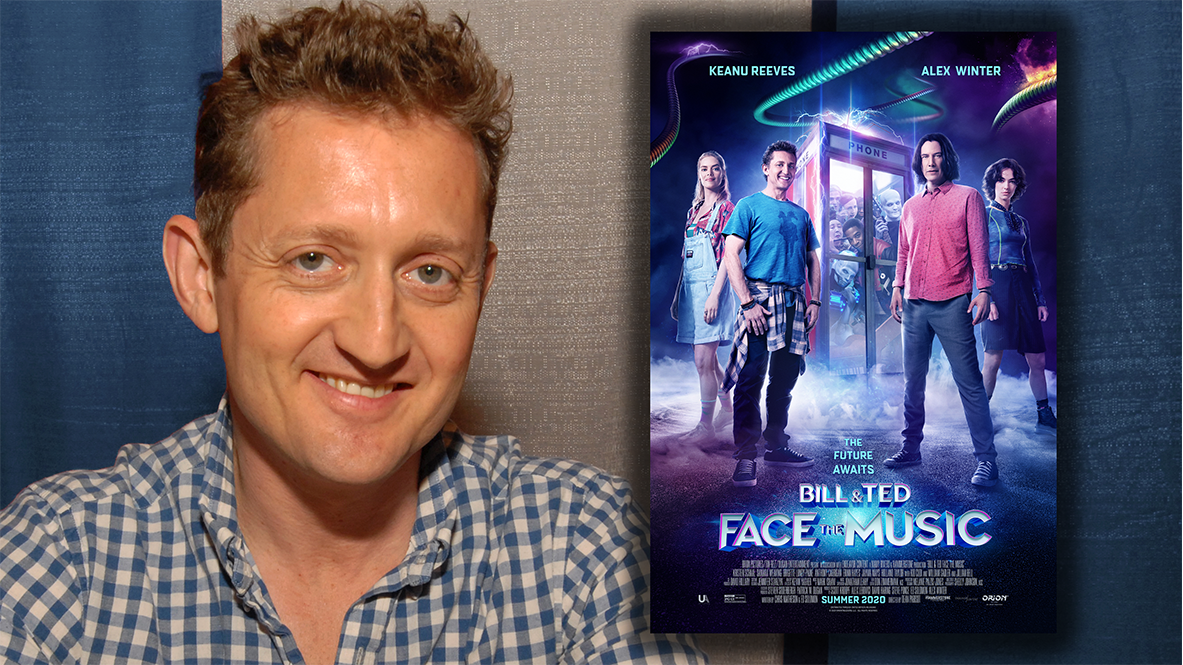 Credit: Getty / Paul Warner & United Artists Releasing
Bill & Ted Face the Music, the highly anticipated conclusion to the totally awesome time-traveling trilogy, releases today – a whopping 31 years after audiences initially fell in love with Excellent Adventure. The cult classic series already has an army of fans behind it but this installment is even more near and dear to The Dad's collective heart due to the fact that both members of the Wyld Stallyns are now portrayed as a couple of bodacious dads.
The stakes are even higher for William "Bill" S. Preston Esq. and Theodore "Ted" Logan this time around, too. Their rock and roll destiny has yet to be fulfilled and now the fate of all space and time is hanging in the balance. Given a meager 77 minutes and 25 seconds to write the song that will finally unify the entire world in peace and harmony, Bill and Ted will require the help of their teenage daughters and a few of history's biggest music legends to come out on top yet again.
In order to get a behind-the-scenes peek at Face the Music, The Dad sat down with Alex Winter, who not only portrays Bill in the films, but is a father-of-three in his own right.
---
Jordan: What was it about Bill and Ted that enamored audiences back in 1989 and then how does Face the Music recapture that magic 31 years later?
Alex: I think that people really responded to this notion of these super close friends and the kind of imaginative world that they lived in, and then the realization of that world. I think the writers, Chris Matheson and Ed Solomon, write really great dialogue. It is not what you would expect to come out of the mouths of valley teenagers.
I know that when we auditioned for it, it felt very idiosyncratic in a good way. It just wasn't the kind of thing you auditioned for. It didn't have that kind of language. It kind of cut against the grain of what your standard teen comedies were in those days, which were really cool. It was an era of things like Ferris Bueller and stuff. There were some great movies that came out of that period, but they were very specific and the kids didn't know… The high school kids in those movies they acted like 45-year-old men.
Sure. They're using reasoning and logic, unlike the usual teenager.
And it's always all about sexual politics and extremely complex. I mean, these were two really tight friends but they were very childlike and very innocent and spoke in this incredibly distinct way, and then went on these very elaborate adventures.
In terms of recapturing it, I think that what we all liked the idea that Chris and Ed brought to us. This notion that this grandiose destiny had not been fulfilled, so what would their lives [look like]? Who would these guys be today as dads and husbands and people who were supposed to have essentially saved the entire universe but hadn't? It seemed like there was a lot of comic potential there. So that was appealing to us.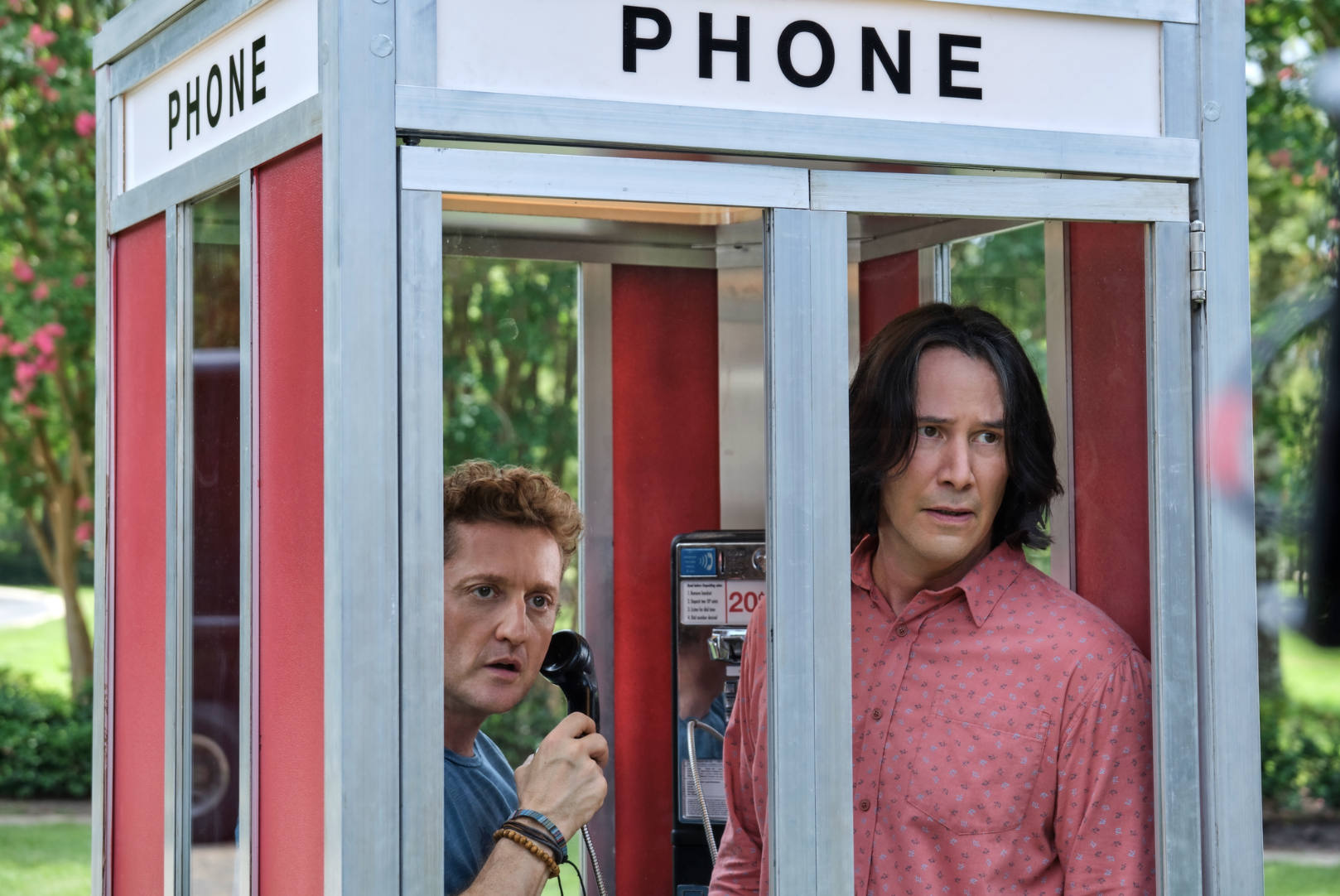 Definitely. It's a completely different phase of life. I mean, I'm sure everyone's curious about where the hell these guys are going to go.
And then that sort of dovetails to 'where does anyone go?' The promise of their youth and then processing that in a later period of life as fathers and husbands and doing that through the lens of Bill and Ted just seemed quite funny to us.
You mentioned auditions earlier – I don't know if you saw this but literally last week, a bunch of tapes came out from your original audition for Excellent Adventure. Did you see them?
My kids showed me a couple of those. They found them lurking on the internet.
The cool thing is you can already see the obvious chemistry between you and Keanu [Reeves]. Looking back at those, can you remember what was going on there? Did something seem to just click between you two, onscreen or offscreen? How did that work?
Well, I don't have any recollection of those auditions at all, other than a very fuzzy memory. But I will say that I do remember becoming close friends with Keanu almost immediately. He's one of my very closest friends in the world and has been since that time. So it was sort of the meeting of a best friend.
I think both of us were pleasantly surprised by how much fun it was to act together again. I don't think we really considered that, to be honest with you. I mean, we already knew we liked hanging out, so I don't think we gave much thought to the distinction between being a friend out in the world and being in this performative partnership again.
Was it hard jumping back into the shoes of those characters or did that just flow naturally?
A little of both. It took thought, it took a lot of rehearsal, but we didn't really turn the gas all the way on until we started shooting, kind of intentionally, we didn't really want to overthink it. So we did our own prep work and then we did prep work together. And then we all did a lot of rehearsing and rewriting and things once we got down in New Orleans and were preparing to shoot, but it really wasn't until we were on set and shooting that we turned the whole machine on, and that didn't take a lot of thought.
It was like we found ourselves right back in the old rhythm again and that was really nice. We kind of looked at each other after the first week and thought, 'Hey, we like doing this.' It's been a lot of fun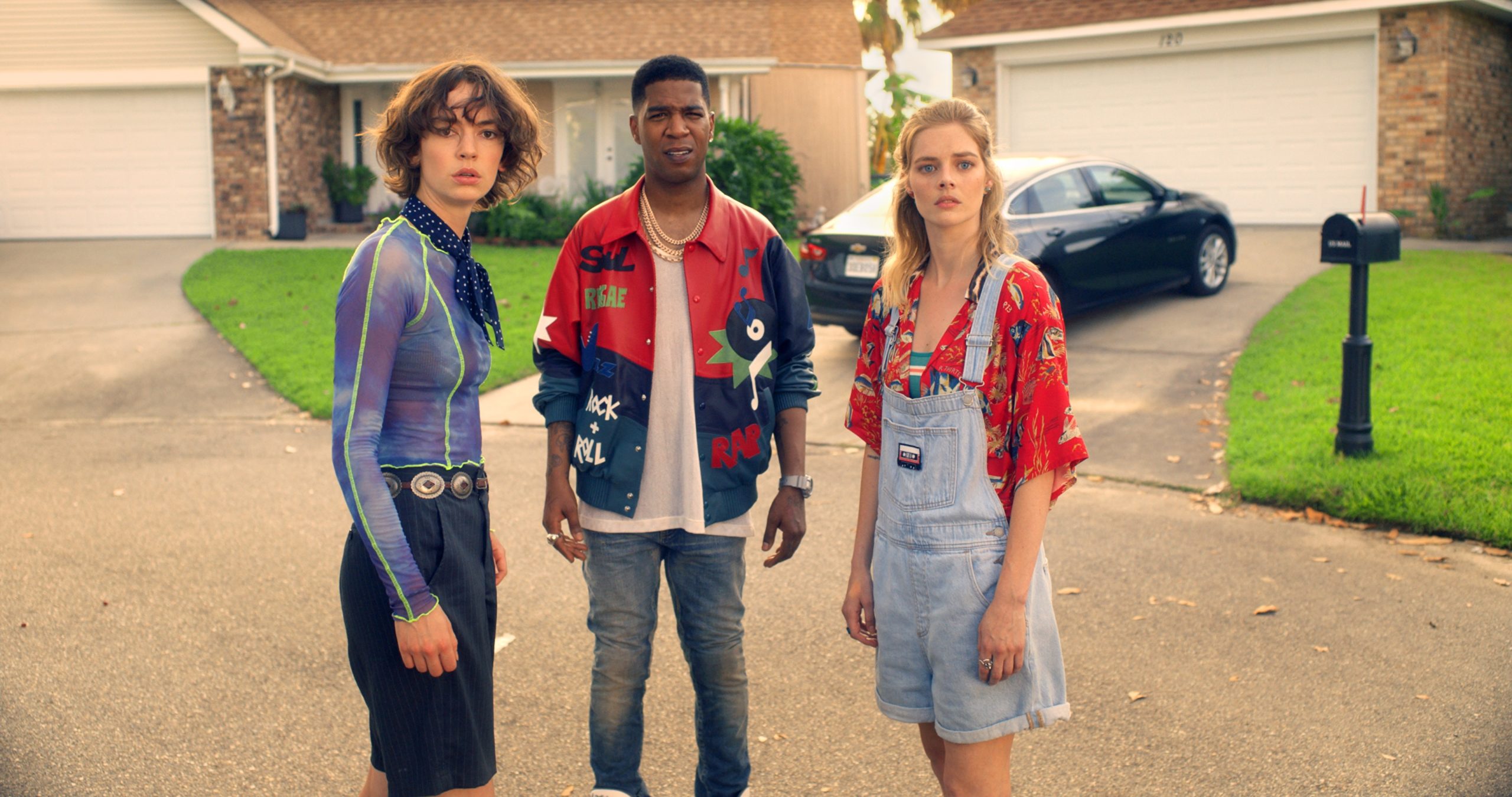 So, Bill and Ted are dads now. What can you tell us about their daughters and how did casting land on Samara Weaving and Brigette Lundy-Paine?
Well, I think that the producers and casting director were looking for actors to play these roles in a very similar way as us, in the sense that I think they were looking for people who would work off of each other and have chemistry with each other. They saw a lot of people before they landed on those two, but Samara and Bridgette are great actors in their own right and have really good instincts and really good training, so we were grateful that they came at the roles, not looking to be us or to replicate us in any way, but seeing their own roles with their own views of the family and that was really fun.
I remember the first day, we rehearsed with them and so we got the vibe of what they were doing. It was really fun because they were just so not doing a Bill and Ted reduction. They had their own vibe.
They really created their own characters, huh?
And they related to us as their dad's, not as Bill and Ted the characters.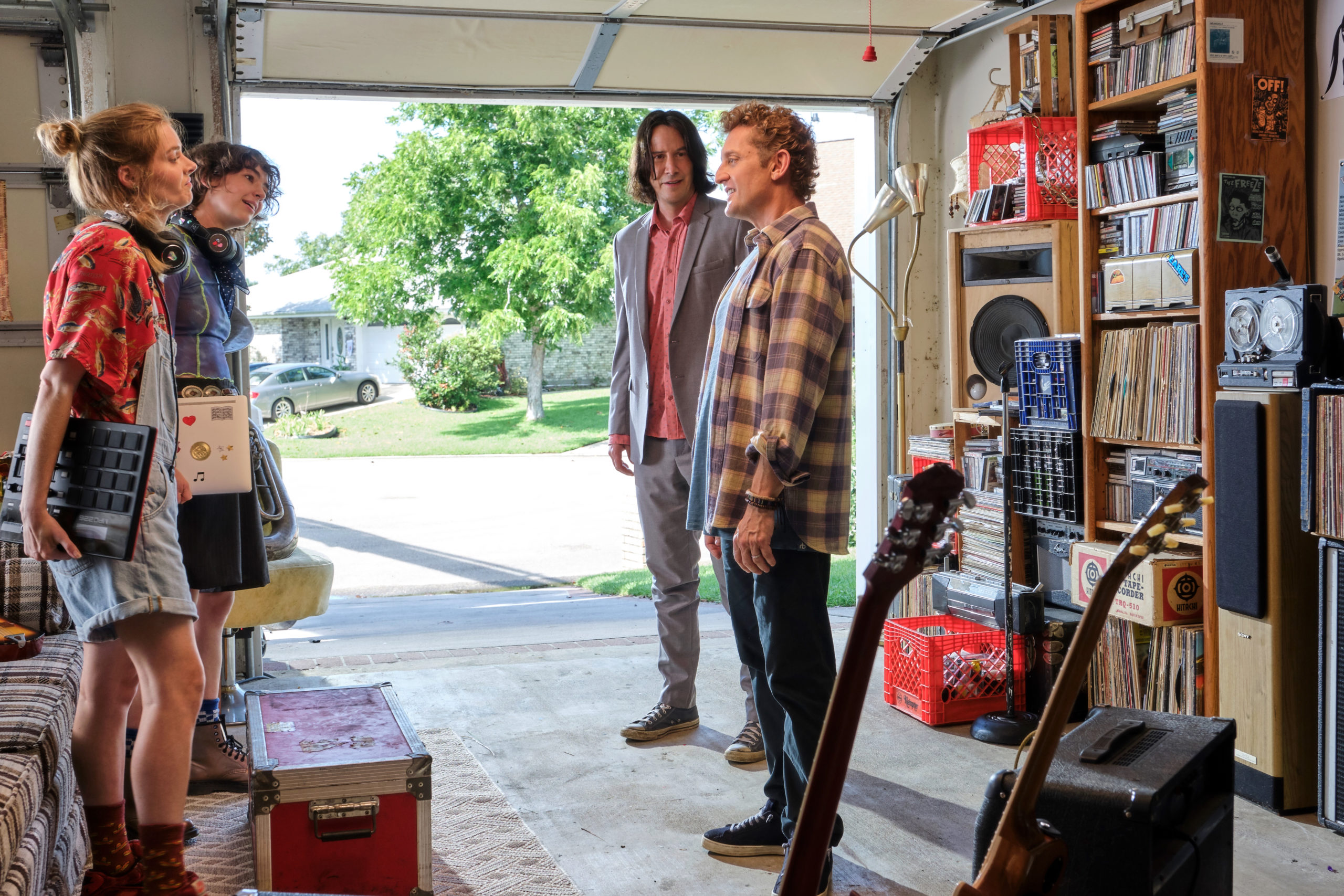 So, staying on Bill as a dad, what are some cliché dad moves that you think Bill is definitely guilty of? Is he the only one laughing at his dad jokes? Is he pointing a stud finder at himself and saying, "I've found one, dude!"
I think that he's always the glass-half-full guy and he's also 'let's just roll up our sleeves and dive in.' He's the dad who would, like, jump off the roof into the swimming pool while the kids are having a party and end up breaking his ankle and embarrassing the hell out of everybody.
Personally, I love those dads. Are there any characteristics of Bill's that you personally would like to emulate a bit better as a father yourself?
I mean, I think his complete and utter hopefulness in the face of any adversity is something that I really liked playing. I have to believe it obviously because I'm playing it, so finding that part in my psyche is nice and it's fun. He really does have a lot of hope no matter how awful things get, he's always looking for whatever the path is to rectify it. The funny thing about the relationship between Bill and Ted is, Bill is the one who's thinking everything's going to be okay while Ted is usually the one that figures out how to make it okay.
Right. You kinda need both sides for things to actually work out.
You really do, so it's a fun thing to play. There's a genuine optimism there and it's something that Keanu and I've worked on a lot, especially in act one of this movie, because they're in very different places psychologically when the film starts and we like that and we really leaned into it.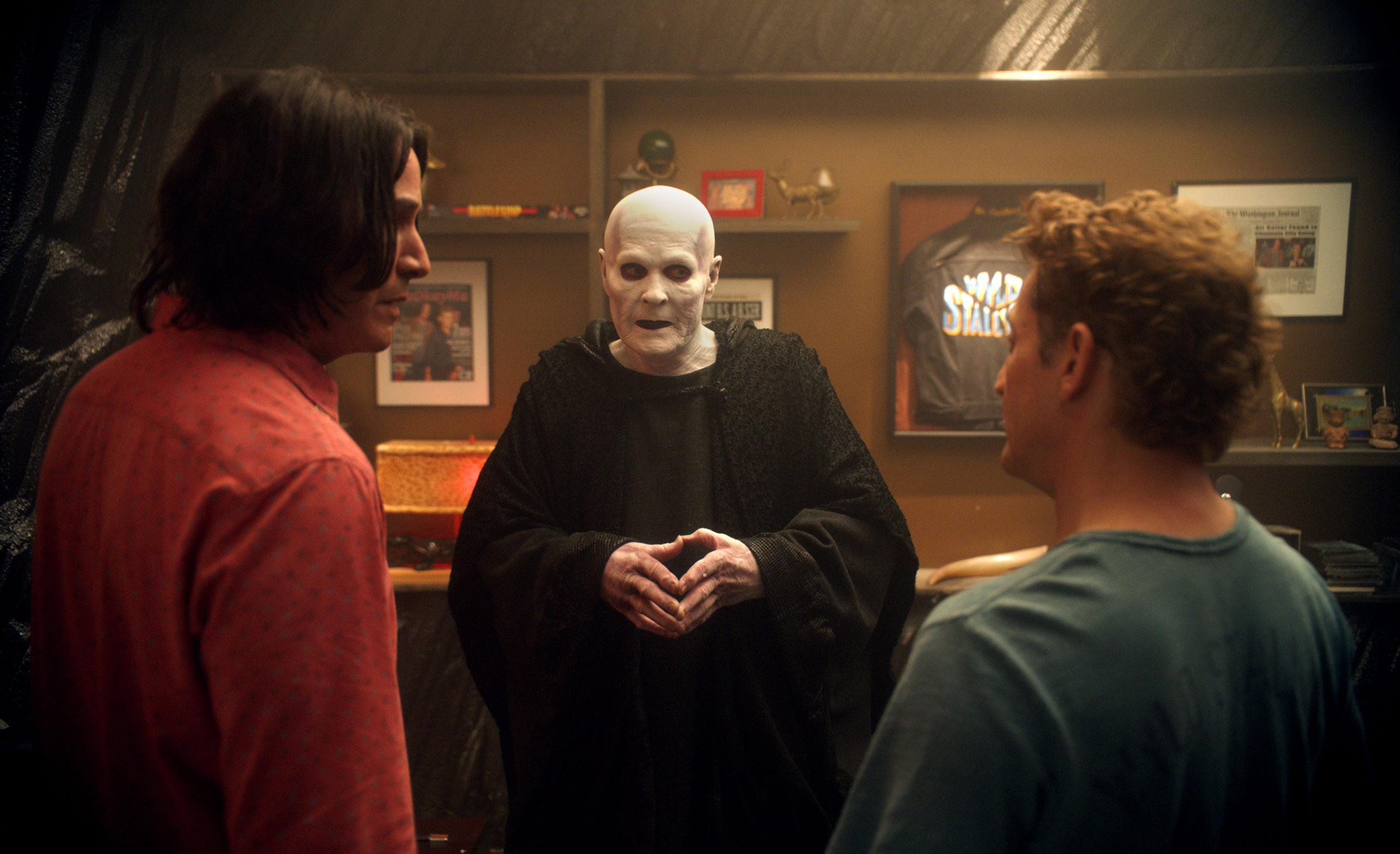 Love that. So, rather than going back in time in this film, Bill and Ted repeatedly jumped forward to meet progressively older versions of themselves. If you use a phone booth-shaped time machine to meet your future self, what would you hope to find?
Well, I'm a dad, so I got to think like a dad. So I want to find my kids being happy and in a different place in their lives.
Solid answer, especially for our audience.
[laughing] It is a hundred percent true, my friend. It's all you think about!