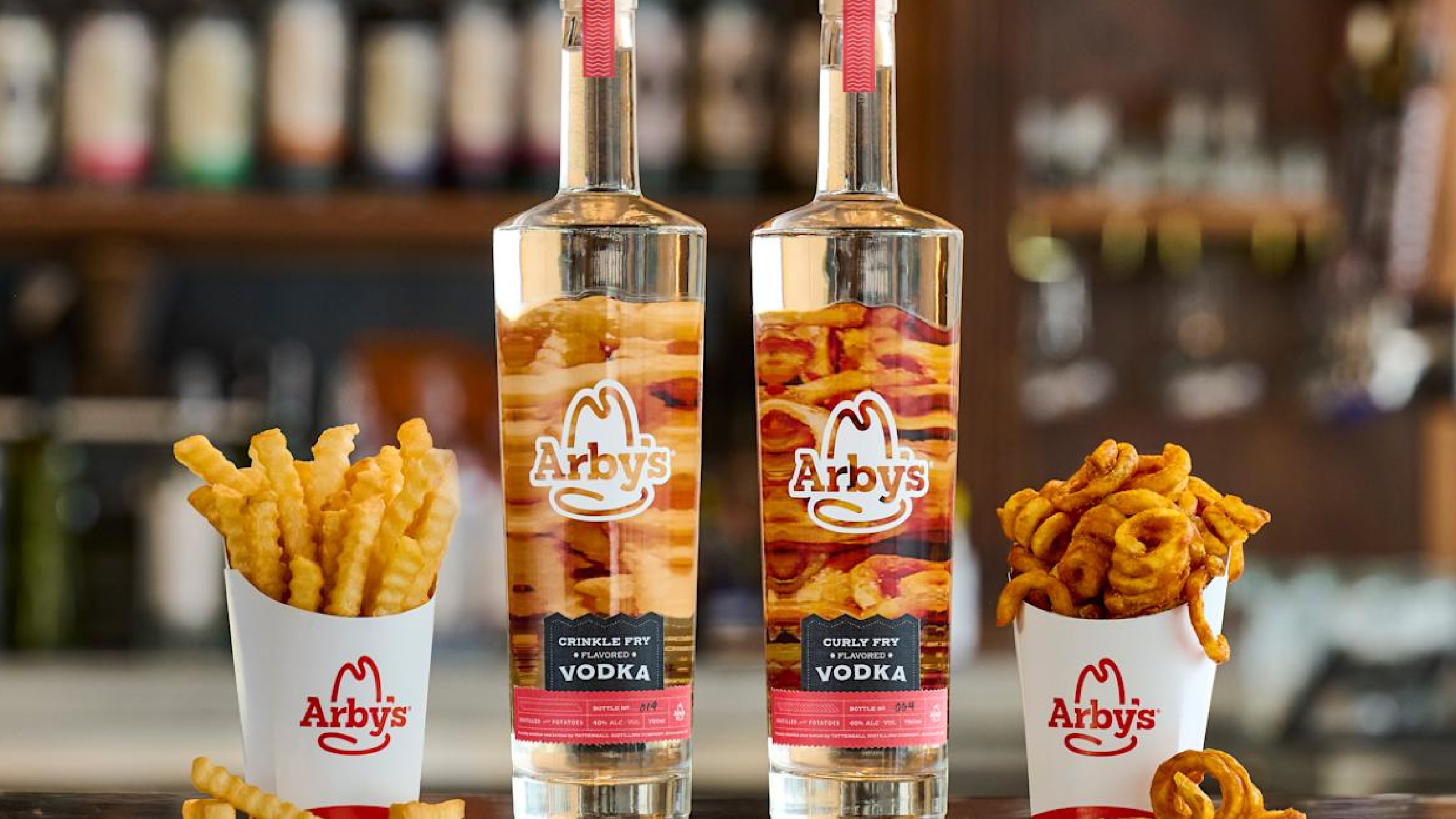 Credit: Instagram/arbys
When a fast-food company turns out a popular item into a different product, the results can be delightful. Wendy's making a Frosty-inspired cereal? That sounds nice! But then you have partnerships that are so wildly bizarre that you feel compelled to ingest the train wreck, despite how wrong it is. And Arby's is going that route with a branded vodka, flavored after the restaurant's signature curly fries. .
French-fry-inspired vodka was definitely the kind of idea someone had back in 2020. So, even though things are getting a little bit back to normal, we will soon have two vodkas that taste like giving up. One will be inspired by the famous seasoned curly fries, and the other flavored like their crinkle fries nobody knows exist.
The two flavored vodkas will be 80-proof spirits made from potato vodka (well, they'd have to be, wouldn't they?) and distilled with real ingredients inspired by their fries. Whatever that means. The limited-edition vodkas go on sale on November 18th at www.arbysvodka.com, but they won't go for cheap at $60 a bottle.
In a barely thought-out press release, a spokesman for the brand said:
"Though we've mastered the art of drive-thru fries, we wanted to take it one step further – by making them 80-proof. Being a potato-based liquor, this limited-edition vodka is infused with crinkle and curly fry flavor so Arby's fans can enjoy our menu from bag to bottle."
This isn't the first fast-food chain to explore alcohol experiments. Taco Bell released a wine to pair with their food vastly misunderstanding the people who eat at Taco Bell. Honestly, if Taco Bell had made a Baja Blast-flavored Vodka, now that would have made sense. Although the collateral damage would have been devastating.
We're probably headed down a road we don't come back from, so why not enjoy fast food paired with fast food-flavored vodka on the way down? Honestly, this whole thing sounds more like something @NihilistArbys would have dreamed up.
So we have a vodka now. It pairs well with shame and is best consumed on early mornings, while walking into the sea, driving around in tears and while pouring into a gunshot wound to cauterize it.

Enjoy Arby's

— Nihilist Arby's (@nihilist_arbys) November 10, 2021
Enjoy Arbys.