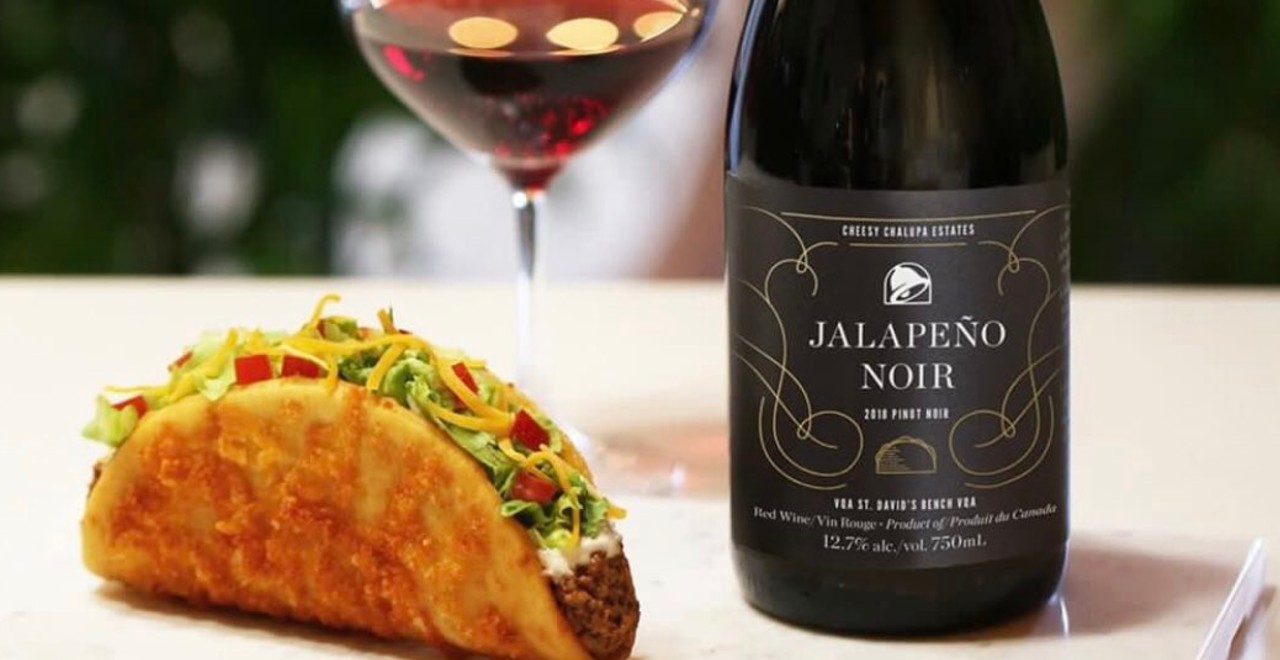 Credit: Twitter/TacoBellCanada
Not many duos have the rich history of pairings that wine and cheese do. There may be splashier combos, like peanut butter and jelly, beer and pizza, but the wine and cheese have them whipped by centuries. So it's not surprising to see a giant in the cheese game dip their toe into the grape alcohol industry. OK, maybe it is a little surprising to see Taco Bell create their own wine, but given you can get married at Taco bell, anything is possible these days.
The fast-food giant is debuting a custom wine, Jalapeno Noir, to pair with the toasted cheesy chalupa. Granted, this one may be a bit out there for some people. When it comes to food innovation, it doesn't have quite the inevitability of Lucky Charms selling bags of their marshmallows or Cinnamon Toast Crunch selling their magic Cinnadust. But who hasn't wanted to enjoy a Chalupa like a gentleman, with the perfectly paired wine?
The luxurious Toasted Cheesy Chalupa's about to meet its bougie best bud. Bonjour, Jalapeño Noir. Available 09/16/2020 on https://t.co/qogDEKPnL8. #WineAndToastedCheesy pic.twitter.com/Vq5JV7MYIA

— Taco Bell Canada (@TacoBellCanada) September 14, 2020
Here's the catch (there's always a catch and it always comes midway through awesome news), you can only get it in Canada. It's being sold on the Taco Bell Canada website and at some locations in Ontario. The cost for a bottle of Jalapeno Noir is $25 Canadian (about $19 in real money).
Taco Bell gave the combo the hard sell in their press release, calling the duo irresistible.
"The rich taste and crunchy texture of the beloved Toasted Cheesy Chalupa complements notes of wild strawberry, cherry and beetroot in this silky limited-editing red wine."
While this is a fun, new idea for a brand, it's still great to see them force as many buzz words as they can into a statement to class up the news even further. A spokesman for the brand said:
"Wine and cheese are simply meant to be together, so launching a new wine to go with the craveable, cheddary Toasted Cheesy Chalupa made perfect sense. At Taco Bell Canada, we love to raise our glass to big, bold ideas that elevate our menu items, and pairing our Toasted Cheesy Chalupa with this Jalapeño Noir is no exception."
Here's to big ideas indeed, and to one that many of us discovered on our own, Taco Bell pairs well with booze.