Artist Reimagines Keanu Reeves as 'The One' for Every Disney Princess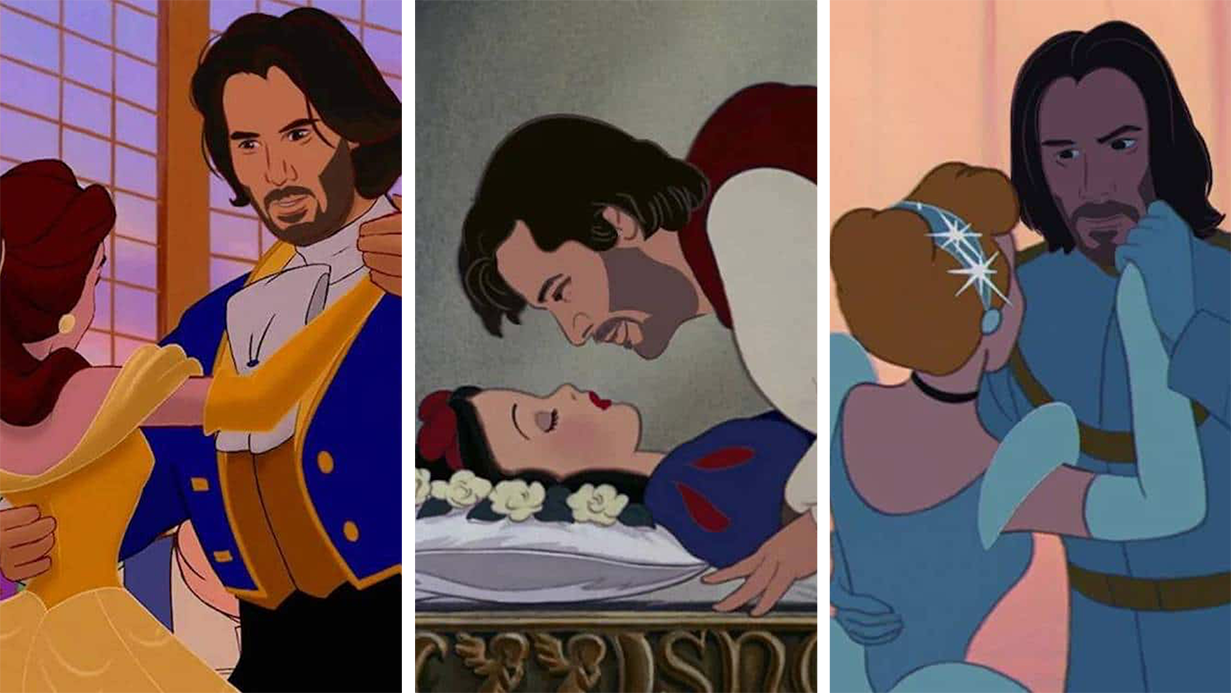 Disney princes set a pretty high standard for guys nowadays with their strong jawlines and being, you know, royalty and all. There's also the small matter of providing their princesses with the everlasting, unconditional true love of a Disney classic (do we need Disney+ for reference and/or inspo? Probably). But if there's one human who can match that ridiculously high bar, it's Keanu Reeves.
The John Wick star has had a sharp rise in pop culture popularity in the last year or so, not only for his success in film and video games but for being an all-around great human being.
Writer and illustrator Crystal Ro paid homage to the raven-haired wonder in a series of images, replacing the classic Disney princes with Keanu and, it might just be me, but I think the princesses look even happier with him.
Cinderella
Keanu, feeling positively crushed about Cindy's forgotten slipper, would clear his entire schedule to make sure she got it back and would probably refuse any kind of reimbursement for his labor.
Sleeping Beauty
Not one to smooch a non-consenting party (he's a master of the hover-hand technique, after all), Keanu would probably just use his gregarious and lovable personality to awaken Aurora after nonviolently charming his way past Maleficent's dragon form.
Pocahontas
While not necessarily a prince, Keanu would be an ideal John Smith. His chill Canadian demeanor could only improve the conflicts in early America.
Aladdin
Jasmine would sing something about the magic carpet ride being breathtaking and Keanu would undoubtedly respond, "YOU'RE breathtaking!"
Snow White
Imagine the surprise of waking up to Keanu's dark eyes and perfectly bearded face after weeks of tending to seven tiny bearded old guys. Talk about an upgrade.
Mulan
Keanu could put all those years of Matrix martial arts training to "make a man" out of Mulan, no problem. He'd probably still be humble enough to just sit back and watch her save China, too.
The Princess & the Frog
Let's be honest. Keanu would nail the role of a frog and just be thankful for the life experience.
Beauty & the Beast
Already a figurative beast in his own right, Keanu could easily take down Gaston with a few of his action star moves and then spend a relaxing afternoon in his giant library with Belle.
Little Mermaid
I'm sorry, but I just can't imagine Keanu getting swindled by a silly sea witch like Prince Eric did. Now, stabbing her with an entire boat, on the other hand…