Australia Dad's Gender Reveal Burnout Ends in Flames and Fines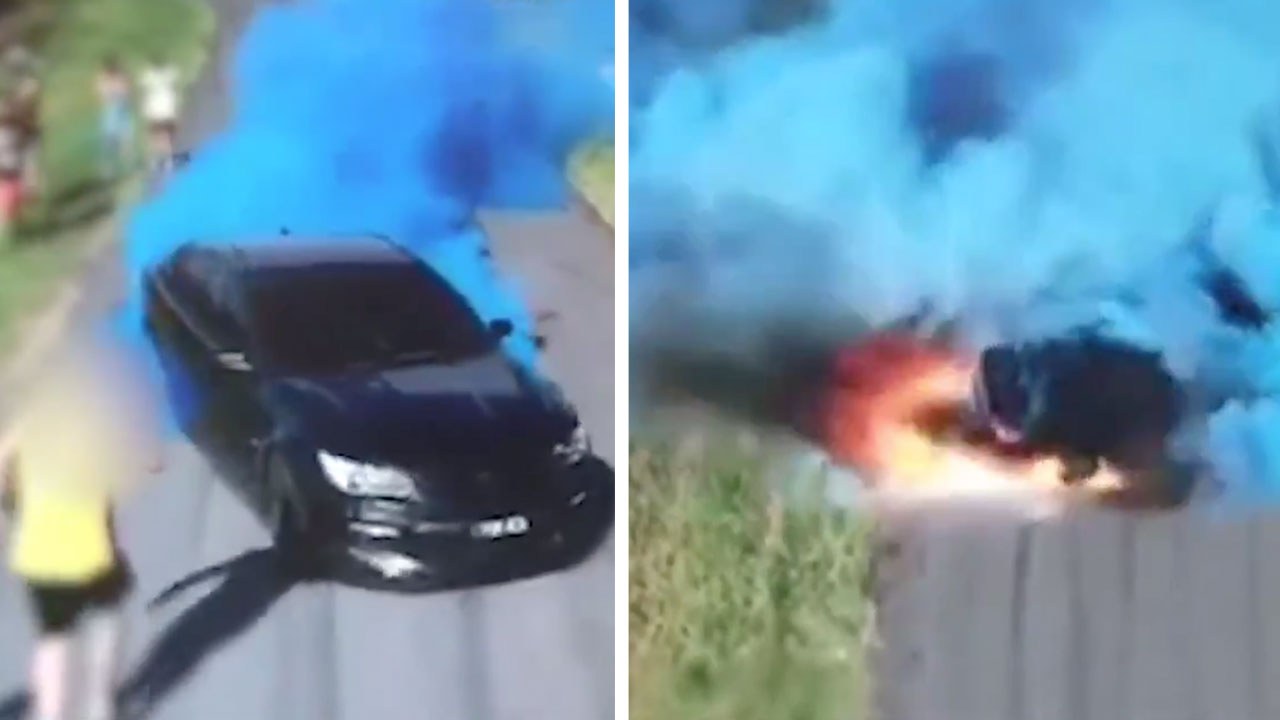 Elaborate gender reveals are quickly becoming commonplace, however, several stories have popped up recently where things didn't go exactly as planned.
That was the case for a Queensland, Australia family who decided they'd announce the gender of their new addition with a color coordinated burnout. Drone video captures the moments when the baby blue plumes of smoke were replaced by thick black clouds and flames engulfing the vehicle.
Police have stepped in after a gender reveal ceremony took a turn for the worst.

The explosive finale was captured on video, with the daredevil driver slapped with a hefty fine: https://t.co/V7DkwMkN2l @njkelly9 #9News pic.twitter.com/voh5QeTRqy

— Nine News Gold Coast (@9NewsGoldCoast) July 9, 2019
Luckily, no one was injured during the stunt, but local police were less than impressed with the soon-to-be-papa's antics. The driver, 30-year-old Samuel Montesalvo, was charged with dangerous operation of a motor vehicle, fined $1,000 and was forced to surrender his license for six months.
Internet commenters quickly caught wind of the incident, dishing out a few burns of their own.
I love to dust my friends and family with smurf powder and set my car on fire for my children

— The Big We (@colburn918) July 9, 2019
I believe the many gender reveal disasters might be what some religious folks would call a 'sign' https://t.co/RkP68gme1O

— Emma Evans (@TrancewithMe) July 9, 2019
While this video certainly demonstrates some poor judgement, it pales in comparison to some of the other flaming fails that have gone viral over the past few years, all in the name of celebrating a new life.
Last year, a young couple decided to set off colored fireworks in their backyard with friends and family gathered to watch the big reveal. Unfortunately the explosives were placed on a flimsy laundry rack which eventually collapsed, shooting pink rockets into the onlookers in every direction.
Yikes. Ok that one was bad, but at least it didn't cause over $8 million dollars worth of damage or burn down 47,000 acres like off-duty officer Dennis Dickey of Arizona did back in 2017. Dickey had purchased Tannerite, an explosive substance that is totally just available on the internet. The border control officer and expectant dad then shot at the explosives with his rifle. What happened next took 600 firefighters from 20 different fire departments several weeks to extinguish.
Still thinking of doing something crazy to announce your new son or daughter? Here are a few more friendly reminders to bring you and your significant other a little perspective:
Folks: Please reveal responsibly. For everyone's sake.