"Baby Shark" Makes the Billboard Top 40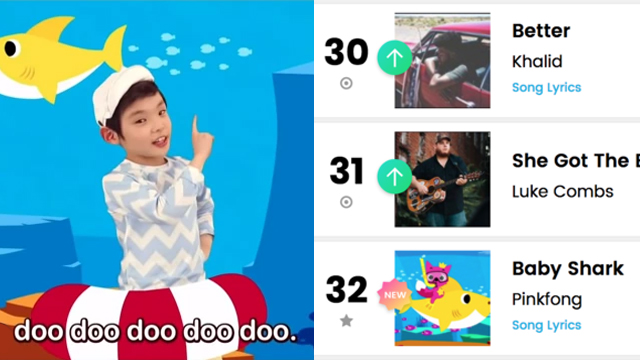 Don't hate me because I'm lucky.
Somehow, despite having a toddler and writing about parenting – including several pieces about the song! – I have managed to avoid ever hearing it. Even more improbably, the excruciating earworm has found its way onto the charts!
That's right. The song by Pinkfong has burst onto the Billboard charts, debuting at #32 – almost as high as Lady Gaga and Jackson Maine's, I mean Bradley Cooper's, "Shallow," which won a Golden Globe last week and will be performed at the Oscars in a few months.
"Baby Shark" may not receive any golden trophies, but it does qualify as a "Highest Ranking Debut" for Billboard, and has over 2 billion plays on YouTube. Odds are, if you have kids, you've heard this song. And you're not happy about it. Good news, you're not alone.
Jimmy Kimmel, a father himself, went on his show last week and railed against the song's popularity in a hilarious segment, in which he says "it feels like the song goes on longer than "Shark Week.""
He claims that 30 million of the YouTube video – which was produced in Korea ("presumably North Korea," the host jokes) – were from his daughter. The man clearly knows the pain of hearing an insipid children's song way too many times. Despite his familiarity with the tune, he is having trouble understanding how this terrible song made the charts.
"How this got into the top 40 I really don't know, but I don't think I'm overreacting when I say that whoever is responsible for it should be locked in prison for the rest of their lives, and then when they die, their bodies should be fed to the very sharks they sang about.
Watch the full segment here:
If you're looking for a way to get rid of the Baby Shark earworm (that's safer and less expensive than a lobotomy) maybe you'd enjoy one of these Baby Shark Covers.