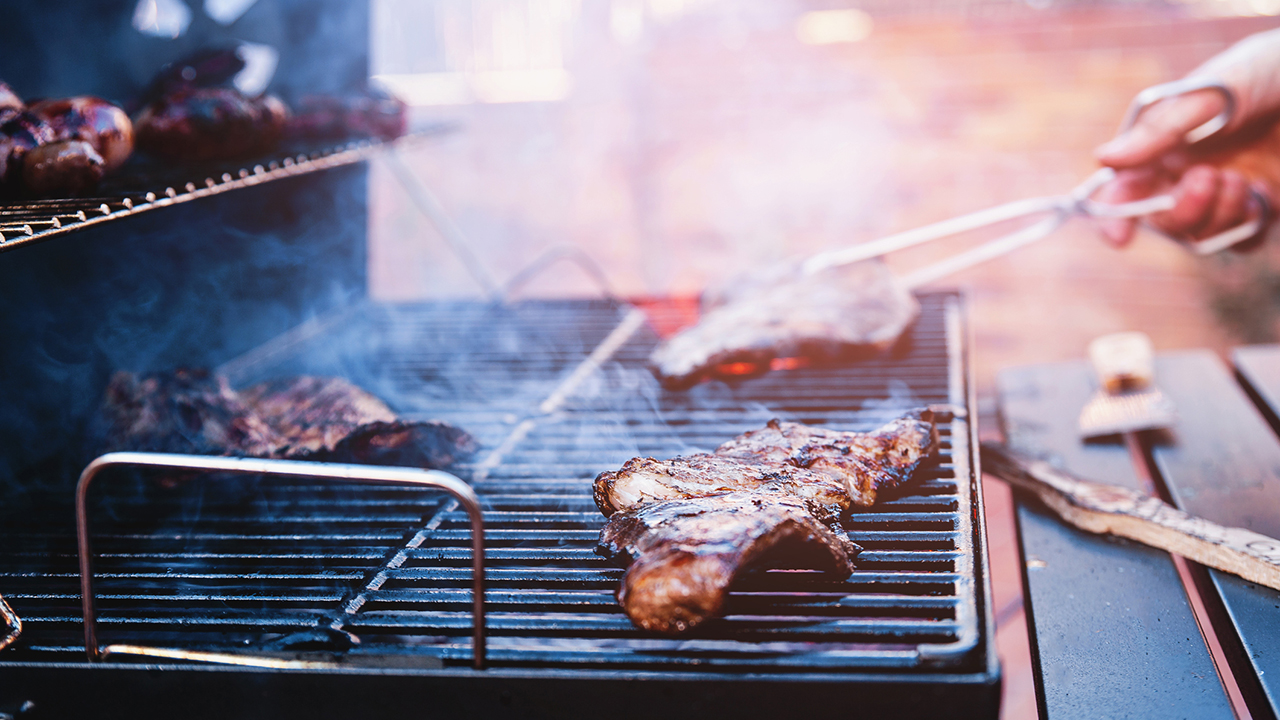 Credit: Getty Images
Before you ask, yes you need grill lights. When you have the urge to grill, as a serious dad/grill-master, you know that it doesn't really matter what time of the day or season of the year it is. Grilling time waits for no man. As long as the sun is visible, you'll have plenty of light for a successful grilling session. But sometimes, the sun refuses to operate on your grilling schedule. #Rude
And you can't always count on a bright moon giving you the light you need for grilling after dark. It's quite the conundrum for those of us who are willing to fire up the grill 24/7. Whether you're Jones-ing for a burger and some delicious sides at 11 p.m. or you want to grill a breakfast steak at 5 a.m., you don't need the sun, the moon, or your car's headlights when you have one of the best grill lights on hand.
LED grill lights provide just the right amount of light, so you can keep up your perfect grilling record, even after sundown or before sunrise. The saying on your dad grilling apron promises top-notch grilling results after all, and you don't want to make it a liar.
We're sure that the best grill lights on our list will let you grill at any time you want. Whether you want to follow grilling tradition and crack open a beer for your pre-dawn breakfast steak-grilling session is up to you. No judgment here. (If it's a weekday, though, we guarantee that your boss will judge. Fair warning.)
Best BBQ Grill Lights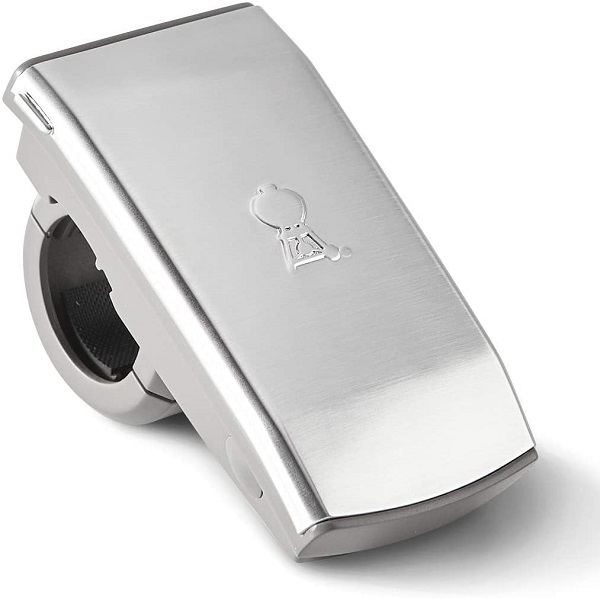 For a hands-free light that you can mount to the grill, this Weber clip-on light is a great choice.
It connects to the handle of the grill, so when you lift the lid, it will point down onto the grill grates, adding the light where it's required while leaving your hands free to move the food. It uses an LED light that runs from batteries. It's motion-sensitive, which conserves battery power.
If you want to hold onto it to provide precise light in any particular location, this LED grill light will pop loose from the grill quickly. Best of all, it has a teeny-tiny grill printed on the top side of the light. If that doesn't guarantee a BBQ grill light that you can trust, we're not sure what would.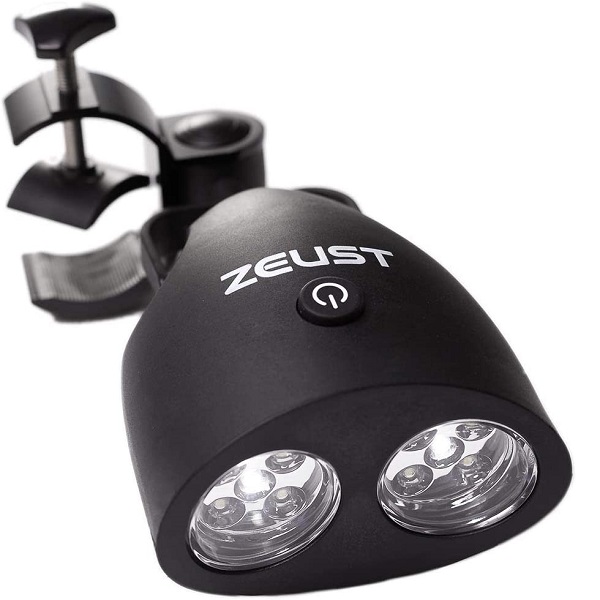 The Zeust Sirius 2.0 grill light is the perfect option for those who are serious (see what we did there? — Dad joke!) about grilling.
It has a high-quality light, made from materials that Zeust guarantees will be melt-proof. (You might not think being melt-proof is all that important until you buy a sh*tty BBQ grill light that melts all over your burgers.) #Level10Disaster
This model has an IP55 weatherproof rating, so you can leave it attached to the grill all year round. This is version 2.0 of the Zeust light, which we can only assume means it's twice as good as version 1.0. (Sure, you could wait for version 3.0, but you shouldn't be greedy. Version 2.0 will do the trick for most people.)
Grilling in the dark has its advantages. The kids will be in bed — hopefully — and won't be demanding to help, which primarily involves bugging the crap out of you. The neighbor won't be sneaking over, acting as if he hasn't eaten in a week, trying to guilt you into giving him a burger without just coming out and asking for one.
You can just enjoy your grilling time. This Char-Broil light clamps onto the handle of the grill for convenience. The LED bulbs are bright and will last a long time, which is important, because after you've experienced the peace and serenity of grilling at night once, you may wonder why you've ever grilled in the daylight.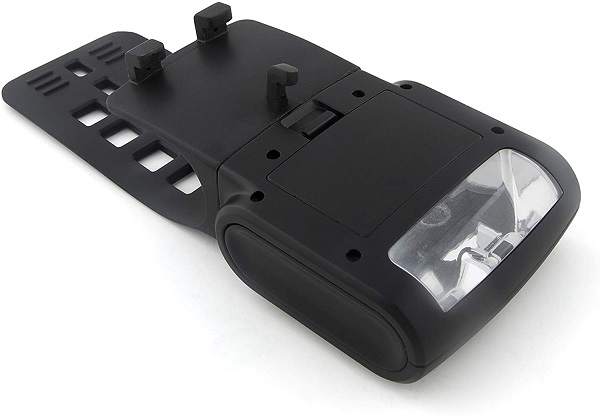 If you want a quick-mount/quick-unmount BBQ grill light — leaving more time for grilling — the Broil King grill light has an adjustable strap that has enough flex to it to simplify the mounting process.
The Broil King light has a rectangular shape, which spreads the light across a large section of the grilling surface. You'll be able to see the grilled meat and the vegetables at the same time. (Whether that's an advantage is up to you.)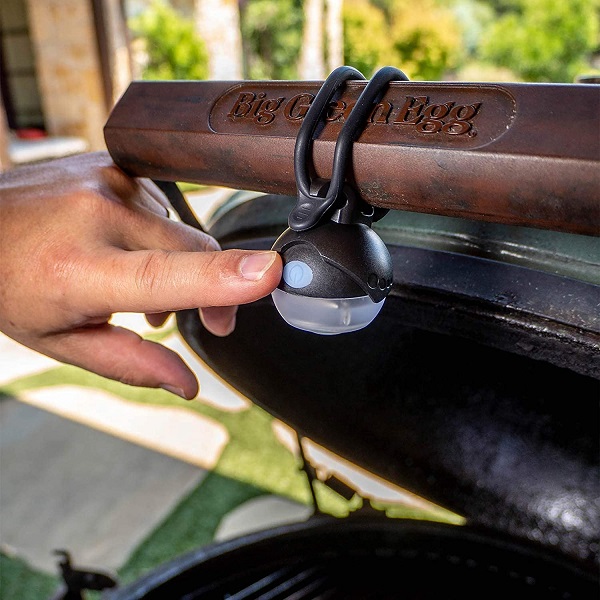 The Big Green Egg grill is a popular choice for those who like to grill at a precise temperature in a unique grill design.
The egg shape of this ceramic grill requires a special type of LED grill light to fit the unit properly. This model clips onto the grill's handle, using its round shape to aim the light downward. It has a power button on the front for convenience. It's rechargeable through a USB cable, which is a significant advantage over the long run versus throw-away alkaline batteries.
The round grill and round light match up so well that it makes it look like you know what you're doing. For most of us dads, this is a significant cause for celebration.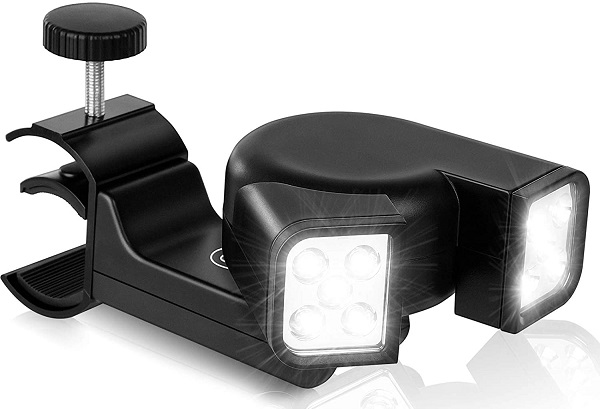 For those with huge grills, finding enough light to illuminate the entire grate area can be a challenge. This Weyape light can rotate up and down 180 degrees and left or right 90 degrees after mounting to the handle, so you can see whichever part of the grilling surface needs your attention.
This is a tough LED grill light, made to resist heat and weather. In fact, Weyape says this light is the perfect choice for grilling in the rain at night. (We're not sure why we haven't tried this yet, but it's now on our bucket list.)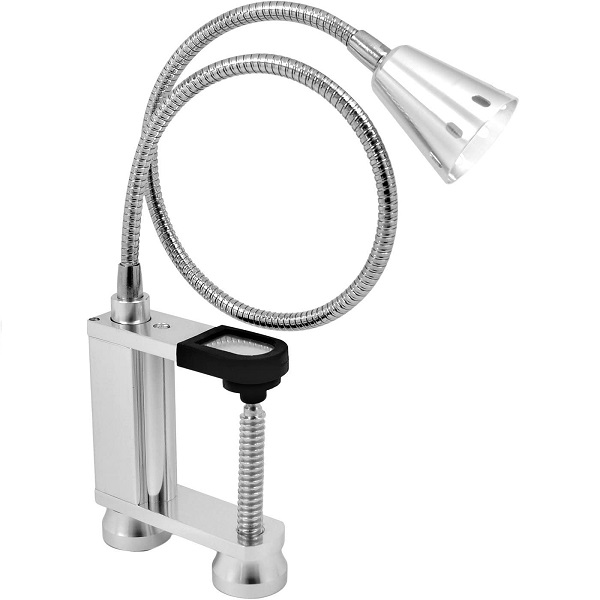 As you can see, a popular design among the best grill lights involves clamping a light to the handle of the grill, almost like a porch light for the grill, hovering over the cooking surface. However, when you have a grill with a lid that doesn't accommodate this type of light, you'll need a different type of design.
This gooseneck grill light can clamp to a few different sections on the main part of most grills, and you then can use the adjustable gooseneck to aim the light properly. The base of the light has magnetic properties, which help to hold it in place securely.
With a 22-inch neck on the light, it's easy to adjust the lighting's direction to wherever you need it. This is an insanely important feature. For example, if you aim the light through the window just right and use the on/off switch, you may be able to use Morse code to signal to your wife inside the house that you need another beer. (We're guessing she'll ignore you, but being an optimist is what makes the world go around, so give it a shot anyway.)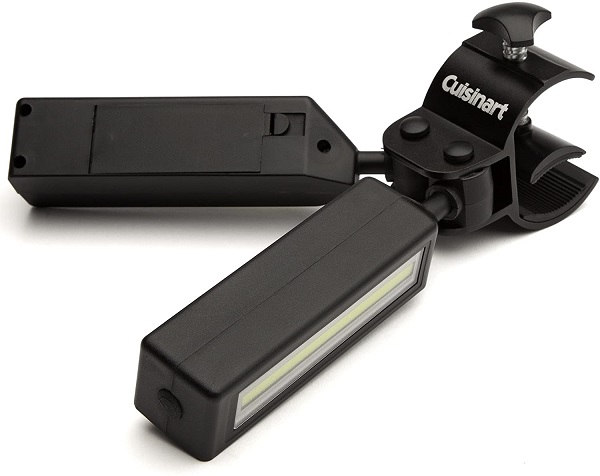 Sometimes, you simply need the maximum light for grilling. Simple, small lights just won't do the trick. When you need precise grilling results, such as perfectly hitting medium-rare in a ribeye, a tiny, weak light isn't going to cut it. m Instead, a BBQ grill light that calls itself the "Grilluminate" is the answer.
This Cuisinart light has two separate LED light bars, each of which is ready for individual positioning adjustment. Each bar has a high and low setting as well, so you can turn up the light whenever needed.
Each light bar requires three AAA batteries, so the operational costs for this light can add up pretty quickly if you use it a lot. But when it comes to shining the most light on your night grilling process, this double-barreled LED grill light is up to the task.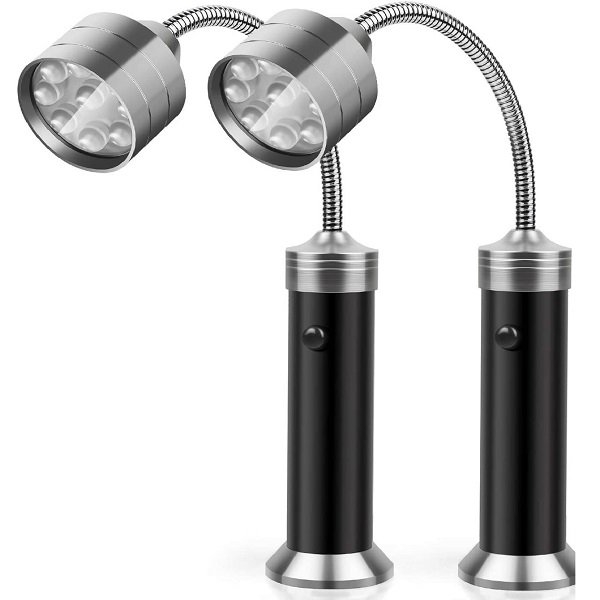 If your grill simply cannot accommodate a clamp-on LED grill light, this set of two magnetic base lights will attach anywhere on the grill you need light. The adjustable 4.5-inch neck on the light gives you the ability to aim the light as desired too.
Although these lights have water and weather resistance, you don't have to leave them attached to the grill all of the time, as they pop loose quickly, thanks to the magnetic design. They'll work for a reading light, for camping, or for bringing extra light to detailed tasks anywhere in the home.
They work so easily and efficiently that you may have to hide them from the rest of the family, or when it's time to do your night grilling, they will probably have conveniently disappeared into your child's bedroom, where electronics go into the Twilight Zone, never to be seen again.

If you're trying to grill over a large area, having an LED grill light that mounts to the grill may not work very well. Instead, you may need the light to follow you as you walk from the prep area to the grill to the keg to the grill over and over (with maybe an extra stop or two at the keg).
This headlamp might not be your first choice as a BBQ grill light, but it'll do the job nicely. It also works for those who hike, jog, or camp, giving it plenty of versatility.
It has a rechargeable battery, powered through an included USB cable, which makes it convenient to use without the expense of throw-away batteries. If you're worried about looking silly while wearing a headlamp, you shouldn't. What could be more "dad" than wearing a headlamp while grilling at night?
Although we only recommend picks we really love, we may earn a commission on purchases made through links from our site.