The Best Man Cave Signs to Give Your Space Some Dad Vibes
When you're a new dad, you may not understand why you would ever need the oasis of a man cave. Then the adorable babies turn into toddlers who learn the word "no" … before turning into sarcastic teenagers who learn how to put "no" into actionable events. So you can see why a man cave becomes a must-have retreat.
Sure, we dads love spending time with our kids. But everyone needs a break occasionally. So a man cave becomes the perfect alternative. You can go to the man cave, watch the game or play video games, let out all of your gross noises and smells, and be refreshed and ready to give the family your best again afterward. (There are even some man cave candles to cover up those smells, if you want.)
Best of all, you will be allowed to decorate your man cave however you want (after plenty of begging and whining with your partner, of course). We would recommend starting with one (or all 12) of the best man cave signs. Some signs look great, while others have clever messages (at least on a dad joke level). They set the tone for your time spent there.
And don't take it personally when your wife gives you the most remote room in the basement for your man cave. It says nothing about your decorating skills. Or everything. (Decorating is so confusing, which is probably why I don't understand HGTV.)
Best Man Cave Sign Products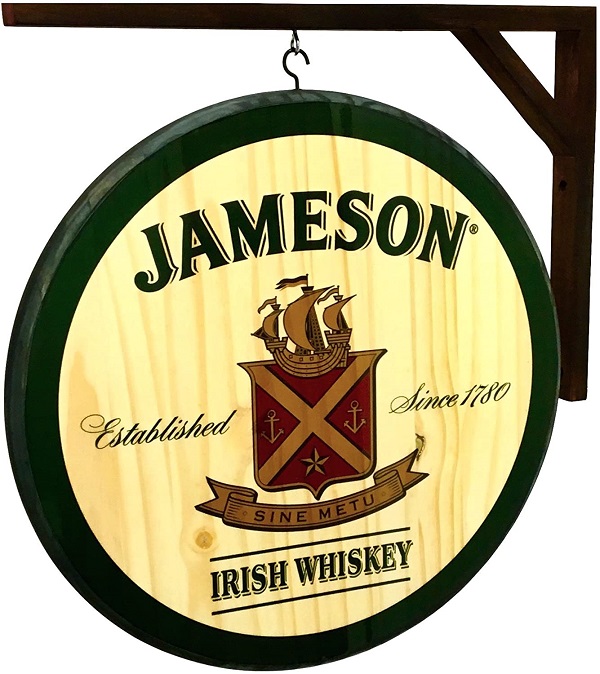 We know, we know. Starting a list of the best man cave signs with a sign dealing with alcohol is a little predictable. But we don't care, because this Jameson sign looks so great that we're guessing even your wife will not complain about it. (But you didn't hear that from us.)
This is a two-sided sign that ships with a wall bracket, so it sticks out from the wall and provides a bit of a 3D feel versus the traditional man cave metal signs that you mount flat to the wall.
With the graphic on both sides, you'll be able to hang this sign anywhere in the room, and it'll look great.
Of course, if you choose to hang this sign in the man cave, you better have plenty of Irish whiskey on hand to serve to visitors, or you'll be guilty of false advertising. (Yes, we're telling you that you have to stock up on whiskey. You're welcome.)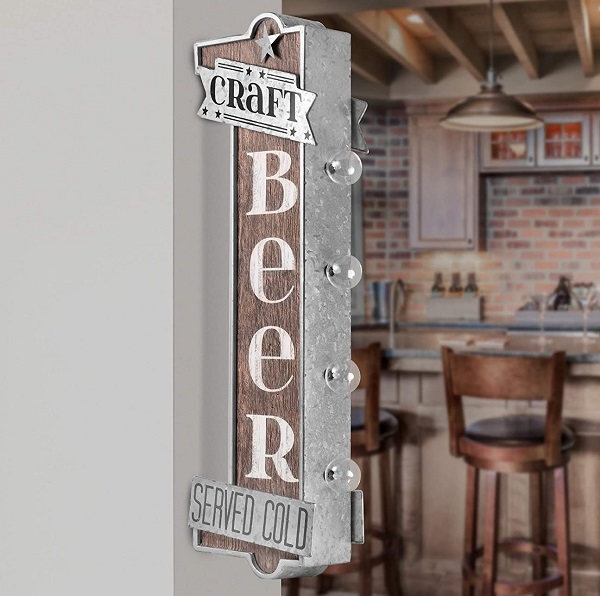 If you love 3D man cave signs, this vintage sign has depth to it and graphics on both sides. It measures 25 by 8 inches, so it's large enough to serve as an impressive focal point in your man cave. (Impress your S.O. by telling them that you bought this to be a focal point for the room … or watch her laugh her ass off after you utter that phrase.)
It has vintage-looking LED lights on the side that will generate attention when it's lit, day or night. The lights operate from two AA batteries, so you don't have to worry about running a power cord to wherever you choose to mount the sign.
The same rules apply with this sign as with the whiskey sign: If you're going to hang this sign in your man cave, you better have plenty of craft beer on hand to serve to visitors. (Keep this up, and you may qualify for the volume discount at your local liquor store.)
Storytime: When I was a kid, I was obsessed with neon signs. I thought they had to cost at least $1 million apiece because they were so cool. Several years later, I realized my 7-year-old brain was pretty f***ing terrible at judging the cost of items. But I never lost my fascination with neon.
So, when seeking the best in man cave neon signs and the best in personalized man cave signs for our list, there was exactly zero chance I was going to skip past this one.
This neon sign hangs from the ceiling on a chain. It ships with a 5.5-foot power cord and an on/off switch. More than a dozen color combinations are available, and there are three sizes available up to 24 by 16 inches.
Add your name to the top of the sign at the time of ordering for the perfect finishing touch. (As a bonus, with the personalization, if you've had a few too many and you're not quite sure whether you're home yet, seeing your name on the sign can let you know for sure.)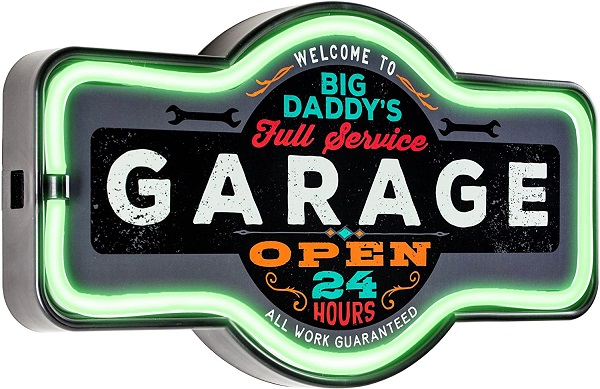 Even if your man cave is in the basement instead of the garage, this man cave neon sign looks so good that you should consider it. This sign's graphics are great on their own, but when you add in the neon … well, it's simply the epitome of perfection in the world of the best man cave signs.
This sign measures 17 by 10 inches, so it has an attention-grabbing size. Mount it to the wall with the keyhole slots on the back. The sign runs from either a power cord or four AA batteries.
Even if you've never lifted the hood of your own car in your life, you can hang this sign in your man cave and feel good about it. If someone asks about your mechanic's skills, just hand them another beer or a shot of whiskey, and change the subject. Problem solved, and you can keep your cool sign on the wall.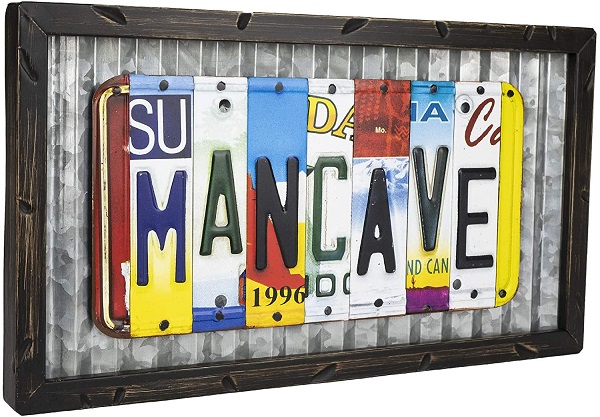 If your taste in the best man cave signs tends more toward the rustic than the neon, well, I don't agree with you, but I understand your choice. Every man cave has its own vibe.
This metal man cave sign features pieces of vintage license plates, spelling out "MANCAVE", all mounted on a tin background. It's perfect for a garage-based man cave or for the dad who's a car enthusiast, but it's also useable in a basement man cave for someone who can't tell the difference between an alternator and a spark plug. (Strike that last one; we dads have to be better than that.)
At 15.75 by 9 inches, it has a great size. The wooden outer frame has preinstalled mounting brackets to simplify hanging it on the wall.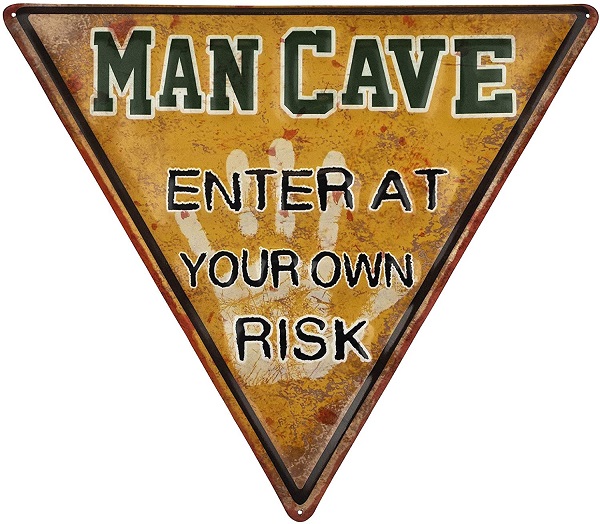 If you protect the sanctuary of your man cave with the ferocity of a guard dog, this man cave metal sign is the perfect one for you.
It has a triangle shape that signifies a warning. It clearly states that the room is the man cave, which means it belongs to Dad and Dad alone. And its message plays off the "beware of dog" warning signs.
It even has a creepy handprint in the universal gesture for stop. Add in the weathered design, and, if you're lucky, your kids will be seeing this sign in their nightmares, ensuring they want no part of entering the man cave.
There are nail holes in all three corners for mounting. The sign measures almost 15 inches square, so it's going to be noticeable to anyone contemplating entering the room without permission. Leave a few of your special dad scented candles nearby, and your man cave room will have all of the protection it needs.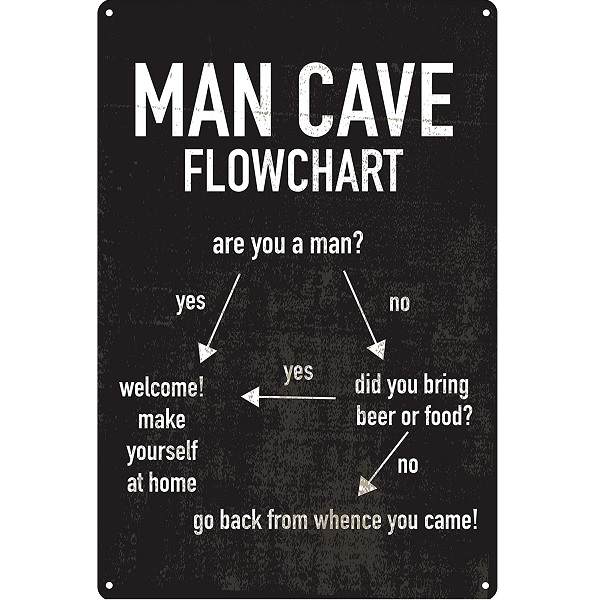 If your family is having a hard time understanding exactly what your man cave means to you, perhaps this flowchart can explain it to them in simple terms.
This sign measures 12 by 8 inches with nail holes in all four corners for mounting to the wall.
Of course, your family will know you're just kidding about them not being allowed in the man cave unless they bring you some sort of gift. But bringing gifts of beer and food will certainly make the time spent together in the man cave go smoother (and they definitely should know that, too).
As we mentioned earlier, the decorative theme in your man cave needs to fit your personal tastes and vibe.
For those whose tastes slant toward the low brow level, we present this sign. When you hang this farting sign in your man cave, those who enter will know where the bar is set for the expected level of behavior. (Answer: Incredibly low.)
This sign measures 12 by 8 inches and has two nail holes for mounting.
Be warned: If you have boys in the house, this sign will generate endless fart jokes … so, actually, pretty normal behavior. Never mind.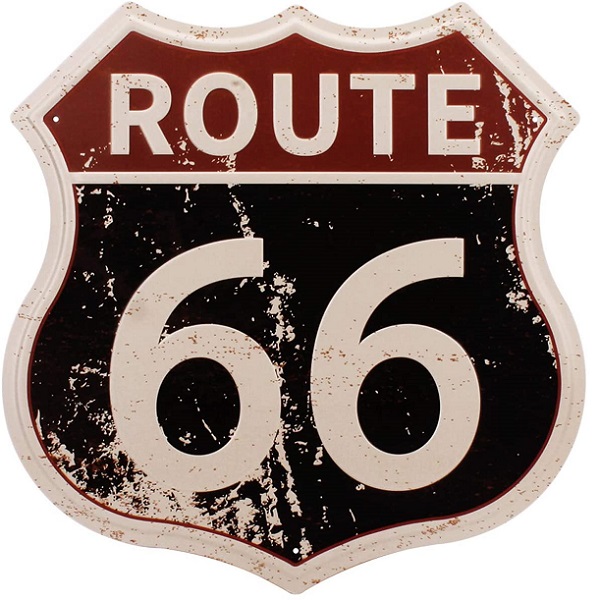 Let's say you need to offset the farting sign in your man cave with something a little more classy. This Route 66 vintage sign is the ideal selection.
For those dads who love the open road and cars, this Route 66 sign will be the perfect gift for the man cave, reminding them of vacations in the car with the kids. (And maybe they'll forget about how crazy the kids actually drove them during the trip.)
Each sign measures 12 by 12 inches, and it contains three nail holes for easy mounting.
Even though it has a vintage look with worn paint, this sign will not fade if left in the sunlight streaming through a window into your man cave. (While we are certain your partner has banished your man cave to the most remote area of the house, this feature is still important because there is a tiny chance you have a small window in the man cave dungeon.)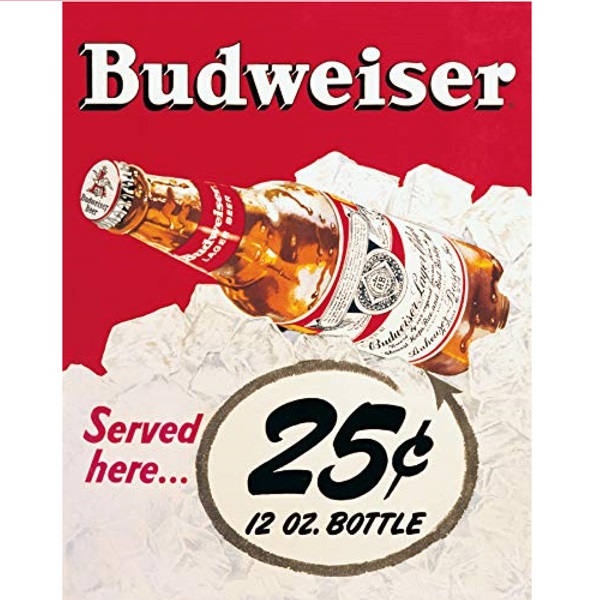 Vintage beer brand signs are always welcome in a man cave, and when you order this set, you'll receive four Budweiser branded signs to create a matching set.
These are cool vintage reproduction signs — hence the no-longer-realistic 25-cent price for a bottle of beer — that'll add some class to your man cave. Each sign measures 12.5 by 16 inches and has four nail holes to simplify mounting to the wall.
With four matching signs in this set, plus a magnet for the fridge, people might accuse you of actually having a theme in planning the look of your man cave. You can decide whether you want to take the credit or give them the actual answer about why you have this set of matching Budweiser signs: You just like beer.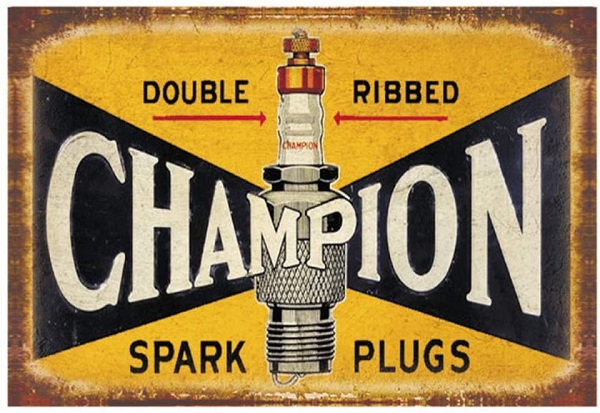 If you'd prefer that your man cave has a garage theme instead of an alcohol theme, this set of three metal man cave signs all have a theme around car part brands.
Hang the 8-by-12-inch little man cave signs using the four nail holes in all four corners of each sign. The brands on the signs include Champion spark plugs, Castrol motor oil, and Mobile racing mobile oil.
Focusing on cars in your man cave signs gives you the ability to keep the alcohol in the glasses and bottles, rather than on the walls, which may be preferable if young kids will be spending time in the man cave regularly. (And if you don't know the difference between a spark plug and an alternator, as we mentioned earlier, you'll be able to look at these signs and figure it out.)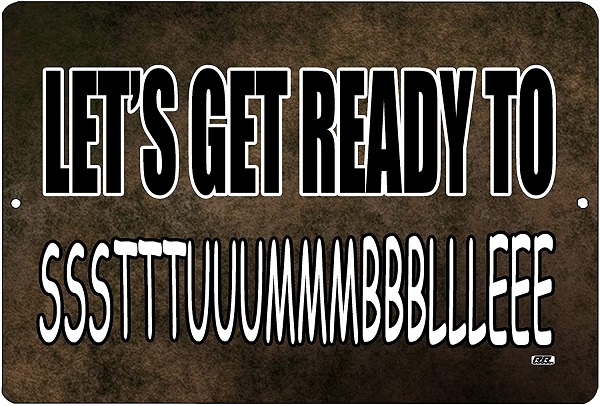 Of course, we cannot allow any list of the best man cave signs to pass without adding in a dad joke man cave sign. This one works on so many levels: Drinking and butchering Michael Buffer's famous saying. (OK, it only works on only two levels. But that's a lot for a dad joke.)
This novelty metal man cave sign measures 12 by 8 inches and has nail holes on either end for easy mounting to the wall.
Plus the sign is brown. What's more Dad than brown?
Although we only recommend picks we really love, we may earn a commission on purchases made through links from our site.