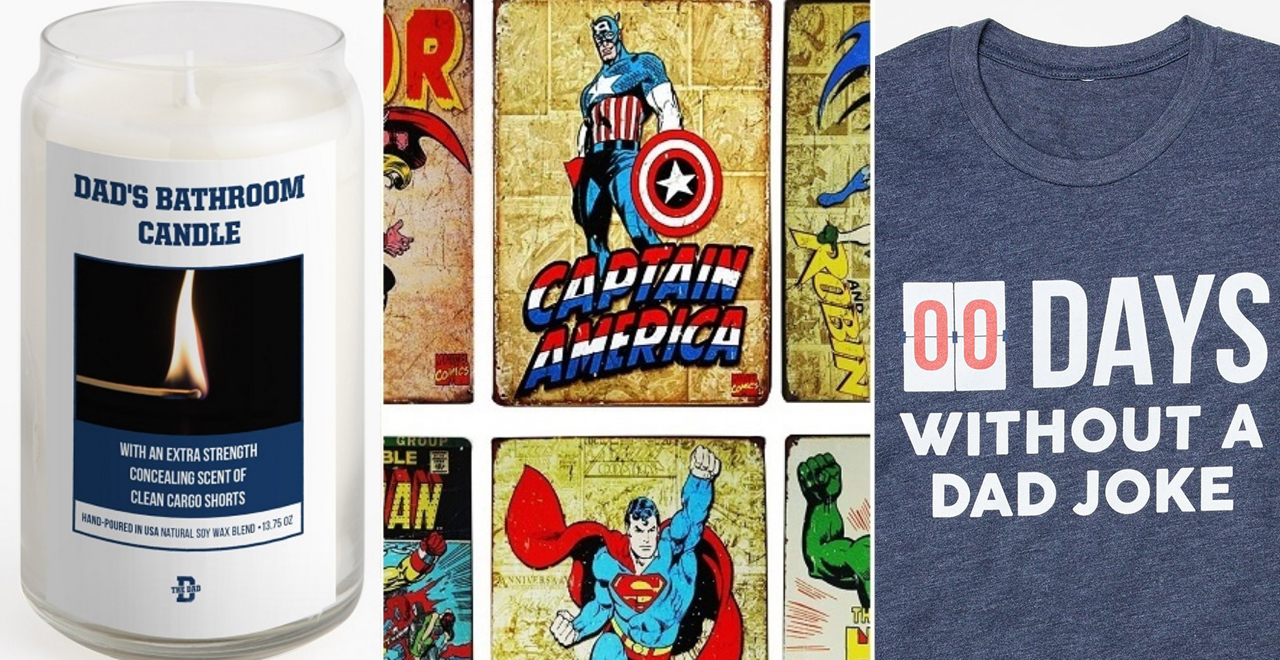 We've got the best Father's Day gifts right here, you can finally end your search. Whether you're looking for gifts from daughters, sons, or wives, or gifts for grandpas, stepdads, and expecting fathers, we've narrowed them down for your quick-shopping pleasure. After all, we don't call this the ultimate Father's Day Gift Guide for nothing, and if you're a dad and you see something you like, you can share this list with your family to drop a hint. (Note: If you're receiving this from a dad in your life, that's your cue to take the hint.)
After all, we all know Father's Day is the most important holiday of the year. Father's Day is in the big leagues, right next to Christmas. Sure, there are other holidays like Thanksgiving and Mother's Day, but those are career minor leaguers that barely hit above the Mendoza Line. (Don't tell my wife I said that. Actually, go ahead. She doesn't know what the Mendoza Line is.) Unfortunately, there's a chance that your family will let you down. For some reason, the kids and your wife may not consider Father's Day to be the greatest of all holidays like they should. If this is your first Father's Day, sorry, you'll be learning the hard way– so new and naive (and excited). Yeah, we all remember that, too.
Sure, the family may start you off with breakfast in bed. After that, though? They'll barely remember the special day. It's probably back to being like any other Sunday with a honey-do DIY list, kids whining about anything and everything, and you being asked to pick up whatever the cat vomited today because you're the only one who can do it apparently.
You at least deserve a kick-ass gift out of the deal. But chances are your wife has no idea what to get you (or she'll be looking for payback after your sh*tty Mother's Day gift that was totally the fault of the kids). And the kids are worthless with gifts. They'll ask for $50 and give you a homemade card and a $10 Starbucks gift card. Where the hell did the rest of it go? (And why are the kids so wired on caffeine?) Sigh. It almost makes you wish kids still gave their dads ties for Father's Day.
You don't have to take it anymore. Instead, we've put together a list of the best father's day gifts for dads, depending on your areas of interest. So take our list, forward it to your wife and the kids (we promise to clean up the f***ing swears the rest of the way), and say, "This is what I want for Father's Day."
We're not taking bets on whether you'll actually receive it, but you at least gave it the old college try.
Best Father's Day Gifts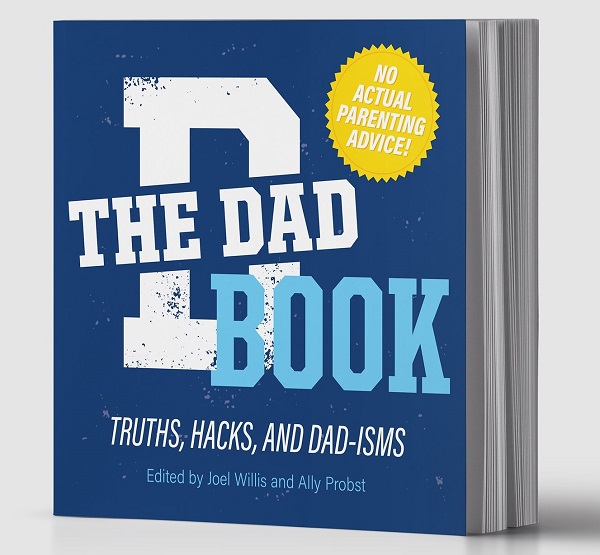 Don't let non-dads know, but sometimes we dads take ourselves a little too seriously. I know, hard to believe. (My wife actually made fun of me with my tape measure in the yard the other day, ensuring the mower deck was precisely cutting the grass at 2-1/2 inches. True story.)
As I later was making micro-adjustments to the mower deck, though, I thought she may have had a point. (I didn't tell her of course; she doesn't need the encouragement.) So for me, and all dads who occasionally take themselves a little too seriously, our The Dad Book is a good reminder to poke fun at ourselves with jokes, dad-isms, and some parenting hacks.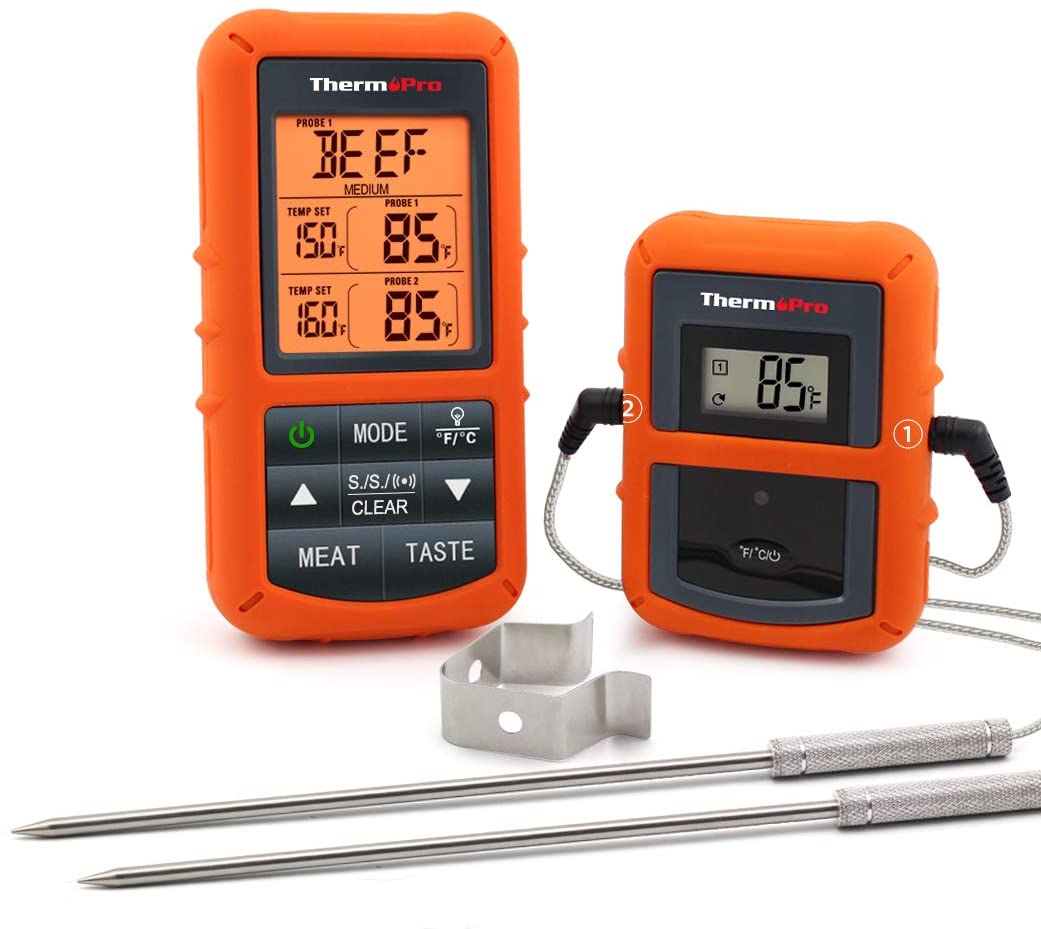 If there are two words dad loves hearing— they are wireless and grill. Give Dad a little more freedom around the grill or smoker. This thermometer has a wireless device he can carry around the house and yard so he can monitor the heat of his meat. It comes with preset temperatures for a variety of different meats like lamb, fish, and beef, so he won't have to remember what temp he's aiming for, either. He can also set an alarm that'll alert him if the temp is too high to prevent overcooking. Next time Dad barbecues for company, he can spend more time mingling and less time hovering near the cooker! Still not sure? Take a look at the 22,000+ reviews!
Being a dad is stressful and this handy device will work out the knots in his neck and back so you don't have to. Heck, he might even let you use it, too! This deep-kneading massager will relax his muscles, but his favorite part will be the adjustable heat function that feels so soothing. And you'll love the price — it's cheaper than the cost of one massage, plus this gift will keep on giving. Just don't be surprised if he falls asleep on Father's Day while testing out his new gift. Just remember, it's his day. With over 24,000 glowing 5-star reviews, there must be something magical about this massager.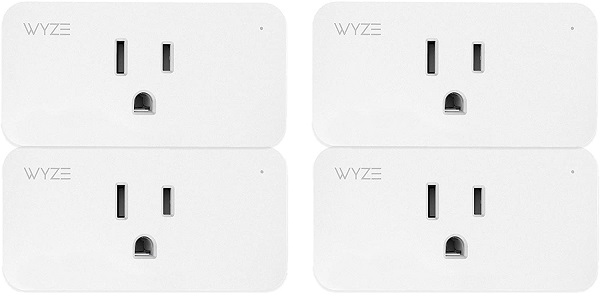 If your dad has embraced the world of the smart home, you may already have a smart personal assistant that you can ask crazy questions where you don't expect an honest answer. ("Hey, Alexa, are you planning to take over the world and enslave humanity by secretly listening to all of our conversations?") You may even have a few other smart appliances, like a video doorbell to capture videos of idiots doing something stupid. (Unless they're related to you; then they're doing hilarious things.)
If dad doesn't yet have any smart plugs, though, he's missing one of the most useful smart appliances. Attach the smart plug to any standard outlet, and whatever you plug into it will then become controllable through your WiFi network. Dad can turn on a lamp from anywhere with a smart plug. Or he can piss off the dog by turning the TV on and off repeatedly with the app. The sky's the limit for practicality and practical jokes with a smart plug.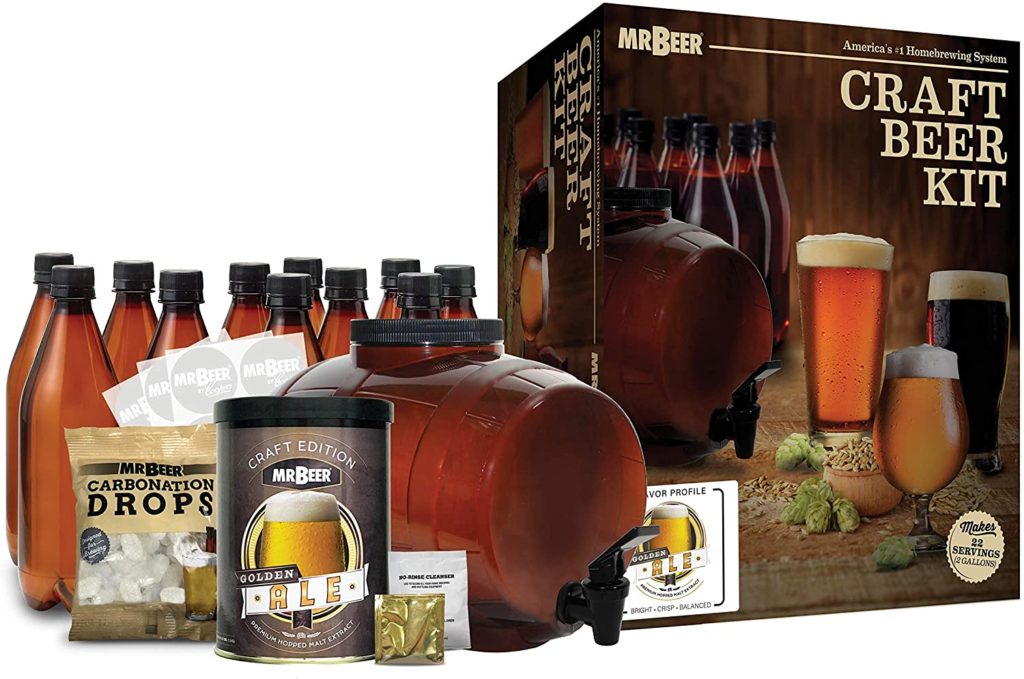 Sure, you can gift dad his favorite beer on Father's Day, but chances are he has a pretty nice supply of his own hidden somewhere. Take things to the next liquid level with this craft beer kit. It includes everything Dad could ever need to brew his own. You can help him or hop right out of his way, but in any case, you know he'll be eager to share his batch with his friends. It only takes 30 minutes to brew, which means a gift to you by way of 30 FREE minutes.
Father's Day Gifts From Daughters
"Daddy, can I have a [insert bill amount here]." If this sounds like something your dad/daughter's father hears on the reg, this engraved money clip is bound to be a hit. That is … if he has any cash left. It's made of stainless steel, meaning it'll last longer than his stack of bills will.
At least you're telling it like it is (Dad will appreciate it). This funny card will make him laugh, but it's also a humorous way of saying, "thanks for supporting me throughout the years." It's handmade in Virginia, so you know it's made with love.
Personalized Father's Day Gifts
Pop's heart will be warmed every time he checks the time. This watch is a unique stunner since it's made of multi-colored wood, and the fact that it's also lightweight and affordable is an added bonus. Choose any of the "custom" options for your choice of engraving on the back of this watch (a "Customize Now" button will appear on the right side of your screen) or choose from several heartwarming pre-written sentiments.
It's a fact that dads love to nap (right?), so gift with a customizable fleece blanket that'll keep him cozy and warm his heart. Simply upload your fave photo and the "Wold's Best Dad" text will be printed over it (don't worry, you'll see a preview before purchasing). It's a thoughtful, unique gift that he'll definitely cherish.
Father's Day Gifts For Grandpa
Everyone knows *that* Grandpa, and if the patriarch of your fam is "The man, the myth, the legend," then this T-shirt is the perfect gift. Available in 5 different colors.
For the grandfather that can fix it all, this adorable keychain is a fantastic gift from the grandkids. He knows he's handy, but the recognition from the kiddos who look up to him is priceless.
Funny Father's Day Gifts
For your favorite farter — er, father — who's always making everyone crack a smile (even if it's because he cuts the cheese). This microwave and dishwasher-safe cup will become his new favorite, right alongside his "Coffee Makes Me Poop" mug.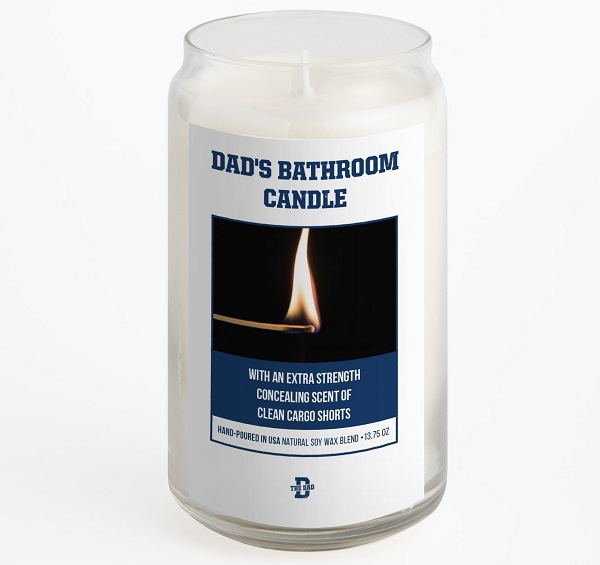 It doesn't get more dad-essential than the morning constitutional. Unfortunately, your family almost certainly doesn't agree, especially when they have to use the same bathroom a few minutes later to prepare for the day. If your wife and kids have threatened to banish you from the house, suggesting you start taking your reading material to the gas station on the corner every morning, we have a better solution.
Burn one of our The Dad candles during and after you take care of your business, and the family will be able to enjoy the odor of classic dad scents rather than the other kind of dad scent that no one wants to smell. These candles feature scents like cut grass, pancakes, and a cookout. It's way better than the lavender-mango-strawberry-spruce-vanilla-rose candle combination your wife always wants to light.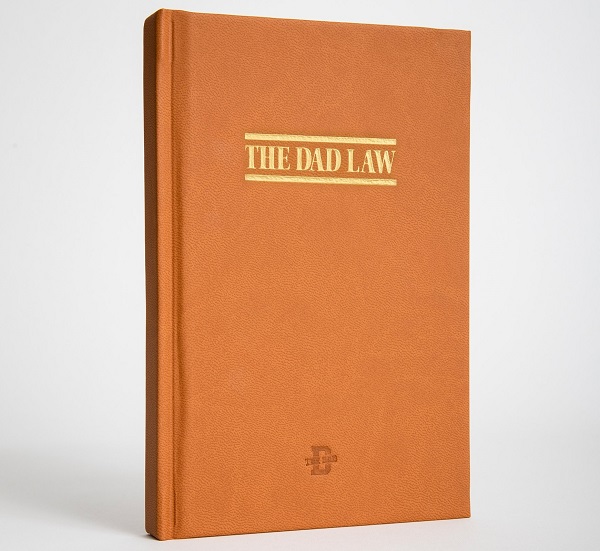 I have them, my dad had them, his dad had them … hell, cavemen dads had them: The Unwritten Rules of Being a Dad. These are things that all dads naturally must do, carrying over from generation to generation. These laws govern things dads must say, how they must act, and which dad jokes must be told at which times.
It's a lot to remember, especially if you're a new dad. So if you're ever a little unsure about what a certain situation calls for, our The Dad Law Book has you covered. Who are we to argue with thousands of years of dad evolution? (Now go see if someone has increased the setting on the thermostat.)
Father's Day Gifts From Kids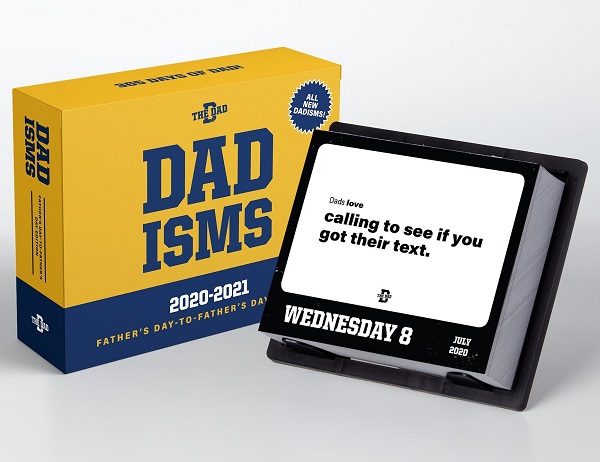 Sure, it'd be great if we could start each day with a pick-me-up like a Bloody Mary or two to get us going. But the boss frowns on having cocktails on our desk … not to mention the wife frowning on having cocktails on the breakfast table next to the Fruit Loops.
So we'll have to settle for a mental pick-me-up. Fortunately, this hilarious day-by-day calendar has something on each page that'll make the start of each day a little more fun. As fun as a Bloody Mary? Maybe not. But our calendar is guaranteed hangover-free.
Perhaps the most satisfying sensory desk toy, Speks Blots are ideal for fidgety or stressed dads who work — well — at a desk. They're "silky soft," ergonomically shaped, and made of 100% silicone for a squeezable, stretchable, plunk-able distraction from the inevitable stressors of the daily grind. Depending on Dad's destruction preferences, you can get 'em in 3 different shapes (the Splotch. Splatter, or Slammer) on the Speks website, or grab the Splotch (our favorite) right on Amazon.

For the father who can fix just about anything, gift him this multifunctional pocket tool so he can be prepared wherever he goes. This gadget includes a mini hammer, pliers, file, wire cutters, bottle opener, and more, making him a regular ol' MacGyver. For the wood handle engraving, you can choose between 3 sweet sayings.
Cool Father's Day Gifts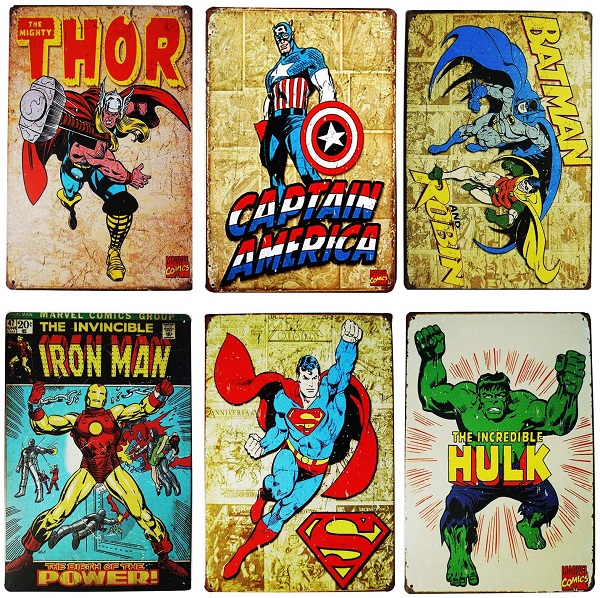 There was a time where being a geek/nerd was frowned upon. The Alpha Betas were sure to torture all geeks, tricking them into humiliating themselves in front of the Pi Delta Pis. It was tough to be a geek. These days, though, dads and kids can wear their geekdom as a badge of honor. Hell, Hollywood literally depends on geeks to fill their movie theaters now with Superhero movie after Superhero movie. (Take that, cool kids who made fun of our Superman jammies at the sleepover in 3rd grade.)
If your geeky side includes a love of comic books and superheroes, this set of six vintage tin 8-by-12-inch signs is the perfect Father's Day gift. You'll probably have to hang them on the wall of your man cave or the garage, rather than anywhere your wife's friends can see them … unless your wife is a self-proclaimed geek, too. Then they may become your family's preferred wall art.
Some dads have fully embraced the digital music scene, complete with subscriptions to Amazon Music, Spotify, and Apple Music. (Does he need all of them? Probably not. But you try explaining that to him.) Other dads scoff at binary music. The digital versions of their favorite songs simply can't compare to original vinyl, they'll say. (Music snobs, all the way.)
If your dad has a collection of vinyl records that have been gathering dust for a while, give him a place to play them with this Audio Technica starter turntable. It has a lightweight tonearm that will prevent damage to the vinyl. Now, this isn't made for the dad who has a vintage stereo system already set up and in use, but it's made for those looking to get started (or re-started) listening to vinyl at a reasonable price.
Who knows? Dad may start hitting up every garage sale in town this summer, seeking out vintage copies of his favorite vinyl records from years ago. Fair warning: You may unleash a monster with this gift. Either way, it'll give dad the opportunity to say, "Music was better in my day," and then allow him to play a record to show you what he's talking about. (Yay. No one can get enough of dad's dinosaur music.)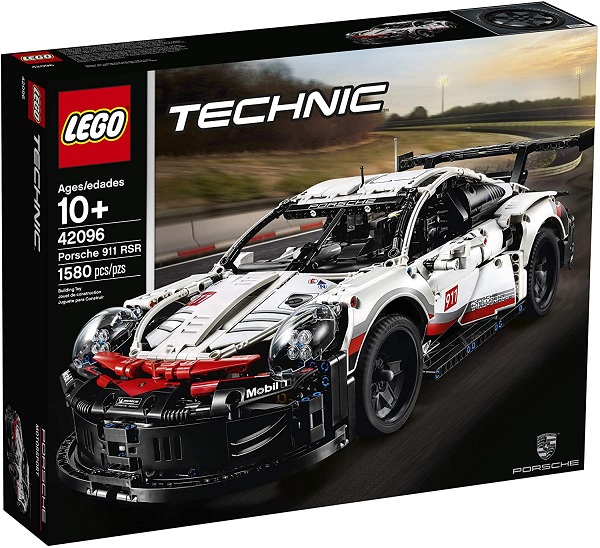 Whether it's for a mid-life crisis or not, some dads have a goal of owning an ungodly expensive sports car. Not a bad goal. Sports cars are fast. They look amazing. They're fast. You get the idea.
Chances are dad is not actively saving for this sports car, though. It's one of those pipe dream goals that keeps getting pushed to the back burner after spending money on the college fund for the kids, a purebred dog for the kids, braces for the kids' teeth, and braces for the dog's teeth. (Veterinarians and orthodontists have quite the racket.)
So unless dad is going to hit the lottery — and we feel pretty confident in saying he won't — the closest he's ever going to get to that sports car is this highly complex LEGO set. This set is incredible, containing almost 1,600 pieces, including a realistically detailed engine. It's not the same as actually owning and driving a Porsche, but it'll probably be as close as he'll get. (You don't have to tell him that and crush his dreams … until the next time he really pisses you off.)
Give Dad the highest compliment that's carved in wood (but just to warn you, it might god to his head). An Amazon Handmade pick, this "The Grillfather" cutting board is crafted in Oklahoma and comes in a variety of sizes and wood tones that you can customize. There are also optional add-ons like coasters, wood oil, and/or a display stand for a complete Father's Day gift that's as cool as it is useful.
Father's Day Gifts From Wife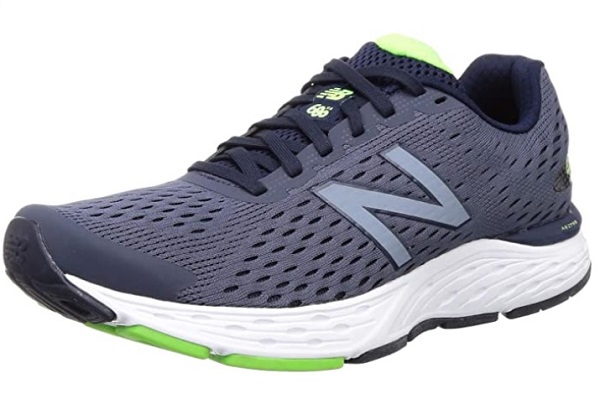 We all have periods in our life where we look at ourselves in the mirror and we decide we're ready to start working out. I personally have done this far too many times to count. What I've found is that when I'm a little too heavy, a little too out of shape, and a little older than the last time I tried this, having the right pair of shoes is the key to working out successfully.
I've tried almost every brand (as I said, I've done this far too many times), and New Balance provides the most cushion and support, which is important when people start telling you, you're way too heavy … even the ones who normally are too nice to say anything. The 680 model is available in multiple colors and styles, and it'll help with whatever kind of new workout you have planned. (The rest of your body will be in agony, but your feet won't hurt at least.)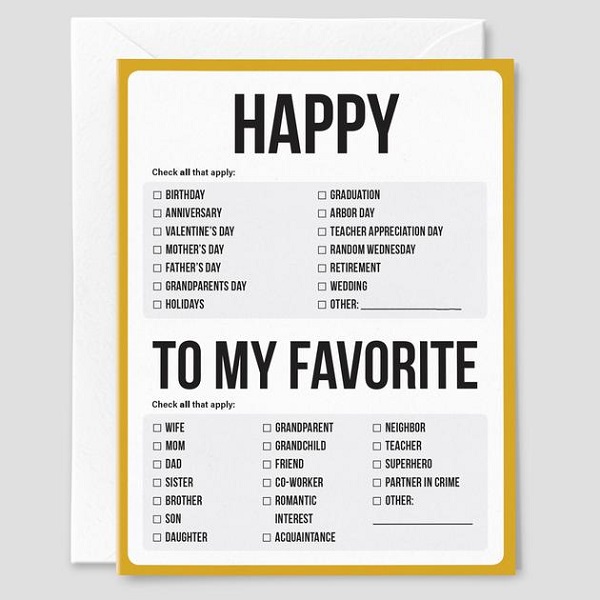 Raise your hand if you have forgotten an important date for a family member or friend, like a birthday, anniversary, etc.? Now how many of you have done this in the past three days? (Putting my hands down now, as it's impossible to type with two hands in the air.)
Our pack of 12 greeting cards has you covered. Each one has multiple options on it, so you can match it to the proper occasion. Just check the appropriate box for birthday, anniversary, etc, and you're covered. For those who know you and your forgetfulness, the checked boxes on the cards will be hilarious. And you can pretend you did it on purpose as a joke, rather than forgetting again and using our cards as a last-minute solution. Win-win.
The key to helping Dad drink more water? A really, really good water bottle. This 32-ounce pick from ECO Vessel features triple-insulation, meaning it can keep liquids hot for 14 hours or cold for a whopping 72 hours. But, the cool features don't end there. Open the cap, and there's a rubber-lined spout for comfortable drinking; then, the top unscrews to reveal a strainer, perfect for steeping loose-leaf tea or adding fruit for an infused beverage. There's even a removable rubber bumper on the bottom to prevent dents. Yes, this bottle is as durable as it is useful (and comes with a 100-year warranty), which is great because Dad will be taking it everywhere. It's available in 4 different sizes and a variety of colors.
Even a man's man needs a decent umbrella in inclement weather, and this pick is as hardcore as it gets (by umbrella standards, of course). Designed by a meteorologist who was tired of umbrellas that flipped inside out, these are designed to resist heavy rains and wind forces up to 55 MPH. Despite its heavy-duty protection, this pick is lightweight for easy traveling (that said, there's a smaller travel version, too). It's available in a handful of colors and is so useful, you may want to pick one up for yourself, too.
Stepdad Father's Day Gifts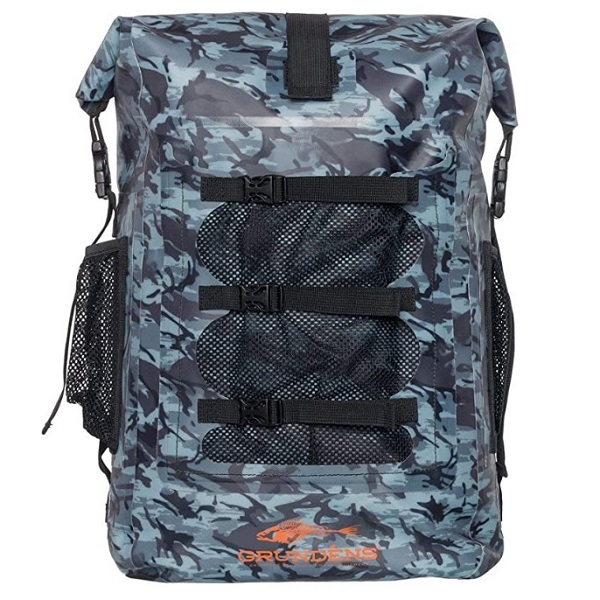 One great way for dads to spend quality time with the family is out in nature. Whether that involves hiking, a trip to the lake, or a day at the park, it's a smart way to have fun and spend time in the great outdoors.
For most of us, these trips involve dad carrying the majority of the kids' gear in a backpack. (Which is probably only fair, since your wife's purse fulfills that task the majority of the rest of the time.) What ends up happening is dad hurriedly grabs whichever of the kids' backpacks happens to not be lost at the time the family is rushing out the door to leave for the park. If so, it's time to give dad his own backpack. (That means we no longer have to carry a Hello Kitty backpack on the hiking trail. There is a god after all.)
This Grundéns backpack is waterproof with RF welded seams, so it can stand up to the roughest conditions while keeping your gear safe and dry. It's suitable for almost any outdoor activity with a great camouflage pattern. (Let's see Hello Kitty pull that look off.)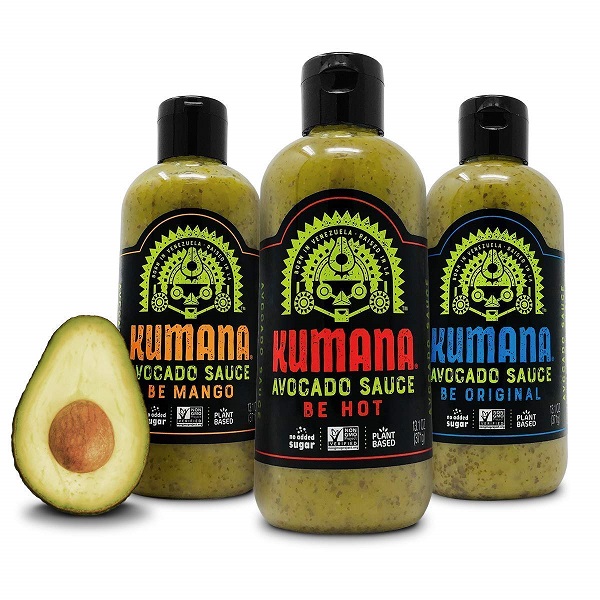 Some dads say they love trying new foods, and the crazier, the better. (Sure, he eats the exact same thing for breakfast and lunch every day, and he orders the same thing every time he goes to a restaurant, but it's fun to let him think he's a foodie.) One way to spice up those regular meals is with this three-pack of Kumana hot sauces. These plant-based hot sauces primarily consist of avacado, which, when paired with jalapenos, give them a kick well beyond the regular salsa.
Ultimately, you can put this on almost anything, and it'll taste great. And since it's green and spicy, we're guessing the kids will be too scared to try it. Dad will feel pretty special when he has his own personal hot sauce/salsa. All dads should have at least one thing they don't have to share with the kids.
For the stepdad who loves like a dad-dad, this cool sign is a thoughtful Father's Day gift. This Amazon Handmade pick has several customizable options; you can add the name of your stepdad and choose to add your own definition and decide whether you want the photos to have color, black and white, or sepia tones. Either way, this important figure will be touched by how much you care about him. (Just note: This print comes unframed, so you can choose whether to add your own.)
Cheap Father's Day Gifs (Under $25)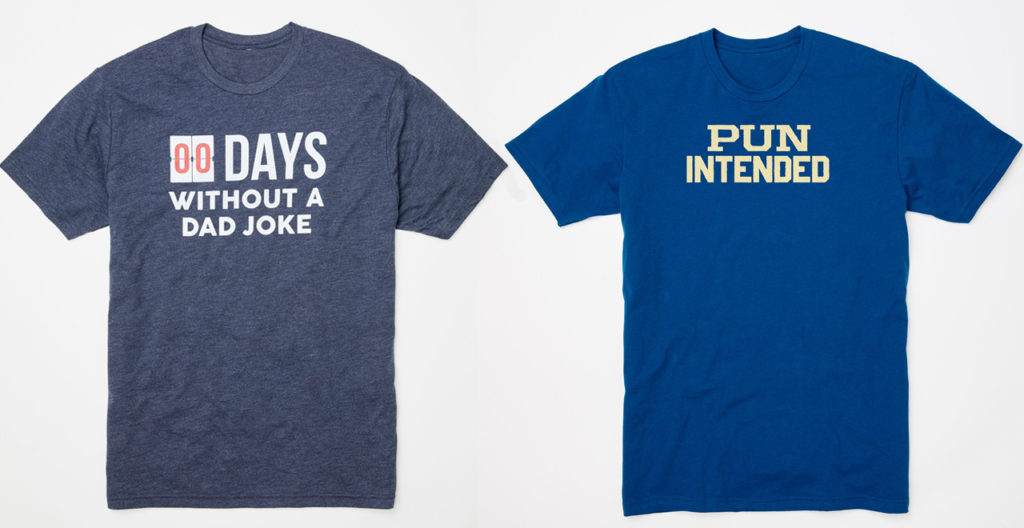 Dad jokes can be a source of incredible confusion. Some dads say they love dad jokes, yet they primarily use them when they have a chance to embarrass their kids. Some dads say they hate dad jokes, yet they'll tell one when they're especially looking to torture their kids. And some dads say they're indifferent to dad jokes, yet they're always willing to toss one out to embarrass and torture their kids. You can see why this creates such a conundrum. If your dad has any interest in dad jokes, these t-shirts are sure to be right up his alley. And if he wears it any time he's out with the kids, it's sure to generate multiple eye rolls, facepalms, and heavy sighs from them. #missionaccomplished
Don't let the fairy on the front of this tin fool you: Jumby Beauty's Warm as Toast balm is tough on aches and pains (we know because we've tried it). It's made with potent, organic ingredients like ginger, clove, and calendula oil to cool and tingle away muscle stiffness and strain without leaving a sticky residue or chemical odor behind. Any dad who's prone to sore muscles will want to keep this stuff in his gym bag or on his bedside table.
Although we only recommend picks we really love, we may earn a commission on purchases made through links from our site.