Blind 12-Year-Old Golden Retriever Gets His Very Own Guide Dog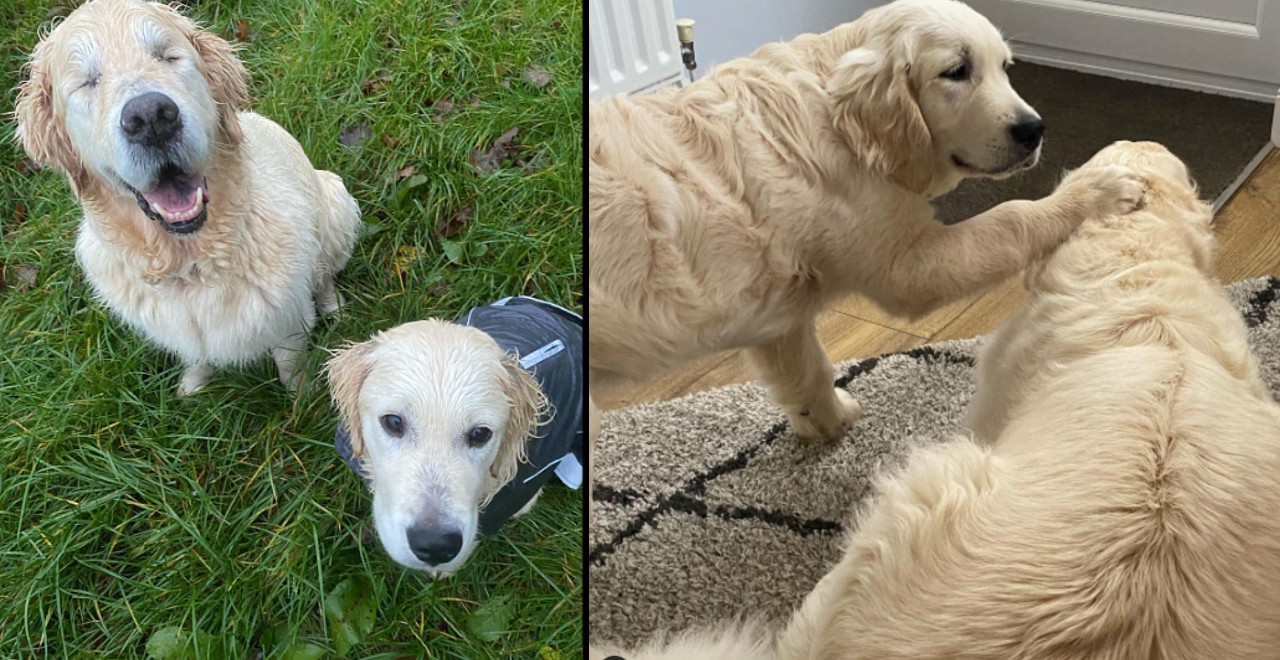 There comes a time in life when even the most self-sufficient of us have to ask for help. Needing help doesn't make you weak – in fact, being willing to accept help when you can no longer do something on your own is a sign of maturity and self-awareness. Or, in the case of 12-year-old Tao, it's a sign of being really freaking cute.
Up until a year ago, Tao was the lone wolf – or, you know, the lone golden retriever. Tao lived a happy, boisterous life until the day his perceptive owner Melanie Jackson realized something wasn't quite right. Though in the morning he'd been his normal playful self, by the evening he was showing clear signs of pain.
After a visit to the vet, Tao was diagnosed with glaucoma, meaning that high pressure in his eye damaged his optic nerve. His eye had to be removed, and not long after, his second eye deteriorated just as rapidly. Though Tao lost his vision, he maintained his happy demeanor and soon began navigating relatively well on his own. Melanie knew that though Tao was recovering well, losing your vision is isolating. Melanie and Tao were still able to be active together and Tao could do most of the activities he did before, but the loss of so much sensory input was a challenge.
During difficult times, we could all use a friend – and that's exactly what Melanie got for her beloved old dog. She adopted 8-week old Oko, a golden retriever puppy, and the dogs bonded immediately. Not only did they become best friends, but Oko became Tao's guide dog. The pair sleeps together, plays together, and Melanie even trained Tao to keep his little brother out of trouble.
View this post on Instagram
"Oko is being trained by me—if not, he would lead Tao into mischief as he is a typical inquisitive puppy," Melanie told Bored Panda. "Tao is being trained to follow Oko's scent and Oko to listen and respond to my commands to 'stop, wait, go right, go left.'"
View this post on Instagram
After the stress of losing his vision, Tao has a new lease on life thanks to his little brother (more like grandpupper). The adorable duo have accumulated over 40,000 followers on Instagram, and it's easy to see why. Vision or not, these two are living their best life – and it's all thanks to Melanie.
View this post on Instagram
"Tao is an amazing dog and is loved by everyone we meet," Melanie said. "He is known locally and people often ask if they can have a selfie with him."
View this post on Instagram