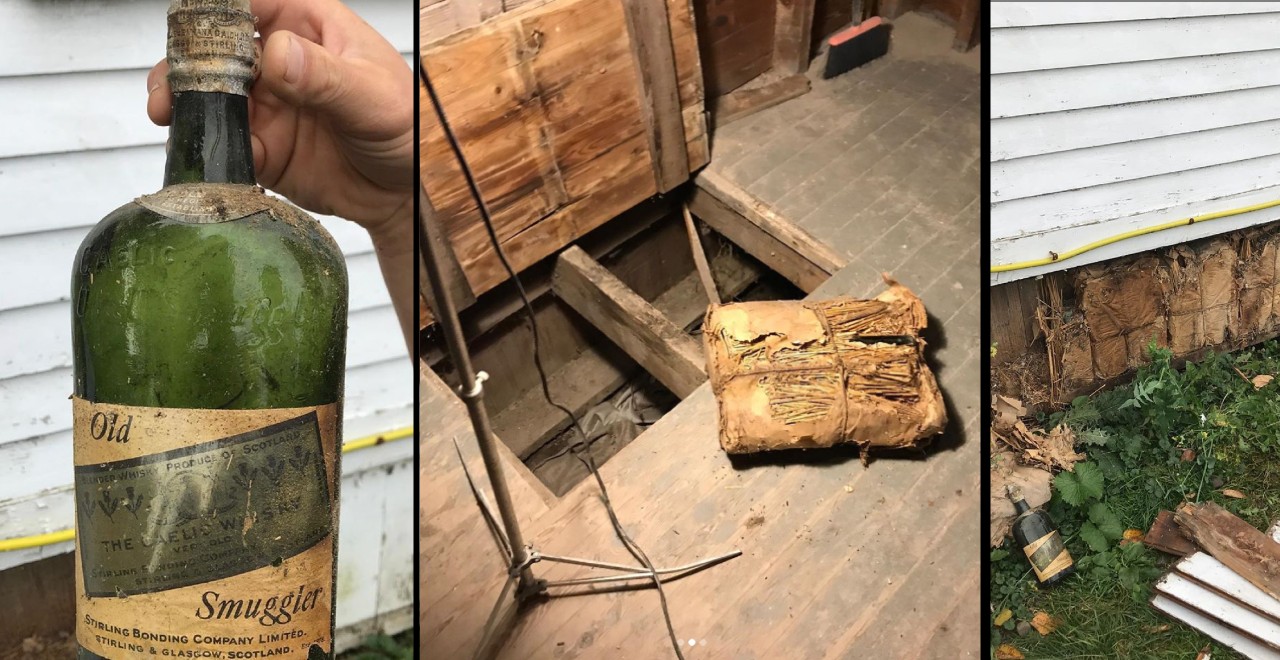 Credit: Instagram/bootleggerbungalow
Being stuck at home for too long always leads to finding more things you want to fix up. With most of the country under some form of quarantine slash social distancing, people have taken to home improvement even more than usual. And that can lead to some fun discoveries, like finding caches of century-old bootlegged whiskey hidden throughout your house. OK, so that scenario is extremely unlikely, but that's the reality for one couple that started renovating their home.
Nick Drummond and Patrick Bakker moved into an old home that neighbors said was built by a bootlegger. When they finally got to fixing the place up earlier this month, they were in for the surprise of a lifetime; they found old packages of bootlegged whiskey in secret walls and hiding places throughout the house.
Everything pairs better with booze, even, apparently, home improvements. But Bakker and Drummond got a lot more than they bargained for when they started fixing up their old house. Drummond started an Instagram account, "bootleggerbungalow", to follow the home rehab, without expecting to find the actual proof of the home's origins.
He told NBC he was removing trim outside when a package fell out of the wall.

"When I saw the edge of another package it hit me, like holy crap, this is bootleg booze," he said. "The thing is, it wasn't just one, then it wasn't just two, it was the entire wall."
They've found dozens of bottles of the bootleg whiskey so far, dating back to around 1923, during Prohibition in the state. The couple said they want to try at least one bottle of the whiskey and aren't quite sure what to do with the rest of the discovery. They are contemplating leaving some of the packages there and putting in a glass panel on the floor, so you can see the hidden whiskey.
If you want to learn more about the house, and their quest to learn more about the history of the bootlegger who built it (and what happened to him), you can follow along @bootleggerbungalow@bootleggerbungalow.