Tom Brady Was Paid '20 Cents' to Autograph Rookie Card That Sold For 2+ Million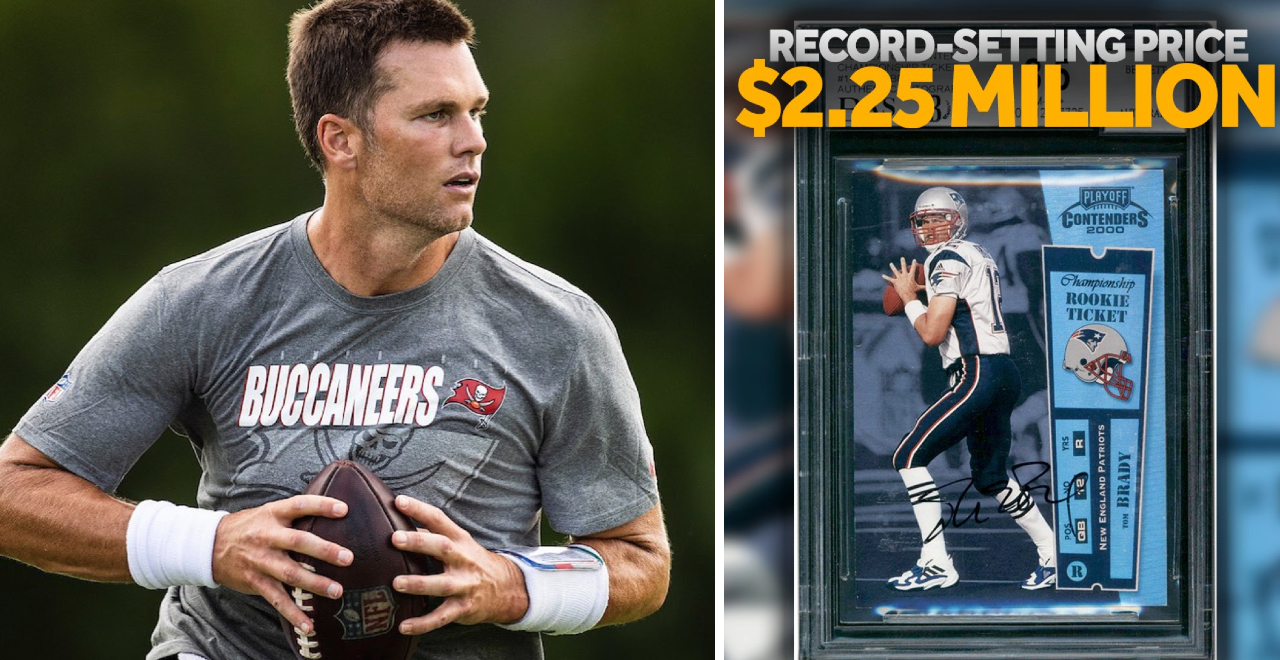 Tom Brady is an athletic anomaly. He's nearing his mid-40s and is coming off a Super Bowl MVP season, despite moving to a new team. The GOAT is also breaking records in the offseason, as one of his autographed rookie cards sold for a record $2.25 million, shattering a previous record held by Patrick Mahomes (whose card sold for one-third that amount). And it's tough for Brady to even enjoy it because he was paid '20 cents' to put his name on that card.
He was giving a long-ranging interview to Good Morning America's Michael Strahan (a former NFL star in his own right) about his career, motivation, family, and more. But one of the most interesting parts was when Strahan asked about the rookie card selling for more than 2 million.
🏈💰‼ This autographed #TomBrady #Patriots #rookie card just sold at #auction for a record-setting $2.25 million. https://t.co/aZj1A7k6kH pic.twitter.com/YTKDo2pLO6

— WCVB-TV Boston (@WCVB) April 3, 2021
"It's surreal and it makes me want to go check all my cards that I have stored again; there's got to be one [more] in there somewhere," Brady jokes. "I kept all these cards for all these years."
Brady said when he was starting out (long before he was a starter and Super Bowl champion) his agent got him a trading card deal to sign 1000 cards for like '20 cents a card.' Brady said he was elated at the time.
"I definitely should have kept some of them," he said, "but I think it all worked out pretty good."
Brady has been in full dad mode in the offseason, as they took a family vacation to Costa Rica, the Middle East, and…of course, to Disney (every dad has gotta take his kids at least once, it's a Dad law).
View this post on Instagram
He also said he hopes his kids learn from his work ethic and can stay grounded.
"They're gonna have to work hard and I don't want them to take things for granted," he said. "I want them to make the impact in the world they're gonna make, but they're gonna make it in their way."
It's gotta be weird to be the kid of the greatest football player ever, but as you can tell from his Instagram, Brady loves being a dad just as much as he does being a championship-caliber quarterback.
And if I was one of his kids, I'd be looking through the attic to track down one of those rookie cards.