The Rock's College Football Rookie Card Sold For $45,000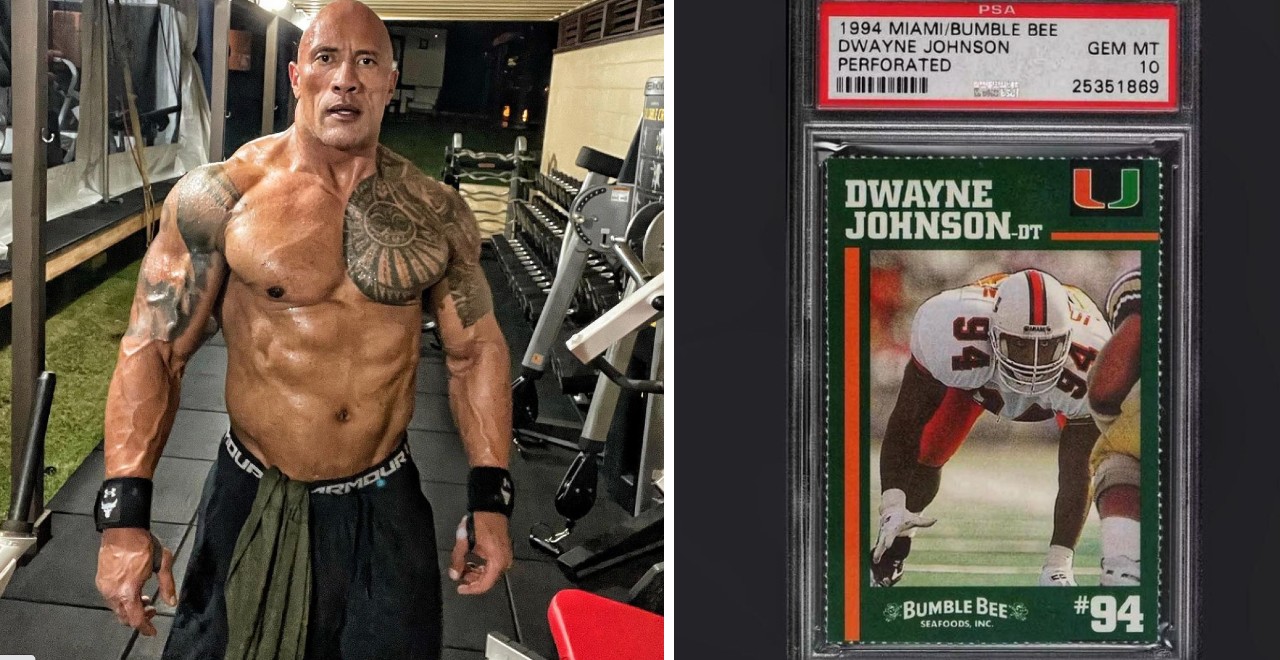 If you're invested in The Rock these days, business IS BOOMING. One of the most bankable movie stars in the world has a new TV show about his early life, a line of boozy ice cream, and even relics from his past command big numbers on the open market.
Dwayne Johnson originally dreamed of a pro football career (now, he has his own pro football LEAGUE), but it never came to be. But, he still has a rookie football card, it's just from his time playing college football at the University of Miami (you could still get away with that back then, the laws are different now). And that rookie card just sold for a whopping $45,000.
The Rock posted a pic of the card on Instagram. Reportedly, there are fewer than 50 in existence, and Johnson was one of only a handful of Hurricanes to get a card in 1994. He shared the pic on Super Bowl Sunday, taking a gridiron-infused trip down memory lane.
View this post on Instagram
The Rock said the card's value, and its continued rise, has become "so surreal." He also said playing in the NFL was his dream, and the Super Bowl was his ultimate dream, but even though he fell short (don't feel bad for him, the guy is doing alright…), he relished that his card sold so high on a Super Bowl Sunday.
"I never made it as a player to the big dance, so this humbling irony is not lost on me one bit," he wrote.
It's one small piece of a now giant life, but with the rising costs of sports collectibles, it's not too hard to imagine how the only relevant relic of his athletic career (depending on how you classify sports entertainment) commands top dollar.