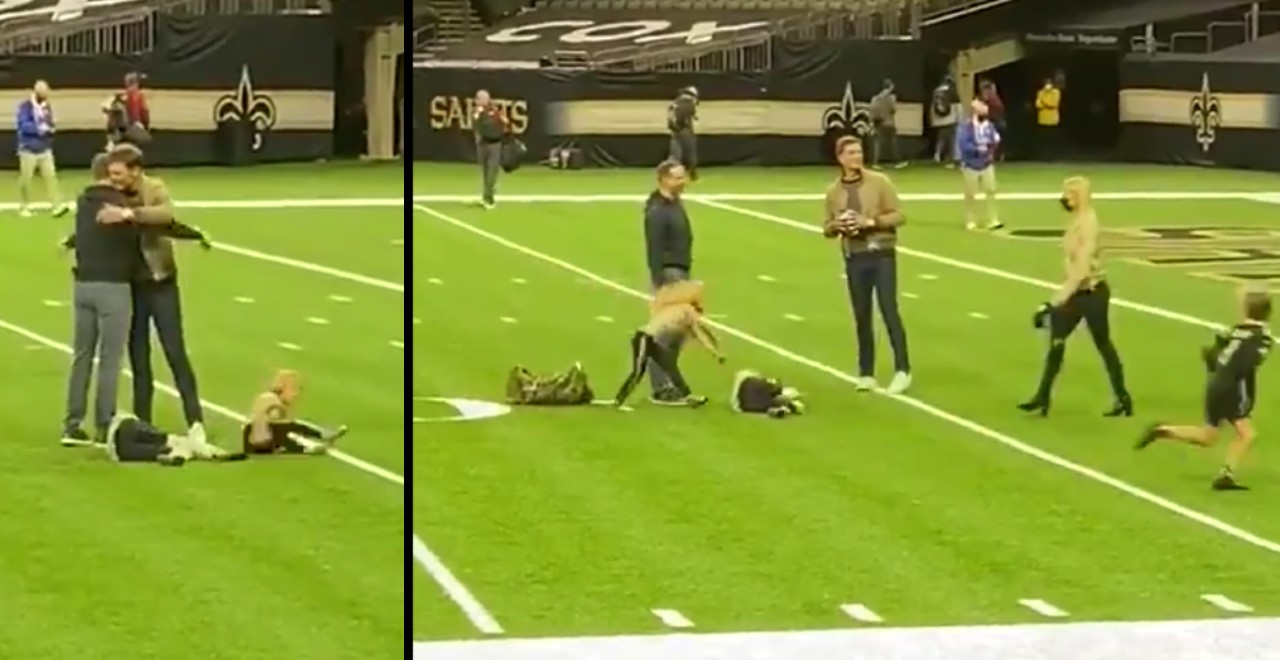 Credit: Twitter/Jpalmertv
It was one of the most hyped NFL playoff matchups in recent memory, as Tom Brady took on Drew Brees for the first time in the playoffs. Two of the best quarterbacks to ever play the position, with more than 150,000 passing yards and scores of touchdowns between them during their decades of play. But after the dust settled, they were just dads, and one of the coolest moments of the season was seeing the two of them hang out on the field long after everyone else left.
Two legends, just kicking it, with their kids playing around them. Brady embraced Brees, and the two spoke for a while kids bandied about, and then Brady threw a touchdown to one of his Brees' sons.
As Tom Brady and Drew Brees hug and say goodbye after a long talk on the field, Brady throws a touchdown pass to Brees' son. One walks off to play in the NFC championship, the other stays to play with his kids. pic.twitter.com/wdWDro9YD4

— James Palmer (@JamesPalmerTV) January 18, 2021
Brady and the Tampa Bay Bucs won the game, which may have likely been the last of Brees' outstanding career. For Brady, game recognizes game, which is why the two of them sharing a special moment after the game resonated with so many fans.
Despite a game and season full of highlights, it's two dads talking and throwing a football to kids that got millions and millions of views. The throw, for what it's worth, was actually right on the money and pretty incredible to do it so nonchalantly (although the young defender could've pursued more aggressively, perhaps…still a sick pass either way).
The touchdowns you throw to your kids may not mean the most to everyone else, but it's bigger than any other to them, and it's cool that even the two legends get it.