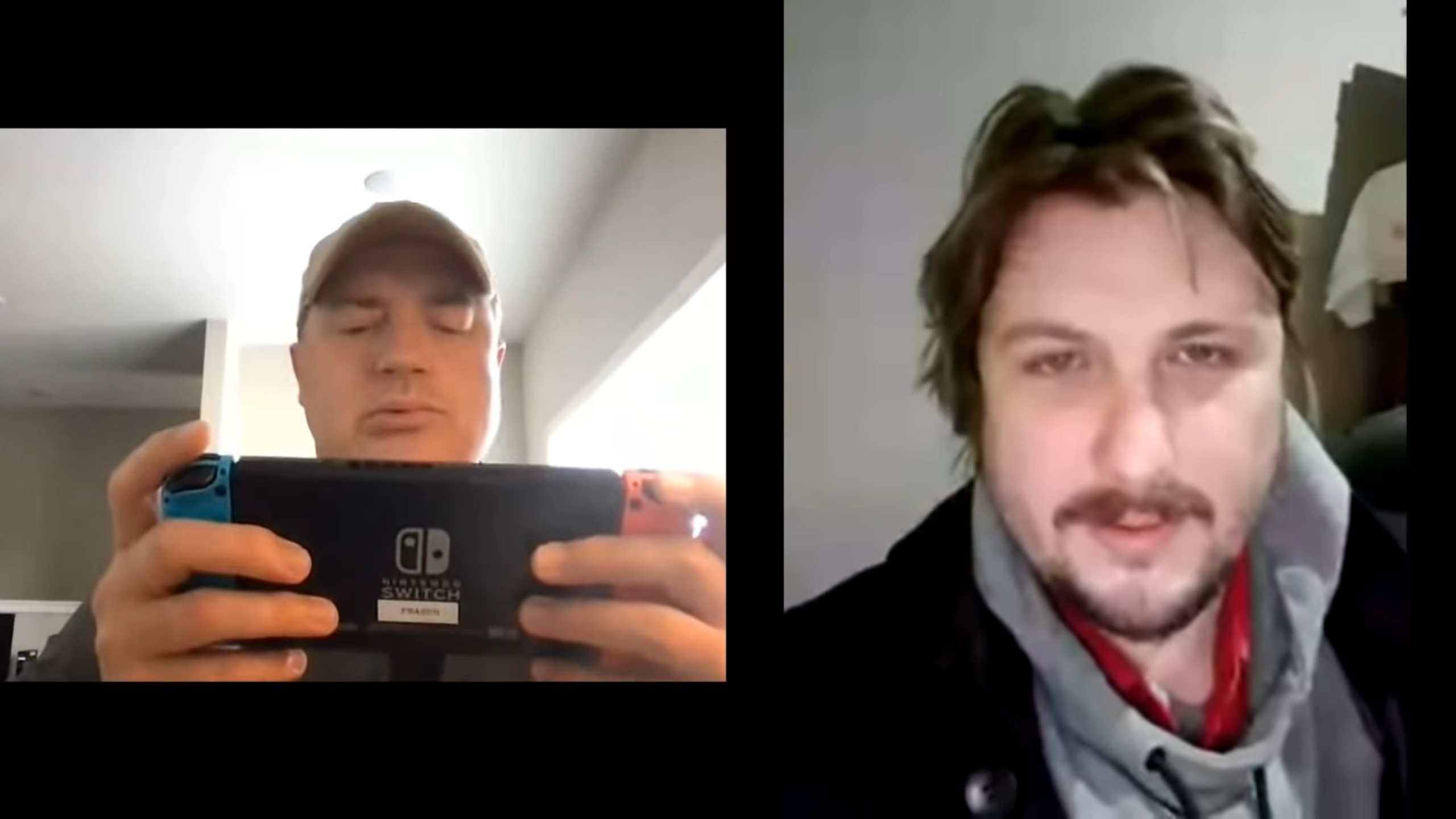 Credit: Youtube/Scott Lawrence
"One of us! One of us!"
I don't know why, but I love seeing celebrities playing video games. It's like when Henry Cavill films himself building his own gaming PC or T-Pain tweets about helping his wife out in Animal Crossing. It's just cool to see famous people enjoying something I love. Most recently, Brendan Fraser was caught in the wild playing on a Nintendo Switch. What game it was remains a mystery.
During a video chat with fan Scott Lawrence, Fraser was just playing his Nintendo Switch. Even after the call begins, Lawrence says hello but Fraser puts his finger up to say "one more minute" and just keeps on playing before someone in the background chimes in for him to pay attention. He's obviously just having fun, but what I think is so great about this (besides Fraser being such a down to Earth guy) is that he even has his last name labeled on his Nintendo Switch.
Lawrence had a couple of questions to ask, such as how Fraser remains calm and present during the acting process.
"Breathing helps, smiling helps. Knowing that this is all make belief and there's a reason why they call it a play, because it's fun. That and thinking, 'you know what, we're not curing cancer here, we're entertaining people. Those things go through my mind… that and 'when's lunch?' Lunch is very important, you have to keep working towards something."
Lawrence also asked Fraser what his favorite pizza toppings were. Fraser says he's a "pepperoni, mushroom, olive pizza guy, and controversially, because I'm Canadian, sometimes pineapple."
Now, to put things into context, it wasn't really an "interview" like the video title suggests. In the Youtube comments section, Scott mentions that he's not an interviewer and purchased the 2 minutes to just chat with Fraser via GalaxyCon. It's kind of like Cameo, but instead of personalized messages, you can have virtual meet-ups with celebrities "I just do these videos as something to look forward to during the lockdown. There's a lot of pressure with the 2 minute timeline and there's a delay. Also, I'm partially deaf and have trouble hearing some things. It was great to meet an actor who I admire though. I was quite nervous."
Well, now the world knows Brendan Fraser is a gamer. I feel like we need to follow up on this and he needs to tell us what game he was playing. Is he a hardcore or casual player? Was he chilling on Animal Crossing or nonchalantly playing some intense Mario Kart 8 Deluxe sessions? Is he more of a Doom guy? I want answers!