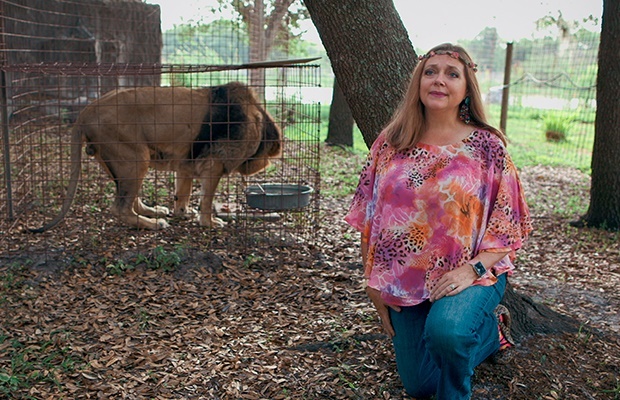 Credit: Netflix
And the hits just keep on coming.
Earlier this year, before the world went crazy, Netflix released its Tiger King docuseries, about Joe Exotic, Carole Baskin, and the bizarre, sketchy, seedy world of big cat enthusiasts. The story captivated the country and birthed countless memes, many of them revolving around the feud between Exotic and Baskin, which had many layers and included a music video in which Exotic accused Baskin of feeding her husband to her tigers. With such a bizarre story, Nicholas Cage was quickly tapped to play Joe Exotic in a TV series.
2020 has been straight-up bonkers, y'all!
The series ended with Joe Exotic in jail for attempting to hire a hitman to murder Baskin, and now Baskin is taking control of the Tiger King's Oklahoma property, leaving Exotic's partner Jeff Lowe a month to vacate the premises.
According to Courthouse News, a federal judge gave Baskin ownership of Exotic's cat compound after ruling that Exotic had fraudulently transferred the properties to his mother to avoid paying $1 million for trademark infringement.
"Big Cat Rescue's constructive trust and equitable lien in and to the buildings shall survive any physical or title transfer of the building and shall follow any proceeds, except as to a good faith purchased for value," the 11-page order states.
This is a victory of Baskin, but she's not exactly free and clear of suspicions about her own activity. A judge recently found that her missing husband, whose death many suspect Baskin is responsible for, had his will forged. This news certainly won't help Baskin avoid rumors of her participation in her husband's disappearance.
Things get even weirder when you hear what Exotic's partner, Jeff Lowe, has to say.
Lowe has a month to vacate the Oklahoma property, but he's not leaving without stirring up some more shit. He went on TMZ to say Baskin can have the property, and the dead bodies he claims are buried on it.
"Lauren and I tried to donate it to the Indian Nation about a year ago," Lowe told TMZ. "Because we knew there were the remains of a young American Indian boy buried here. We thought that the Nation should have the first opportunity to protect this land and his grave."
You couldn't make this stuff up.