A Clifford the Big Red Dog Movie Is Coming in 2021 and People Are Divided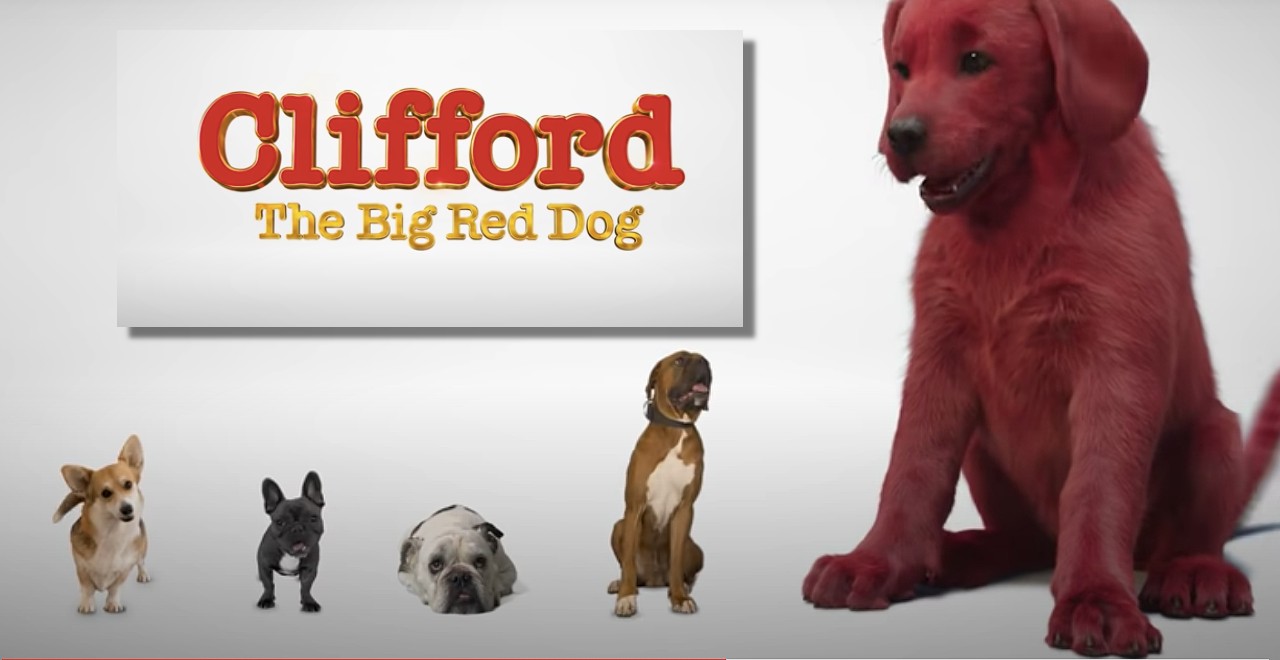 For better or for worse, we're all aboard a nostalgia train that shows no sign of slowing down. Movies and TV shows from our childhoods are being revived left and right – some beautifully, some, well, less so. The most recent victim, uh – subject of the nostalgia storm is none other than the alarmingly large, fire-engine-red dog that everyone was somehow just OK with, Clifford.
Though a pre-first-look was leaked about a year ago, it wasn't until recently that Paramount willingly gave us a sample of what's to come. The movie will be mostly live-action, aside from the title role which will be played by a giant dog-shaped blob of CGI. The movie is set to follow the same premise as the classic books, in that a little girl ends up with an enormous dog (again, that nobody really acknowledges with any sense of urgency).
Stars of the film include Darby Camp, Jack Whitehall, Kenan Thompson, Paul Rodriguez, Rosie Perez, John Cleese, and David Alan Grier. The all-star cast will bring Norman Bridwell's iconic children's books to life, and though filming was delayed, the movie is set to premiere on November 5, 2021.
The movie's Twitter page gave us a sneak peek of what's to come. The caption read, "It's here: your very first look at Clifford The Big Red Dog! #CliffordMovie hits theaters next year, but today we're celebrating the pets who inspire us to #LoveBig."
It's here: your very first look at Clifford The Big Red Dog! #CliffordMovie hits theatres next year, but today we're celebrating the pets who inspire us to #LoveBig. 🐾 ❤️ Share a pic of your favorite pet to help us spread the love! pic.twitter.com/CGRn8M8QYL

— Clifford Movie (@CliffordMovie) November 25, 2020
The teaser then invited Twitter users to celebrate by sharing pictures of their pets, which a few people actually did. Mostly though, as Twitter so readily invites, people provided their unsolicited feedback. Some thoroughly clowned on Paramount's newly-announced project, while others defended their depiction of our favorite big red dog.
One user compared the Clifford teaser to the Sonic fiasco, during which Paramount went back and fixed their animation after the public response was less than ideal.
You know how you fixed sonic paramount you might want to do the same here

— Cutwillrise (@Cutwillriseayer) November 25, 2020
Another user compared the sneak peek to the books themselves, and noted that the movie-version of Clifford didn't compare to the colossal cutie in the books.
Not even REMOTELY big enough. Look how MASSIVE this animal is…And did they spray paint him? pic.twitter.com/ihHm6Kl0Vb

— The Drive-In Podcast (@thedriveinpod) November 25, 2020
If you remember from the books, Clifford wasn't always so massive. He was actually the runt of the litter, until something strange happened under the care of his new best friend, Emily Elizabeth. So who knows, maybe CGI Clifford wasn't fully animated yet.
And then there's Twitter user Carson, who we could all stand to be more like. Carson approached the teaser with the enthusiasm we all likely would've had upon seeing this trailer a couple decades ago.
I LOVE HIM. HE'S BIG AND RED. WHO'S A GOOD BIG RED DOG. YOU ARE! YES YOU ARE!

— Carson (@CallMeCarsonYT) November 25, 2020
Though we'll have to wait almost a year to see the full movie, there will undoubtedly be many more previews (and perhaps some changes?) to come. Regardless of the first slew of feedback, a round of appaws to Paramount for a solid attempt.