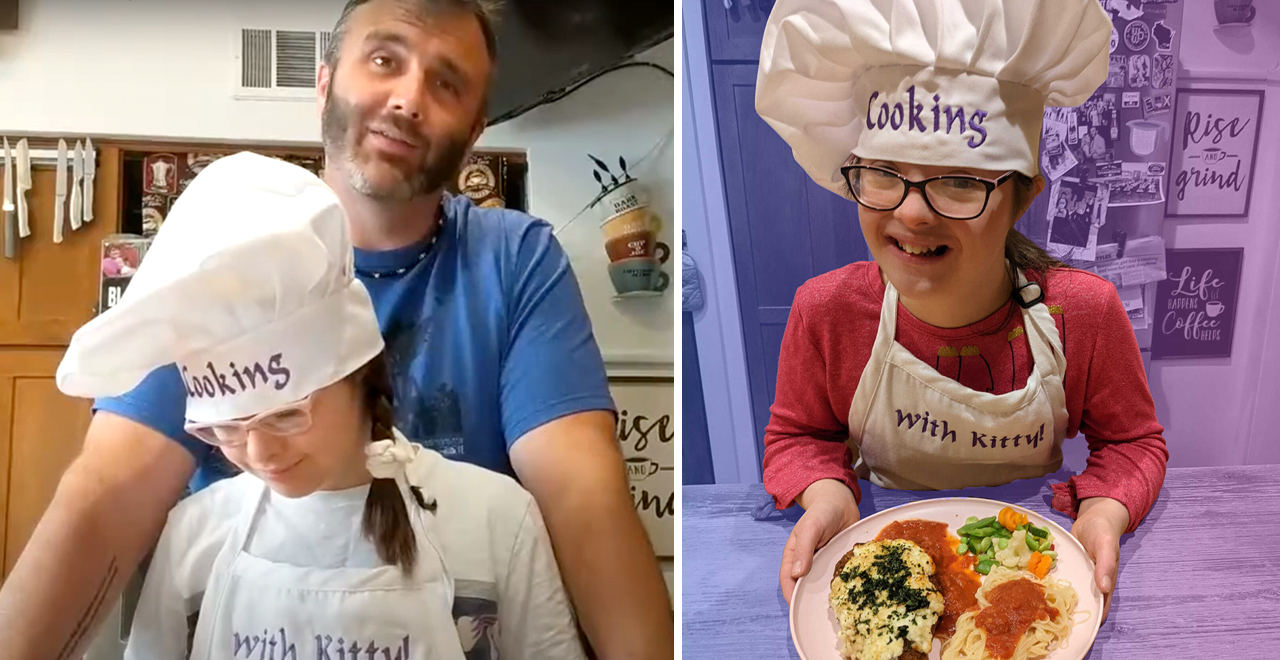 Credit: YouTube/FB/Cooking With Kitty
There's not much good to say about the year we've spent in the shadow of Covid 19. But if you look close enough there are some pleasant surprises. From dads starting their own business to people showing up for each other like never before. And in Wauwatosa, Wisconsin, you can find a family that was able to use their creative spirit to elevate people often overlooked. 
Dan Storey is a dad and self-taught amateur chef known in his hometown for his chili, which has won numerous awards and cookoffs. His wife, Kim says that he "creates masterpieces out of thin air. He approaches cooking as a science and really loves to do it." But the real star of the Storey's kitchen isn't Dan. It's his 13-year old daughter, Kitty.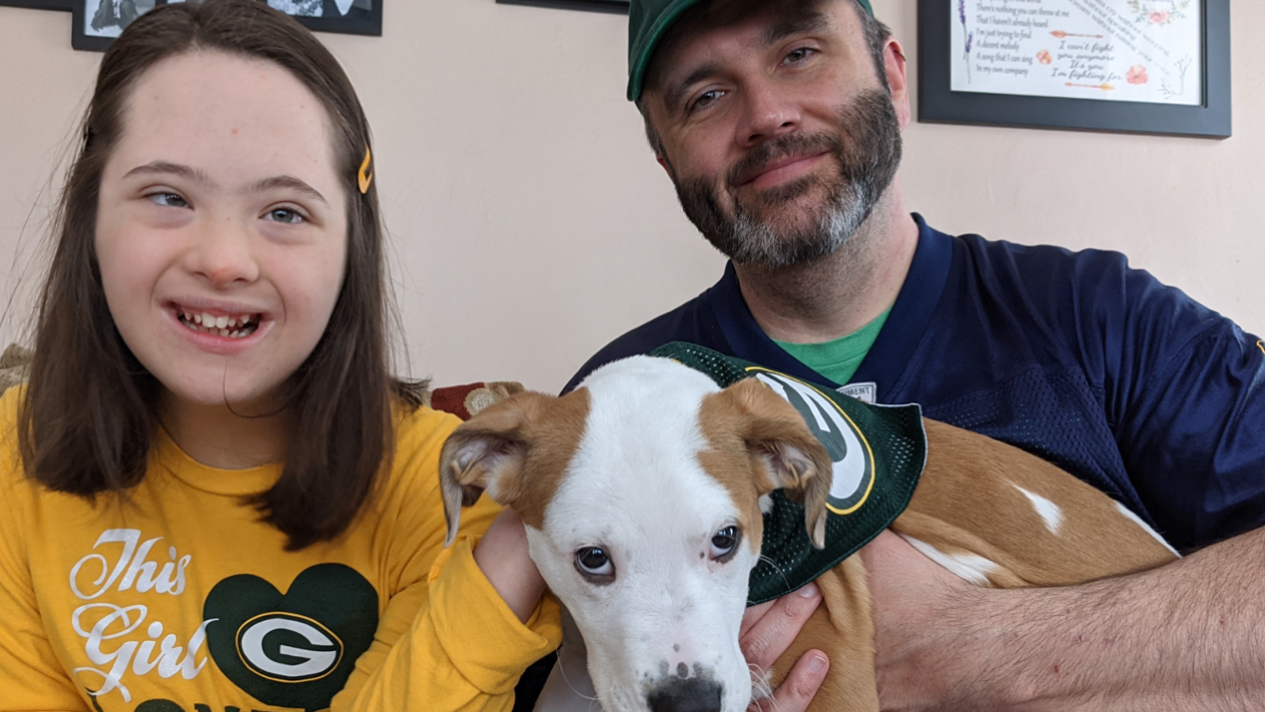 Kitty is a teen with a dual diagnosis of Down syndrome and Autism who loves to experiment in the kitchen with her dad. Since April of 2020, the two of them have hosted a YouTube cooking channel, Cooking With Kitty, where they have spent the year teaching others how to prepare an increasingly impressive variety of amazing dishes.
"Kitty truly enjoyed her Independent Living Skills class at school," her mom says. The program helps teach life skills such as grocery shopping and cooking for kids in Special Education. For Kitty, the class was also a huge part of her Occupational Therapy, which helps her with fine motor skills. When school was in session, the teacher would take the kids on trips to the local grocery store to buy ingredients, and follow up with a lesson on preparing the meals. But when the pandemic forced schools to close, families everywhere had to adapt fast. An unexpected result was that Kitty, Dan, and Kitty's mom Kim found a new outlet for creativity.
Teachers would email recipes to make at home, and in order to show their work, Kim began filming Dan and Kitty cooking them together.
"Kitty has such a fun personality and such a great sense of humor, and some of the videos started turning out pretty good. So, I started sharing them on my social media pages. I received such a great response from friends and family. I even had some of them tell us that we should create a YouTube channel for her. After a bit of hemming and hawing over it, we decided to go for it."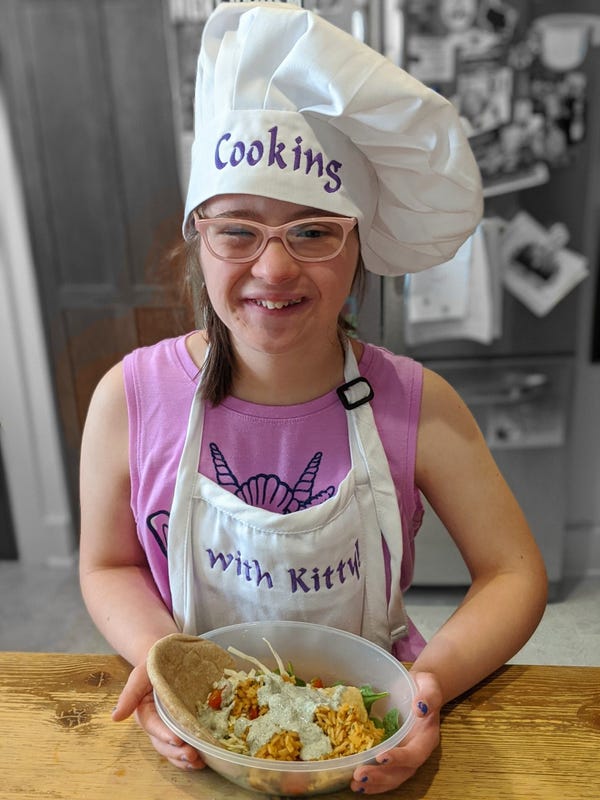 The early episodes of Cooking With Kitty are pretty straightforward; simple recipes like fruit salad and Swedish meatballs, cooked in the crockpot. Forty episodes later (and counting) the Storeys have continued to up their game, and with Dan's natural talent, Kitty is becoming dang near a gourmet chef.
"As we went on we realized that Kitty was capable of a lot more than what we even realized. With guidance from her Occupational Therapist…we started introducing new skills every week in her episodes. A lot of the episodes are foods that we eat on a regular basis. But, after so many episodes you need to figure out something new. That's where recipes like Chicken Biryani and Moroccan Chicken Bowls started coming in."
The family took a break in January, but Season 2 is already in full swing, and Kitty and Dan have gained a lot of recognition. Along with local news showing Kitty some love, she was nationally recognized and featured by The National Down Syndrome Society, and YouTube featured her during their National Day of the Girl Celebration.  But if there's one thing cooler than getting on news, it's getting your own donut. Cranky Al's, a local favorite donut shop, filmed an episode with Kitty to create the "Kitty Donut" during Down Syndrome Awareness Month, with proceeds going to the local Down Syndrome Association chapter. They sold about 3,000!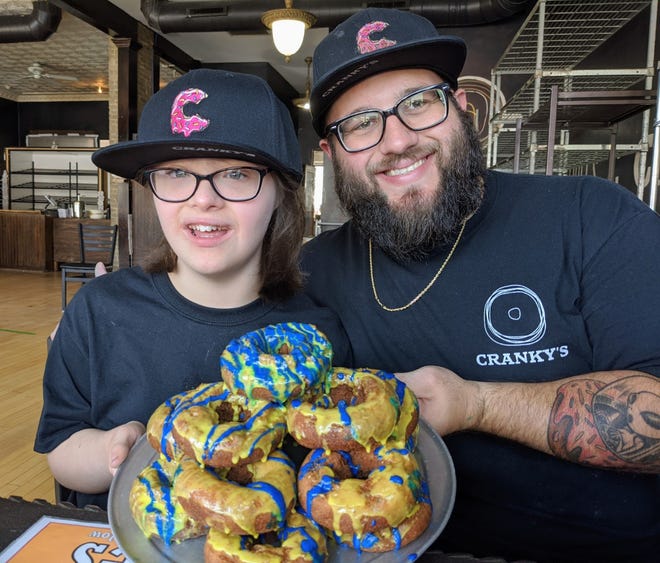 "The response that we have gotten from the community has been overwhelming and so heartwarming. I was contacted by another Mom whose son also has a dual diagnosis. He is non-verbal. She told me that they started watching episodes of Cooking With Kitty together in an effort to motivate him to want to try to do what Kitty does. Not only is he making progress with his cooking and OT skills…..but he has been trying to verbalize simple words such as "pot" and "pan". I broke down completely when I heard that…Representation matters so very much. It is so important for people like Kitty to see themselves in the media…doing typical activities just like everybody else. And, it is also so very important that other people recognize that our kids are not an old, antiquated stereotype.  We're not quite sure where this journey will take us….but as long as we know that people are enjoying what we do, and that it's helping not only Kitty….but kids like her….we'll keep on doing it."
At the heart of the show is family. Mom films while Dad and Kitty cook. And over time the production values have grown as much as the culinary skills. But even with a sleek channel intro, you can tell the coolest thing for Kitty is the chance to work with people she loves. Her favorite episode is a toss-up between making a Rainbow Pride Cake with her uncles and Fancy Grilled Cheese with her BFF Allie. Allie and Kitty have been friends since they were 3, but Uncle Shawn created all the graphics for the show, so it's a tough call. 
The best part though: "We found that if Kitty helps to prepare the meal, she is willing to eat whatever it is she prepared." A kid who will eat anything? Absolutely amazing.