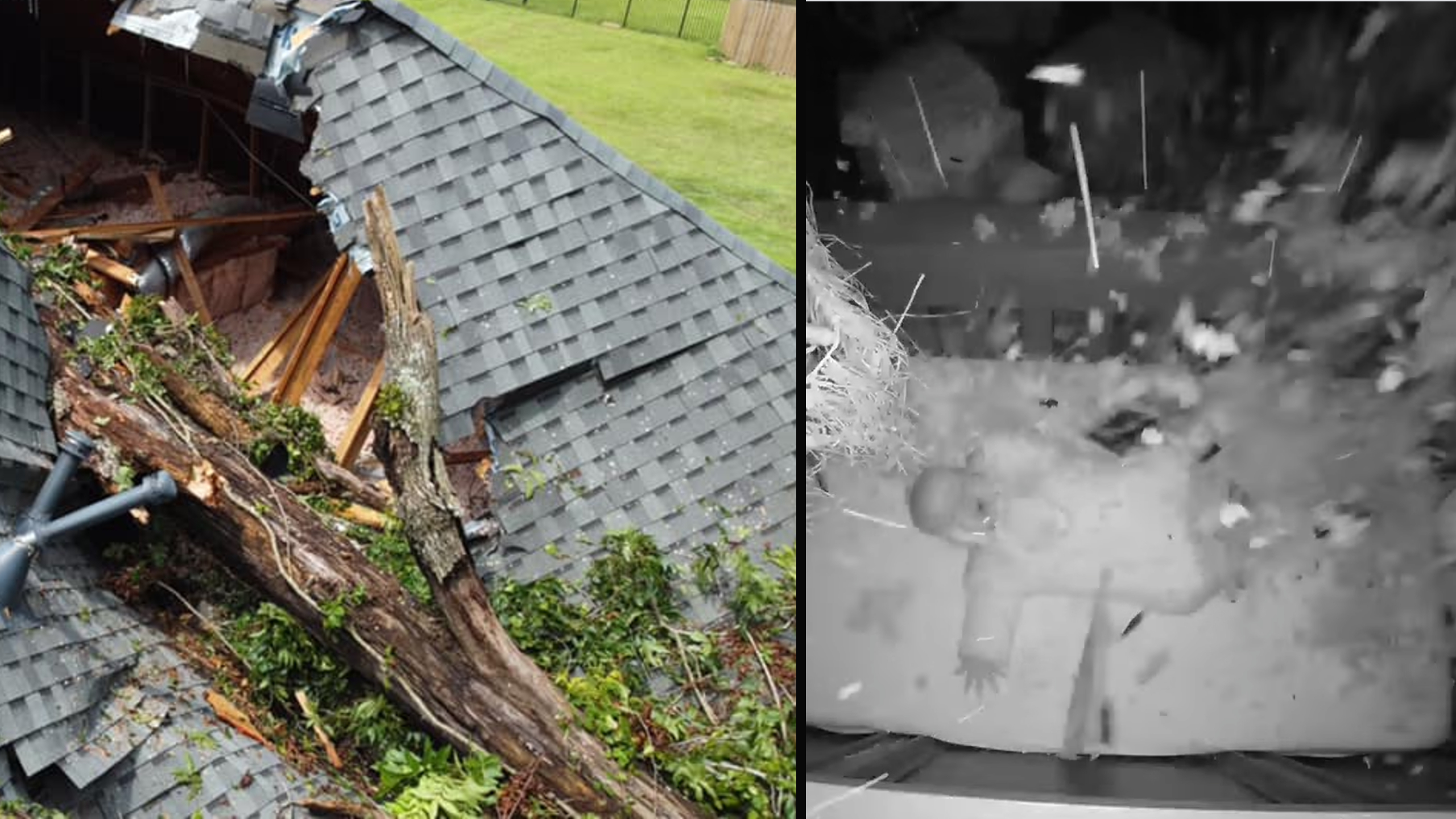 Credit: Facebook/Court1152
The Buchholtz family thought lightning had struck their Louisiana home in early July when they heard a loud noise and felt the walls shake. Then Courtney and Kale lived every parent's nightmare as they realized what really happened when they looked at their baby monitor and saw debris flying through the room and showering on their 5-month-old baby.
They ran into Cannon's nursery to discover an enormous oak tree had fallen through their house, leaving MAJOR damage. But the scared parents quickly realized the tree had miraculously missed their infant's crib, despite crushing much else in its path.
"Seeing my sweet baby's face makes me realize the most important things in life," Courtney wrote on Facebook in a post showing the devastation to their home. She also shared the terrifying baby monitor footage, which shows the moment the tree struck the house and the debris that rained down on their little guy.
Cannon's dad, Kale, told Good Morning America as soon as they scooped him out of the room, he turned him over and checked him really well to make sure he hadn't suffered any injuries.
"He had been crying, but as soon as I got him in my hands, he was laughing as I was turning him," he said.
The home fared much worse, as the weight of the tree crushed almost everything else outside of the crib. The parents think there was a shield protecting Cannon, and the event made Courtney think of their late son, who passed away in infancy five years ago.
"We always say that he's watching over his little brother, so my immediate thought was that Kasen was protecting his brother and keeping him safe," she said to GMA. "Losing one child and the thought of anything happening to another child is gut-wrenching."