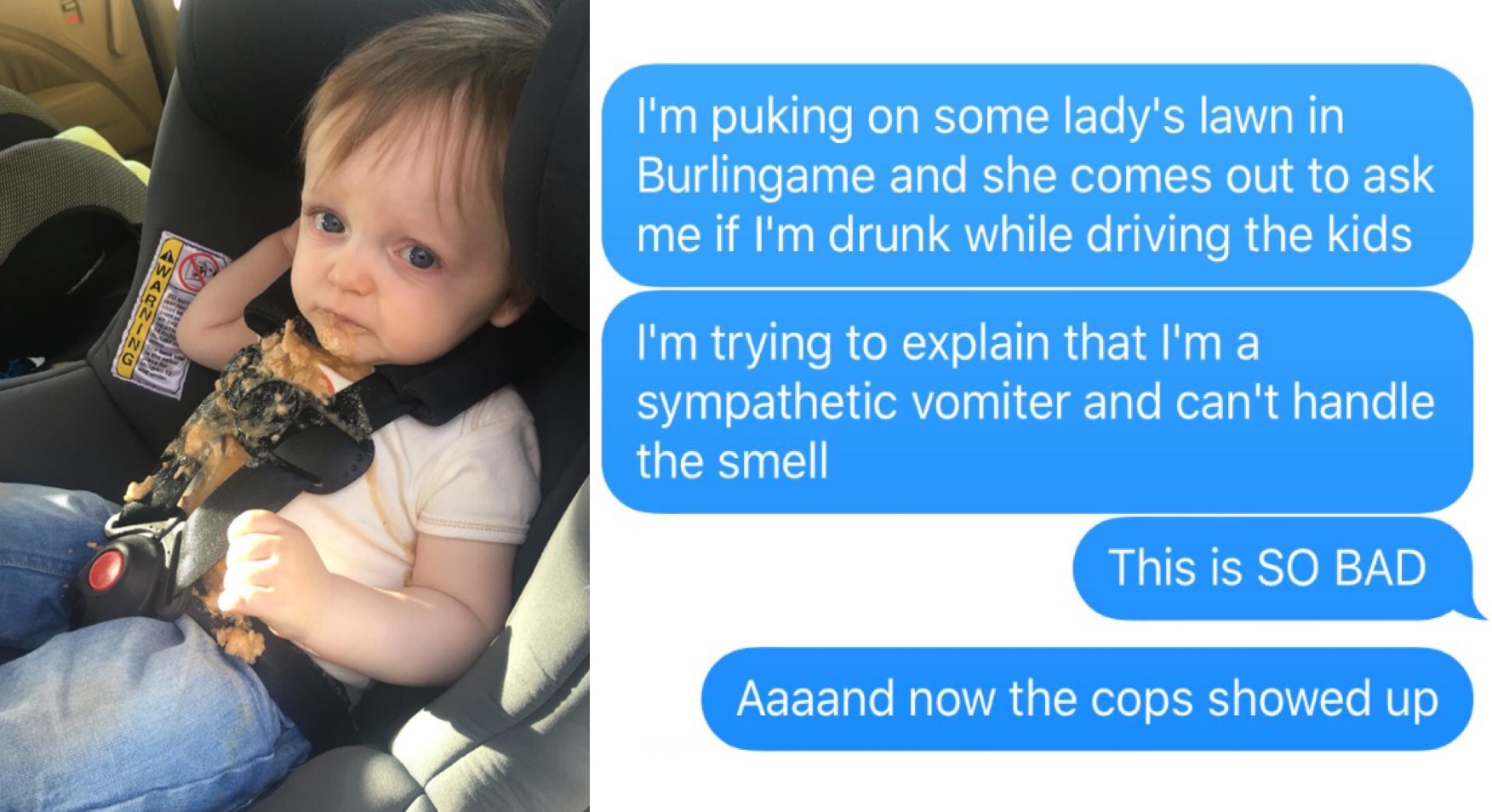 Credit: Facebook/Ben Patterson
Ben Patterson is an entrepreneur and venture capitalist from California. Ben is also a dad… a dad with a weak stomach around vomit, to be exact. Not a great combo.
One Friday afternoon, Ben was driving home with his son, Declan, while his wife, Stephanie, was out having dinner with some friends. And that's when it happened.
Declan had ejected just about everything from his stomach all over himself and the car. Benjamin, being the sympathetic vomiter that he is, couldn't handle it.
"I just threw up trying to clean him up," he wrote to Stephanie, who couldn't hear her notifications due to noise in the restaurant. "It smells SO BAD."
Unfortunately, Ben had pulled over and promptly tossed his cookies directly in front of someone's house, prompting the owner to call the police, obviously assuming he was driving while severely intoxicated.
A police cruiser pulls up and officers deem it necessary to give the queasy dad a breathalyzer, just to be sure.
Fortunately, Ben passed the breathalyzer and was allowed to drive home. Unfortunately, it meant jumping back into the vomit box with his pukey little angel of a son.
Ben eventually makes it home safe and sound, but it sounds like it was one harrowing ride he will never forget.
"WHAT DID HE EAT BECAUSE IT SMELLS LIKE ROTTING WHALE BLUBBER?" he exclaimed, via text.
After the order, Patterson reported that he left the post-drive cleanup to his wife, but that she didn't mind saving him from further gastrointestinal distress.
"She's amazing," he confirmed.