Dad Mics up Skiing 2-Year-Old and Overhears Her Adorable Commentary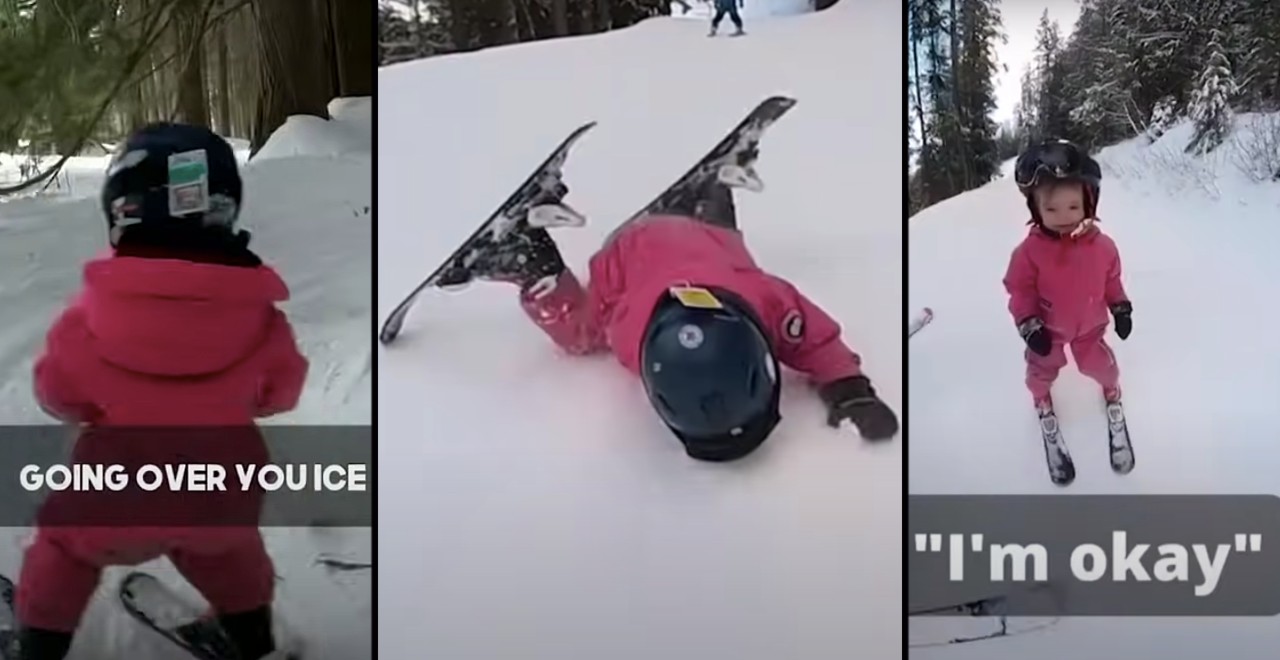 Instilling confidence and perseverance in your kids is a challenge, one made even more difficult by the fact that it's hard to tell how much they're internalizing. Perseverance is especially important when it comes to learning new skills, which can be both exciting and potentially stressful for kids. Some may stick with it as they fail repeatedly, while others give up after a single misstep. While teaching his 2-year-old daughter to ski, father of three Erich Leidums used a brilliant strategy to figure out what was going through her head.
Leidums is an avid skier, and hitting the slopes with his family is quality time he values deeply. After successfully teaching his two boys to ski, Leidums wanted to make one small change to his instructional strategy when it came to his youngest.
"I once saw a hockey dad mic up his son at a hockey practice. It was that video that made me think about putting a microphone on our kids," he told POPSUGAR. "We would often hear our boys babble and talk out loud as they learned to ski, and we loved hearing them do it. It took me a while to actually purchase a mic, learn how it works, and incorporate it into my filming workflow."
After attaching a microphone to 2-Year-old Adia and filming her impressively navigating the snowy slopes, Leidums made an adorable discovery. Like many toddlers, Adia's internal monologue was – well, not entirely internal. The thoughts that popped into her head as she skied downhill ranged from constructive to downright hilarious and this tech-savvy dad managed to capture it all.
"I'm making my lines!" The 2-year-old proudly says, nailing the lesson her dad taught her. "I love going over that root," she marvels. "Oh, ice! Going over you ice, going around you ice."
"Hi one-eyed monster," Adia says happily, out of freaking nowhere. The toddler makes adorable sound effects as she zooms down the hill, fully embodying what it means to be a "little ripper." She conquers obstacles and ski conditions that would be difficult for adults, and does so with enthusiasm and confidence.
View this post on Instagram
Erich Leidums's Instagram page is filled with adorable videos of Adia, as well as clips of the rest of his family enjoying their time being active together. "Playing in the dirt, having the sun hit your face, and getting exercise all have physiological health benefits ranging from immune to mental health," Leidums explained. "We want our kids to be healthy and active, and we feel playing outside is one of the best ways to achieve this."