Dad Gets Lightning Bolt Shaved Into His Hair To Match His Son's Scar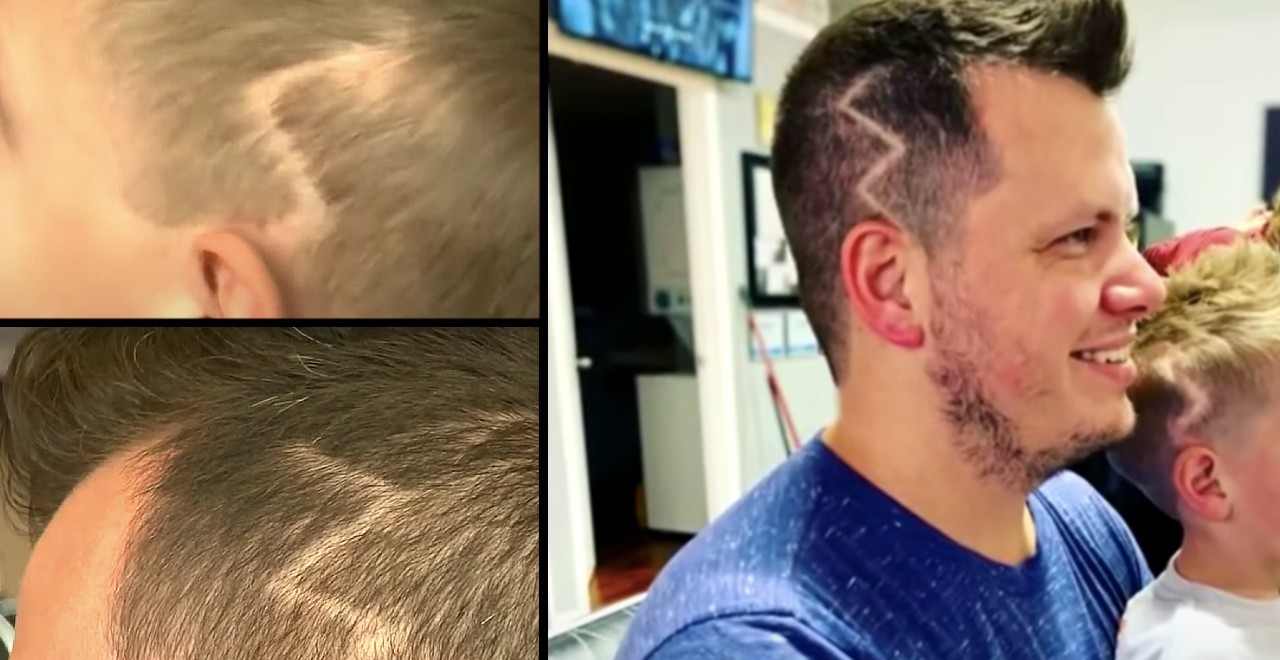 Finding ways to support your kids is a perpetually-changing aspect of parenting. It's up to us as parents to figure out what will make our kids feel loved and supported through each challenge they face, and that's no easy task. One dad from Missouri found a heartwarming but unusual way to make his son feel loved – and it came in the form of a haircut.
When Jonathan Tynes's son was born, doctors found that he had a condition that caused the plates of his skull to fuse together early. As a result, Hunter had to undergo reconstructive skull surgery at just 21-months old.
"He had to be cut from ear to ear, opened up and his skull totally reshaped," Jonathan told KMOV.
Thankfully, the surgery went well – but it left Hunter with a lightning bolt-shaped scar down the side of his head (doctors cut across his skull in a zig-zag pattern to allow the scar to be hidden more easily by Hunter's hair). Though most of Hunter's hair grew back as doctors expected, scar tissue on one side didn't allow the now 5-year-old's hair to grow. Years after his surgery, the lightning bolt scar remains – and recently, Hunter has become increasingly self-conscious.
Tynes tried to reassure his son that the scar was nothing to be self-conscious about, but the 5-year-old inadvertently told his loving dad exactly what he needed to feel better about his scar.
"I said, your lightning bolts are really cool. I wish I had that," Tynes recalled, to which his son responded, "Well, if you think they're so cool why don't you get them?"
It took only a moment of consideration before Tynes made a decision. "I said okay, then I will."
And as soon as he could get an appointment, Tynes followed through on his word. He went to the barbershop with an odd and incredible request – he wanted a matching lightning bolt shaved into his own head.
Tynes's heartwarming story quickly went viral, but the only thing that mattered was how Hunter felt. Fortunately, Tynes got the seal of approval from his smiling son – and the pair couldn't look happier.