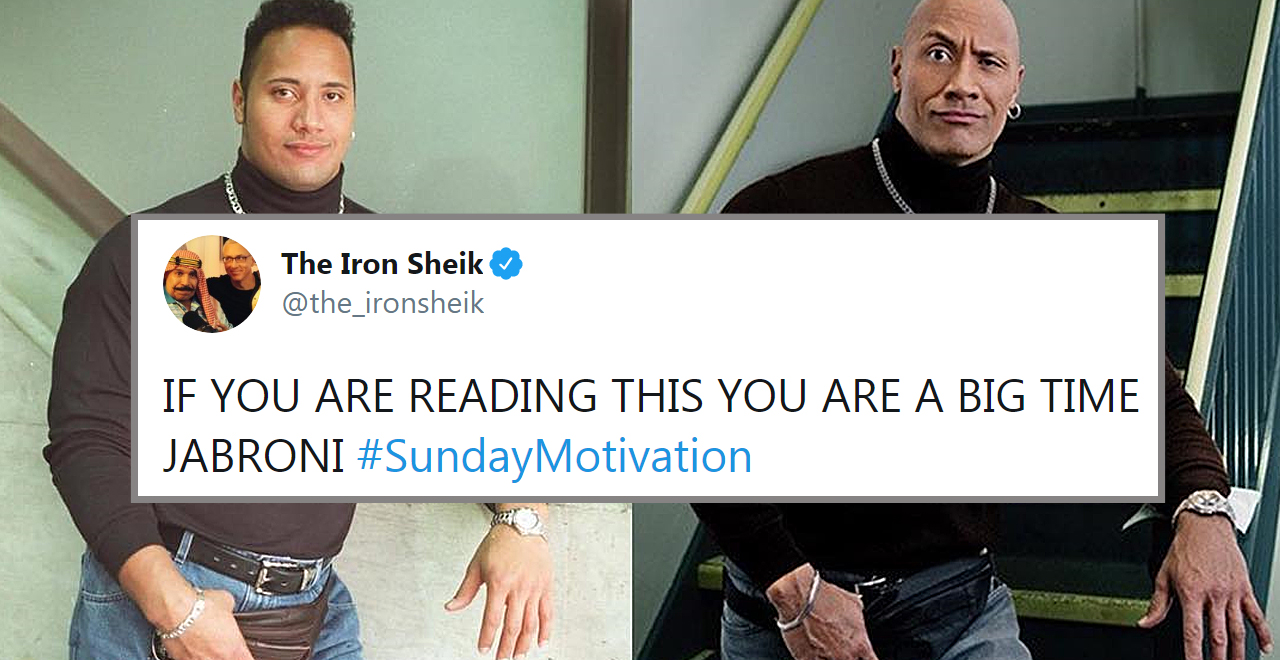 Credit: Instagram/therock Twitter/the_ironsheik
The last I heard about The Rock, he bought the XFL, and then his family was recovering from the coronavirus. I think they're all okay, and hopefully, he'll be healthy enough to run for president in 2024. IT'S WHAT THE PEOPLE WANT!
Either way, we have some news that might make him feel better.
Years after it was allegedly coined by legendary 80s wrestling heel (and hilariously bizarre Twitter personality) the Iron Sheik and then popularized by The Rock when he was the biggest name in wrestling, the word "jabroni" has officially been added to the dictionary.
I BREAK THE JABRONI DICTIONARY'S BACK https://t.co/DsBWE779Yd pic.twitter.com/ISBGzhTKJK

— The Iron Sheik (@the_ironsheik) September 3, 2020
Dictonary.com made the announcement on Twitter last week. Jabroni joined the official lexicon as part of the dictionary's biggest update ever. More than 15,000 entries saw tweaks, including 650 brand new words. Including The Rock's favorite insult, as well as "amirite," "ish" and "janky."
"Jabroni" is defined, broadly, as "a stupid, foolish, or contemptible person; loser," The Rock brought the word to the forefront as a wrestling term, with Dictionary.com defining that usage as "a wrestler whose purpose is to lose matches against headlining wrestlers in order to build up the status and fame of the headliners."
ESPN unearthed a quote from a documentary in which The Rock gave all credit to The Iron Sheik for the coining of the term and more.
As he did in the 2014 documentary The Sheik, @TheRock always credited @the_ironsheik for the word "jabroni."https://t.co/KCAUc0eDpL pic.twitter.com/PRbnx8UyLP

— Dwayne Johnson (@king_rock_1) September 4, 2020
"His impact on my career has really been profound," Johnson said in a documentary about the Iron Sheik. … "Now the word jabroni is connected to me. When a lot of people think, 'oh, jabroni, oh, yeah, yeah, it's The Rock's word.' No, no, no, no. It's not my word. It's The Iron Sheik's word."
Regardless of who came up with the word, it is now officially enshrined in the dictionary, and one thing's for sure: neither The Rock nor The Iron Sheik is a jabroni.
And thankfully, "Dad Joke" was added last year by Webster's.