Dog Stops Traffic to Get Help When Owner Unexpectedly Has a Seizure During Walk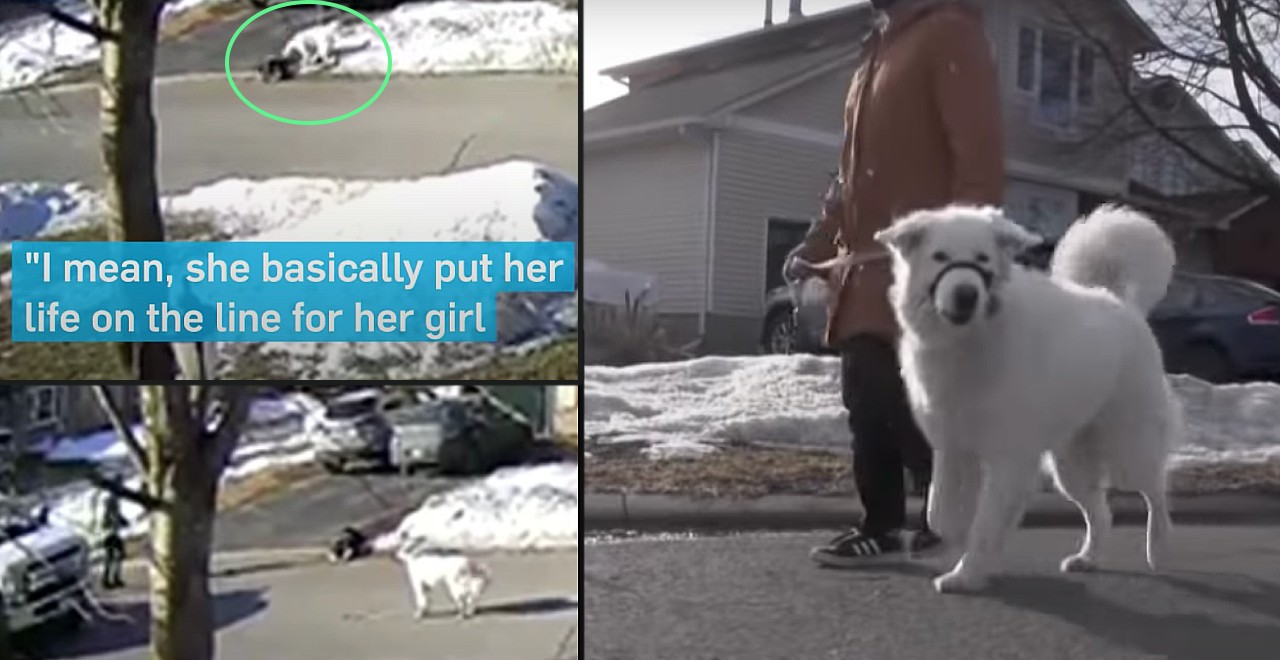 Dogs are trained to handle all sorts of stressful situations, from search and rescue missions to medical emergencies. Even dogs who aren't specifically trained to be heroes have unparalleled instincts, instincts that allow them to assess potentially dangerous situations and respond accordingly. Dogs are fiercely loyal to the humans who care for them, and even untrained dogs step up in times of crisis.
Haley Moore was out for a walk with her family dog Clover on a seemingly average March day in Ottawa. In a terrifying turn of events, Haley collapsed to the ground and began to seize. Unconscious and unable to call for help, Haley was in serious danger. Realizing something was terribly wrong, Clover jumped into action.
A neighbor's security camera captured the incredible moment Clover saved the day. At first Clover circles her owner, alert and sniffing, clearly alarmed about her Haley's lack of responsiveness. Rather than staying right by Haley's side or running off, the one-and-a-half-year-old pup did something brilliant. As soon as she noticed an oncoming truck, Clover rushed to the middle of the street, blocking the driver from passing. The curious driver pulled over and opened his door, immediately noticing the unmoving girl laying face down in the street.
"It was really impressive, the dog actually blocked my way. She kind of backed into the road to block my truck," 21-year-old Dryden Oatway recalled to CTV News. "The whole time she was backing down the street she had eyes on Hailey; didn't look away from her. She kept her distance from me but made sure her owner was okay and that was amazing."
When Clover realized Oatway wasn't leaving Haley alone, she rushed to get the attention of another neighbor, Danielle Pilon. With two people paying close attention to her human, Clover realized she was in good enough hands to leave briefly to alert the rest of her family.
"When I got a knock on the door from the neighbours, they were frantic and our dog Clover was barking like crazy," Haley's father, Randall Moore, recalled.
Help arrived quickly, and as Haley's family rushed to the scene, paramedics already had her safely in an ambulance. Had it not been for Clover's quick action, the scene may have unfolded much differently for Haley. Though she isn't sure what caused the seizure, she feels safer knowing that Clover will always have her back should it happen again.
As for Clover? Well, she has some celebrating to do. "[My wife] Diane comes home with a couple of big steaks and I thought 'Wow, this is great, I'm getting a big steak' and she said, 'No, it's for Clover for doing such a great job,'" Randall Moore said.
Well deserved, Clover. Well deserved.